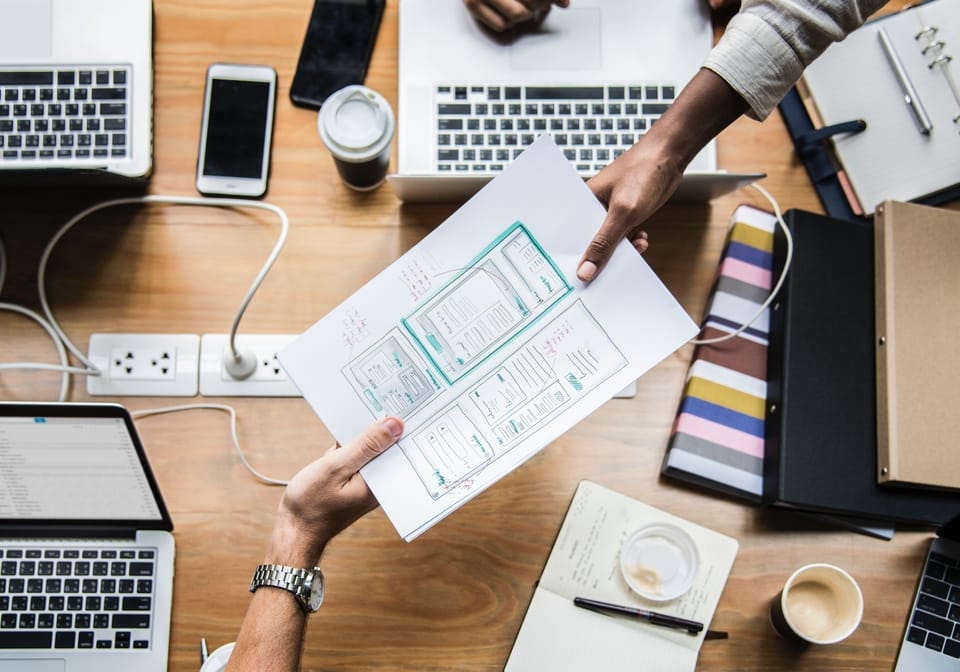 This post was originally published on February 8, 2018. It has since been updated.
Have you heard of the term "pillar page?" If you work in the content marketing world, you most likely have. If you haven't, it's time to familiarize yourself. Content marketers have started adopting the topic cluster website organization strategy and being proactive about implementing it on websites.
Pillar pages, if developed and treated the right way, can help you build greater authority for your website. This strategy will help you reorganize your site so its navigation makes more sense to search engines and human visitors. This comprehensive guide will explain how you can effectively create a pillar page from start to finish, from developing a topic to publishing the new page on your website!
---
Read straight through, or jump to the section you want to read!
---
What Is a Pillar Page?
Neil Patel defines a pillar page as a "topical cornerstone for a large portion of your site's content." HubSpot says a pillar page "acts as the main hub of content for an overarching topic." A pillar page should be based on one of the core topics on your website—something you're trying to rank highly for on search engines. Your main objective is to provide real value to your target audience so they come to you for expert advice and information.
"The key is to start thinking in terms of TOPICS you want to own, not just KEYWORDS. This allows you to own a 'sphere of influence' on the internet."
–HubSpot's Topic Clusters: The Next Evolution of SEO
For example, here are some marketing-related pillar page topic examples we could potentially use for Blue Frog:
If you're writing for a home improvement business, you could create pillar pages for topics such as
Remodeling your basement
Residential plumbing
Garage door repairs
Replacing your roof
What Are Topic Clusters and Subtopics?
A topic cluster is composed of one pillar page (a core topic) that links to several other pages (subtopics) on a website. The core topic and all of its subtopics should be closely related to each other. You should cover your core topic in depth on your pillar page and touch on each subtopic. The subtopic sections on the page will then link out to the other pages on your website that explain the specific subject even more in depth. (HubSpot has a nifty tool to help build your topic cluster linking strategy!)
The topic cluster model makes it easier for search engines to scan semantic content on your website and see how deeply you understand a particular topic. Having more information about a topic on your site will give you more authority for that topic in web search results.
Your overall goal is to make your website as useful as possible for searchers in order to earn higher placement on SERPs (search engine results pages). HubSpot's topic cluster diagram provides a visual representation of how our websites can be mapped out using this content strategy. Each of the large central circles represents a pillar page, while the outer circles represent subtopic pages. The blue lines connecting them are hyperlinks.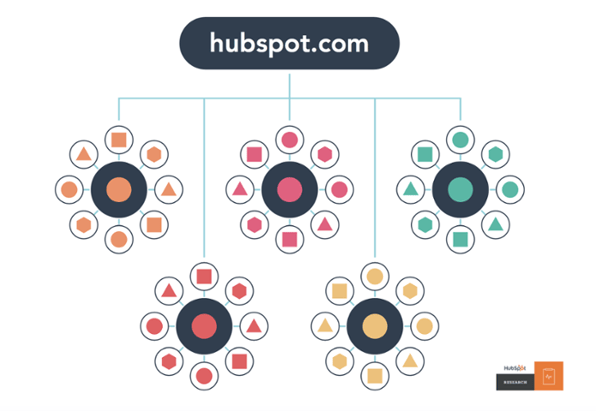 How to Create a Pillar Page in 6 Steps
1. Choose a core topic.
The first step in building your pillar page is choosing a core topic. It should be specific to your industry and support one of your products or services in the awareness (educational) stage of the buyer's journey. It should also be evergreen and broad—but not overly broad. Choose a topic that can be broken down into several supporting subtopics.
Leslie Ye from HubSpot says, when determining topics for pillar pages, to ask yourself this: "Would this page answer every question the reader who searched X keyword had, and is it broad enough to be an umbrella for 20–30 posts?"
As a rule of thumb, Leslie offers the following insight to keep in mind:
If you're trying to get your page to rank for a long-tail keyword, it's not a pillar page.
If your page offers an in-depth explanation of a narrow topic, it's not a pillar page.
If your page discusses many aspects of a broad topic, it's probably a pillar page.
Evaluate your buyer personas.
Do some research to determine your business's specific buyer personas. This is a very important step in the process; don't overlook it. Think about your customers' biggest challenges or pain points. What information do they often look for on your website to find solutions to their problems? Getting to the heart of these problems and offering relevant, educational information on your site will help you create a highly effective pillar page.
You should also do some research to see what your competitors and the leaders in your industry are ranking highly for. Buzzsumo is a great resource for this.
A Blue Frog Example
Many of our customers come to us wanting to grow their online presence through blogging and other forms of content. We could, therefore, choose content marketing as one of our pillar page topics. It's specific to our industry and a large service we offer. It's broad enough that we have the opportunity to really dig in and explain the topic in depth on our website and link to many other valuable internal resources. At the same time, it's narrow enough that we won't have to cover so much that the information becomes invaluable or overwhelming for the reader (and confusing for search engines).
The Sweet Spot
Typically, shoot for making your pillar topics 2–3 words. Creating a pillar page on just "content" or "marketing" would be far too difficult—or impossible—to cover comprehensibly. On the other hand, "top content marketing tools" could potentially be too narrow and might make a better subtopic.
2. Develop subtopics.
The next step is to develop a list of subtopics so you can create your cluster. Start by doing some keyword research. Also find out what terms and questions that fall under your main topic umbrella are being entered into Google. Enter your core topic into Google, and see what comes up! Don't forget to look near the bottom of the SERP at the related searches, as well.
Another good resource for researching keywords are tools like SpyFu, Ahrefs, and the Keyword Tool at keywordtool.io. These give you insight into the analytics of your keywords, showing information about which variations have the highest search volume, the cost per click, the AdWords competition, and more.
Pulling from keyword research tools and Google search results for content marketing, as well as using my own knowledge on the topic, I came up with a list of subtopics for my hypothetical pillar page. Each one of them
Is specific
Is highly relevant to and supports the core topic
Answers common questions about the core topic
Could stand on its own as another content piece (blog post, video, podcast, infographic, ebook, etc.)
Examples of Content Marketing Subtopics
What is content marketing?
How content marketing builds your business
Content marketing strategies
Online content creation tools
Content calendars and planning
Writing for your audience
Writing for SEO
Content marketing agency
Types of content for your website
Think about what strong content you already have that falls into your subtopic categories, and begin compiling a list of links to include when you build your page. If there are any subtopics you haven't written about yet, you'll need to develop new pieces to fill those gaps later and update your pillar page once that's done.
3. Write, edit, and organize your pillar page.
It's time to begin the writing process. In general, a pillar page will be much longer than a typical blog post. It will likely be closer to the length of an ebook. Organize your content in a way that makes it easy for your readers to follow and find the information they're looking for quickly, while keeping your conversion goals in mind at the same time.
Start with an introduction in which you define your pillar page topic and give an overview of what visitors will find on the page. Next, dive into writing about each of your subtopics. Focus on answering questions and writing for the user. Be of as much help to someone researching your topic as you possibly can, using links to other pages on your website to help guide them through the buyer's journey.
HubSpot advises us to use 20–30 internal links on a page to keep it focused. (Each of these content pieces should also refer and link back to the pillar page to create hyperlinks that go both ways.) You should also link to some external sources throughout your page, such as to industry leaders, case studies, and research, for added credibility.
Length
Your pillar page should be as long as necessary to cover your core topic and each subtopic comprehensively. Everything on this page should be well thought out, strategically placed, and as high quality as you can make it. (You want to improve your rankings, right? You won't do that by taking shortcuts here.)
Revising & Editing
Write everything out, and revise and edit it until it's as good as it can get. Try to make this conversion-focused and educational for anyone who finds it. You want people to get excited when they find your page so they revisit it and share it with others!
4. Build your pillar page.
Next, it's time to design your pillar page and optimize the content on your website. First of all, you want this page to be ungated; users shouldn't have to fill out a form to access it. You also want Google to be able to crawl it easily. If you'd like to give users the option to download the information in PDF form so they can save it to read later, consider giving them that option on this page, as well. Include a simple form that allows them to download it quickly and easily in exchange for a bit of contact information (such as their name and email address).
Your page should be a clearly mapped out, scannable guide. Make sure you include each of the following elements as you build it:
Anchor-linked table of contents (see the top of this article for an example!)

Near the top of the page
Functions like the chapters of a book
Links to main headers throughout your page
Allows users to find specific sections they're looking for and "jump" straight to them

Core topic definition
Headers

H1 (title) tag should contain your core topic keyword
H2 tags for main section headers
H3 tags (and so on) for additional sub-sections

Internal links

Relevant sources that provide more in-depth information on topics
Link to top-performing pieces on your website that fall within different sections of your pillar page

External links

Sources that validate your claims and add credibility

Images

Support your content
Give readers visual aids
Include alt text

Back to top button(s)

Placed in each main section or (at the very least) at the bottom of the page
Makes it easy for users to jump back to the top of the page
Saves users from having to scroll!

Landing page elements

You still want this page to be focused on increasing conversions, so don't forget to include a form somewhere so users can contact you for help.

Calls to action button

Encourages readers to take an action (like contacting you or downloading more information)
Use where it's helpful
If it looks out of place or interrupts your page flow, it may be better to leave it out.
You should reference your core topic in each of these key areas on the page:
Page title
URL
H1 tag
Throughout body
5. Share, promote, and show off your new page!
Once your pillar page has been built, it's time to share it with the world! You have several great options for doing this. Other than adding it to your website's main navigation menu and/or homepage, consider
Sharing on social media regularly
Creating ads to promote it
Sharing via newsletters and emails
Referring and linking to it in new related blog posts
Talking to people about it in person
Asking your coworkers and sales associates to share it with prospects and clients
Mentioning it appropriately in industry forums
6. Update your page as needed.
Once you get to this step, give yourself a pat on the back. You've done a lot of work and should be proud of it, but don't just set it and forget it! Your pillar page should be under constant surveillance. As you learn more and build more closely related content on your website, you'll need to adjust this page accordingly. Keep it fresh and up to date so it remains useful. Also, begin watching the traffic to your page to see how it's performing so you can make necessary adjustments over time.
How to Avoid Burnout
If you're overwhelmed by the amount of time and energy that goes into this type of content, we have some good news for you. Not only will this type of content help you stand out better among the millions of other pages on the web, but once you've completed this beast of a project, you can repurpose it! You could potentially reuse the same information for
Multiple blog posts
Multiple infographics
Dozens of social media posts
Videos
Other creative marketing materials
If you plan it right, this could take you a long way and save you a lot of time on content creation in the future.
There you have it—a guide to help you get started with your pillar page content strategy. If you invest some time into creating a comprehensive pillar page, you'll be on the right path toward improved search results rankings and more qualified leads!
For more insight and tips about how to boost your online visibility, attract the right audience, offer the best information, and more, make sure you subscribe to our blog for the latest inbound marketing updates!