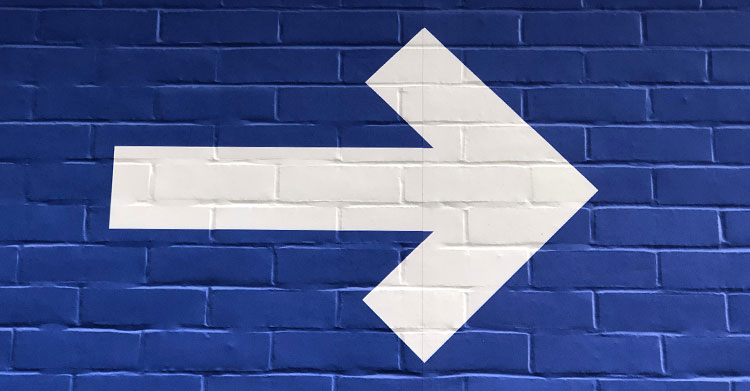 As the digital face of your company, your website is responsible for much more than earning a space in Google results or serving as a billboard for your services. Website visitors and opportunities to generate leads come and go quickly, requiring websites to function and present information that resonates with users faster than ever before.

This is a lot to ask of a website if it isn't optimized for success. To produce new leads for your business, a website has to be built to convert. This requires clear user pathways that present timely and valuable opportunities and funnel visitors to your virtual front door. User pathways are the foundation of your website that allow the layout, content structure, and user experience to present a consistent and cohesive roadmap for any visitor.
What is a user pathway?
A user pathway is a route a user takes while navigating through your website to complete whatever action you want them to take. While it's a simple concept, it's crucial you understand how to define your user pathways and use them to your advantage. Below are several tips to get started.
Before Getting Started
Define Opportunities for Engagement
If your goal is to generate leads, first ask yourself how a user can engage with your site and what they require in order for the interaction to be valuable to them. Try to define where and at what time they would likely be ready to take action and what you can offer in exchange for their contact information. As you begin to outline how a user can move from one action item to the next and what the end result of these actions should be, the foundation of your user pathways begins to take shape.
Understand the Buyer's Journey
The key to a great user pathway is presenting the right content to a user at the right time, and that means understanding where they are in the buyer's journey. This means it's likely you'll have different pathways for different users, depending on where they are coming from, how much they already know about you, and how close they are to making a purchase or contacting you for services. Each page on your website should be able to speak directly to the users you are trying to serve; otherwise, it's likely not providing much value to you or your website visitors.
Know Your Audience
Even if your website is generating a lot of contacts for your business, those contacts aren't likely to produce much value if they aren't qualified leads. Take the time to get to know your audience by creating buyer personas so you are able to create content that your audience values. This includes understanding their demographics, goals, challenges, and any other relevant information that helps you create a great solution for them. Once you know what is important to your target audience, you can personalize each user pathway and help nurture users closer to conversion.
Creating User Pathways
Create a roadmap with your sitemap.
Sitemaps are visual representations of how your website pages will be structured. They shape what your navigation will look like, how many pages will live beneath each item, and how those pages will connect to one another. Remember that ease of use is crucial to website users, so your sitemap should be simple and follow a logical sequence. For more specific tips, see my article on creating a sitemap.
Provide value with content.
Once your website pages are defined, it's time to organize your content. It helps to visualize your website like a story, with each piece of content connecting to the next and giving the user reason to continue. Remember that visitors are likely to be in different stages of the buyer's journey, so it's important that the content both present opportunities to take action and continue to nurture visitors who are not yet ready to do so.
Guide with visuals.
Your website design should make pathways to stand out by offering visual cues for the user. If your goal is for the user to click a "learn more" call-to-action button, the design should help this element stand out rather than distract the user away from it. Each page should use consistent color, scale, and spatial organization to point users exactly where to go next. You can also provide shortcuts in each pathway, such as placing a "contact us" button or form in a convenient place on the page.
Testing for Effectiveness
Defining user pathways allows you to make informed decisions about how to lay out each page, present the most relevant content, and provide purposeful calls to action for every user. Once these are in place, you can begin to analyze specific places where users fulfilled your goals or fell off the trail. Using page metrics, you can make specific adjustments that continue to optimize your website's user experience and conversion opportunities.
Do you want help with improving your website? Blue Frog can evaluate your website goals and challenges and provide a team of experts in content, design, and development to assist with a revamp or rebuild. Learn more about our website services, or contact Blue Frog Marketing to schedule a free consultation to get started.