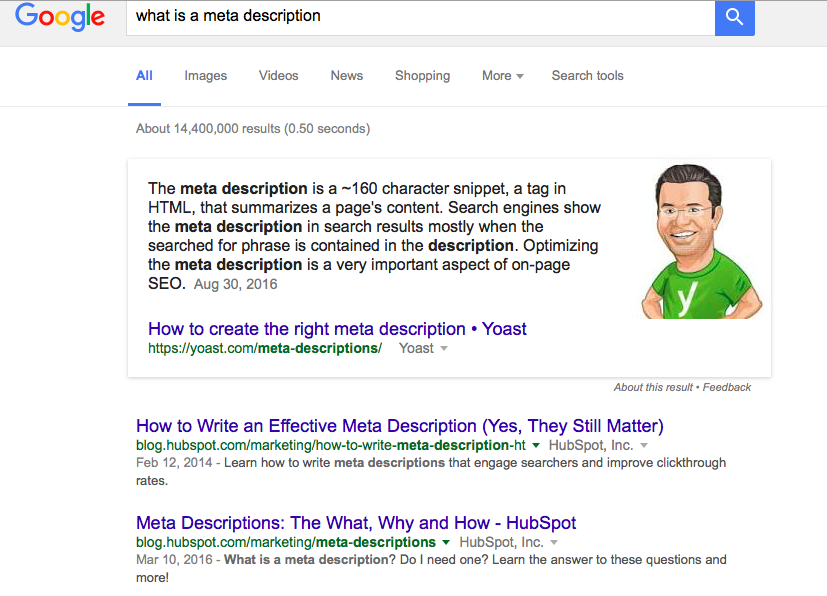 Once you have your website up and running and have started to create quality content, your next challenge is to help make that content easy to find. When someone searches the internet for the answer to a question, such as, "what is a print broker," or types a keyword phrase like "web design Des Moines," a search engine like Google returns pages of results. Each of the entries on a search engine result page (SERP) has a title followed by a short block of text: a meta description. Ideally, this text will clearly and concisely communicate the substance of the page and how it relates to the search query.
Google and other search engines can automatically select some text from your page as a "preview" of what's on that page, but that doesn't always accurately represent your content or contain the keywords your target audience would be searching for. Fortunately, meta descriptions don't have to be generated automatically: you can write your own meta descriptions that are customized to your goals. Writing good meta descriptions increases the likelihood that people will click on your page to find the answer or resources they're looking for and improve traffic to your website content.
Will Meta Descriptions Affect My Website's SEO?
Meta description tags themselves aren't a factor in the algorithms that search engines use to rank results, so technically, they don't directly affect your SEO. But Google uses click-through-rate (CTR) as a way of ranking results; if more people click your result than its algorithms predict based on your position in the SERP, you will rise in the rankings.
Google and other search engines will display keywords in the meta descriptions in bold when they match search queries. It is beneficial, therefore, to incorporate keywords into your copy so searchers can quickly scan for keyword matches, but don't duplicate keywords. Also, avoid "keyword stuffing": inserting awkward strings of content like "expert SEO Des Moines" rather than using easily-readable phrases like "SEO assistance and expertise in Des Moines."
You should incorporate keywords intelligently into readable, compelling descriptions that are like mini advertisements or enticing previews for each page. But make sure they are accurate! There's nothing more frustrating than clicking an entry based on its meta description and finding that the content of the webpage itself actually doesn't have the information promised by the copy on the SERP. Searchers who click through descriptions that don't match page content likely won't continue to any other page on your website, which can increase your bounce rate and cost you leads.
Technical Specifications for Meta Descriptions
Ensure that each page's meta description is unique (different from every other meta description linked to your website content). Limmit them to between 150-160 characters each because longer descriptions will get cut off in the SERP. Don't use quotes, or Google will truncate your description; if quotation marks are absolutely necessary, you can use single quotes (apostrophes). Although it won't be grammatically correct, it can give the impression of double quotes without wreaking havoc on your copy. Steer clear of non-alphanumeric characters generally, as these can also cause problems with the displayed SERP text.
Your meta description is your chance to stand out from the other search results and entice a searcher to click through to your web content, so the most important rule is to make it engaging. If you don't have the time or creativity to craft great meta descriptions for each page of your website content, hire a professional content creator to help you. Don't waste your chance to make a successful first impression!
Blue Frog Marketing's team of experienced content creators can help you with all of your online and print content creation needs, including website copy, blog posts, marketing eBooks, case studies, white papers, and more. Our full-service team includes writers, graphic designers, website designers, and commercial printing professionals, to help you create all kinds of perfectly-tailored content to entice and delight your audience. Click the link below to contact us and get started today!