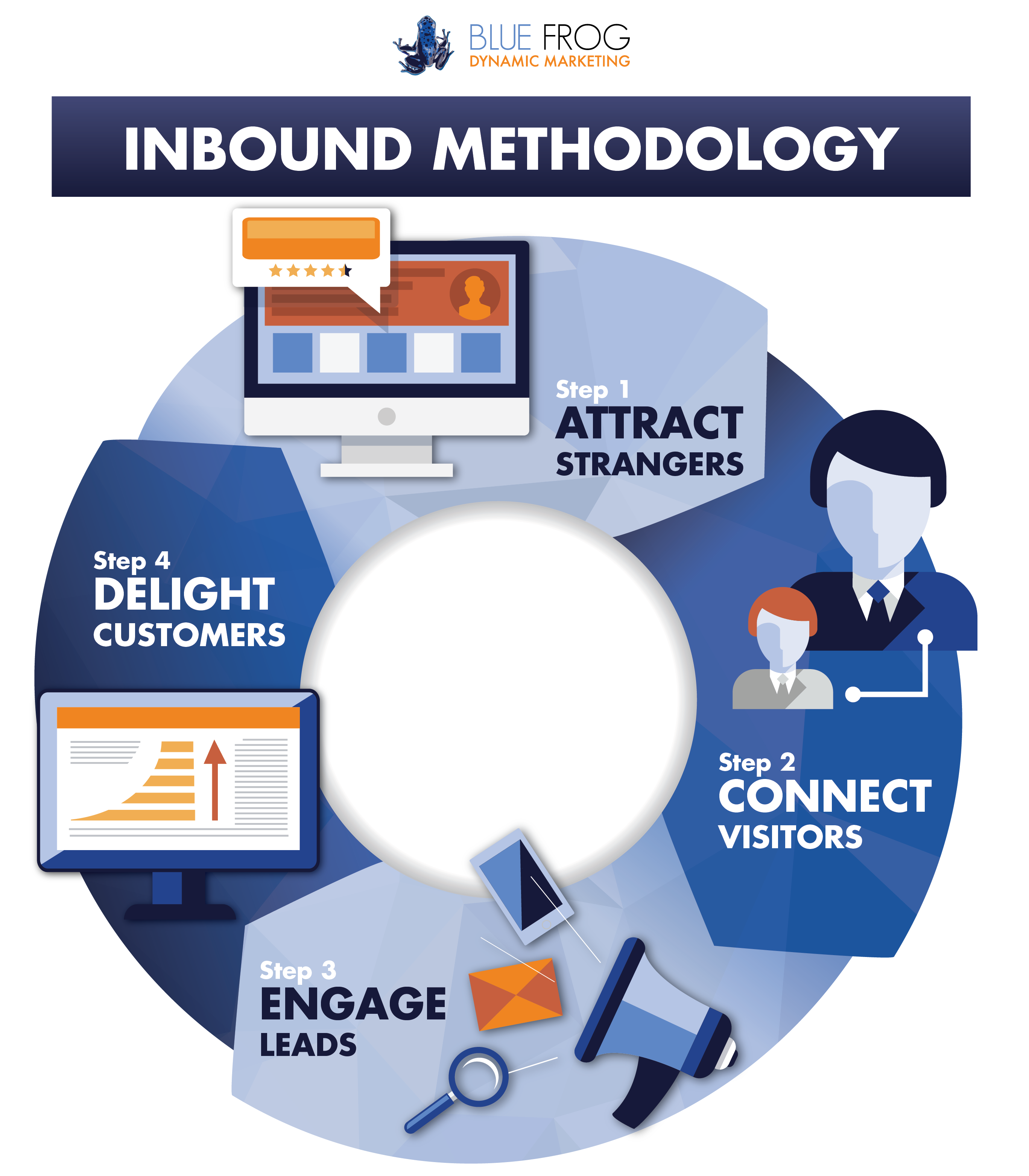 What is inbound marketing?
The easiest way to explain inbound marketing is to explain outbound marketing. Outbound marketing is sending a general message out to a huge audience in hopes of seeing some return (usually little). A good example of outbound marketing is a TV or radio commercial. A commercial is very expensive, somewhat permanent in that it cannot be changed once it's live, and it's sent out to a huge audience that is only somewhat segmented by channel relevancy. It's very difficult to determine what kind of ROI you're getting from commercials because there is no way to track individual views or listens or know whether anyone is actively watching or listening.
Inbound marketing methods are the exact opposite. A business will develop a very segmented, focused audience, called a buyer persona, and speak directly to that persona in the form of educational materials like blog articles, website pages, videos, and shared content through social media channels. Inbound marketing focuses on digital avenues that allow for easy updates and the ability to publish educational information often and at little expense. Likewise, digital avenues offer tracking methods that allow a business to see ROI in every aspect of their marketing plan.
What does an inbound marketing plan look like?
When utilizing inbound marketing, you must take the whole business into account. Imagine a fitness plan. To get healthier, you need to incorporate numerous strategies into your regular routine to make a long-term difference. Eating healthy, exercising regularly, and taking vitamin or dietary supplements are all parts of committing long term to your health and wellness.
Inbound marketing is just like this fitness plan. Just like eating right is the core part of a diet plan, the core of a business' marketing plan is a website. Today, a business must have a healthy website that's easy to find, provides valued information, and lets consumers reach out for help. In addition to the website, a business needs to exercise: it needs to publish informational content on a regular basis in the form of blog articles, new website pages, updated images, and videos. To supplement these efforts, a business needs to share these regular publications on social media platforms and drive traffic with advertising. Just like changing your lifestyle to become more healthy takes time, so does shaping up your business' online strategy. Incorporating inbound marketing into your business plans can bring lasting results, but it takes sustained commitment.
What kinds of challenges can inbound marketing help you overcome?
My business doesn't show up on Google.
The fastest way to enhance your site's ability to be found on search engines like Google, Yahoo, and Bing is to consistently publish content to your website that your audience will value. This can be done in the form of new website pages or, more easily, with blog articles. A business must remember that Google works for the user who's typing the query in the search bar. As a result, it is Google's job to supply that person with the most relevant answers to their query. If your website provide lots of valuable information about what your business does, your site will contain many of the best answers for your audience, making it appear more prominently in search results for users who are interested in the products or services you offer.
My business needs more leads.
Sometimes, a business' website gets sufficient amounts of traffic but, no one seems to be calling in or filling out forms to be contacted. One huge step in website development is offering your website visitor a place to submit their contact information online so they can be contacted. Inbound marketing is all about attracting people to your business with content and then converting them into leads once they've gotten the information they need to make an informed buying decision. Strategically placing specific calls to action around your website will help your visitors know how to find the help they need.
Is marketing your business something you know you need but don't have time for? Contact us for a FREE inbound marketing assessment to find out if this strategy is right for your business!