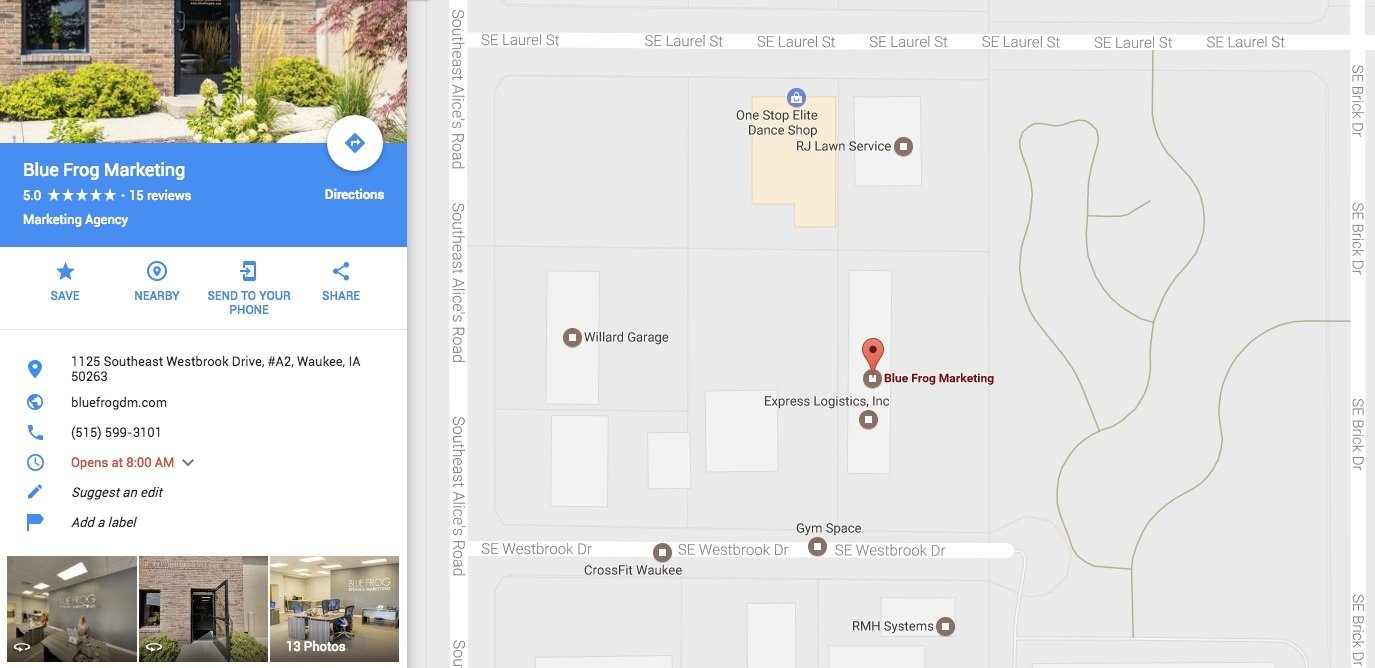 Showing up on Google Maps can provide your business a lot of great exposure. It gives your brand prominent placement in local search engine results, can alert users to your presence in the area when they're using Google Maps itself, and can even offer convenient directions to your location.
If your business doesn't show up on Google Maps at all, then you'll have to start by letting Google know where you are. If you don't yet have a Google account, create one. Then, go to Maps while signed into your Google account, and click the location where you want your business to show up. When you see the correct address, click on it. A box will appear, enabling you to click "Add a missing place." Here, you'll be able to add your business name, category, phone number, website address, and business hours as well as claim the business as yours. Claiming the business will allow you to make updates and changes to your business profile using the same Google account you use to claim it. Note that only businesses that serve customers at the location listed are eligible for Google My Business Listings. See eligibility guidelines here.
If your business already shows up on Google Maps, but you want to improve your ranking, then try taking these steps:
1. Ensure that your Google My Business listing is up to date with current address and contact information.
If you don't yet have a listing, then go to Google.com/business, and sign into your Google account.
Make sure that you've claimed your business (if not, you'll see a link to "claim this business") and verified your listing so Google knows that it's legitimate and maintained.

If you need to make any updates or changes to your listing, do so before you request a verification code. Making changes between the time you request the code and complete the verification process can cause delays, as you may have to request a new code after your changes are made.
2. Add helpful information to your listing.
If any of the fields offered for your listing are blank, then add information, such as business hours and other information that is pertinent to your particular business.

If you deliver goods or services to your customers, then you can indicate your service area.
If your business offers a menu of food, drinks, or services, you can link it to your listing.

List business hours as specifically as possible to provide the best customer experience. If you're closed or operate on a different schedule during holidays or other special events, include that information.
Limit the number of categories you use to describe your business. Instead, choose the most precise, accurate category for your business
If you're a professional service provider, such as a physician, attorney, real estate agent, or accountant, you can list your title or degree certification.
The "attributes" field allows you to tell users more about your business. Try mentioning appealing features like "free Wi-Fi," "outdoor seating," or "delivery available."
3. Add photos to your listing.
Photos tell a story about your business in a way that your text description can't. Show off your restaurant's cozy seating and mouthwatering specialties, your pediatric practice's engaging waiting room and friendly staff, or your gym's well equipped facilities and fun group fitness classes. Whatever it is that makes your business stand out, show it off in pictures.
4. Encourage reviews, and respond to them.
You don't have to personally respond to every review, but any review that offers a criticism, suggestion, or request should be addressed. Remember to be nice (even if the reviewer is not), and make your response as helpful as possible. It's also good to occasionally thank your positive reviewers; doing so when you have new information to share or other insight into your business can increase the effectiveness of these types of responses.
If your business' online presence is one more thing you don't have time to do, contact Blue Frog Marketing. Our digital marketing strategists have the expertise to help your business get found by more potential customers online. Whether you just want us to manage your Google profile and social media presence, need basic SEO help, or would like a more robust inbound marketing solution, we can help. Click the link below for more detailed information about how we can benefit your business. Headquartered in Des Moines, Iowa, Blue Frog serves clients throughout the U.S.