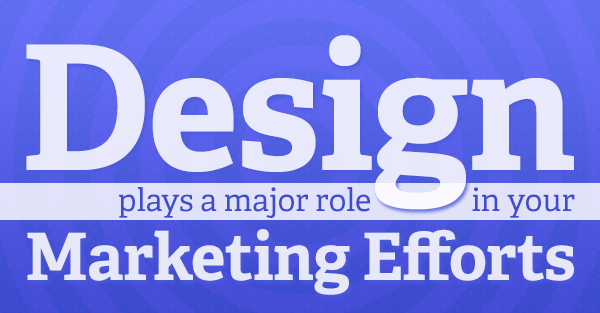 Design is everywhere. Turn on any electronic device, look out your window as you drive down the road, or simply glance down at your t-shirt, and you'll see some sort of design. Color, shapes, and typography light up the world around us, creating culture, setting mood, and adding personality. Design evokes emotion. It gets us to act. Regardless of whether we seek them out, we may come across hundreds of designs every day. It's clear that design plays a major part in this world. The question is, how does it affect your business and marketing efforts?
If you want to know exactly how design plays a part in your marketing efforts and whether you should spend the extra time and money to ensure your business is equipped with professionally designed marketing materials, you've come to the right place. We're going to look at four specific reasons design plays a very important role in your marketing efforts.
How Design Plays a Part in Your Marketing Efforts
1. Good design helps you stand out and get noticed.
Your primary marketing goal is most likely to raise awareness for your business, your brand, or a product or service you offer. Before people buy from you, they obviously need to know you exist. By producing well designed marketing material and having a strong brand to back everything you do, you will be well on your way to building trust with people and becoming a leader within your market. Smart design will increase the visibility of your business both on and offline and help you rise above your competition.
2. Good design will better relay a message.
Would you rather read a big chunk of plain text or a message that combines text and imagery to tell a compelling story? People are visual. We are naturally drawn to color and pretty things. Instead of putting everything you want to say in black and white, integrate photography, visuals, or graphic representations to support your message and speak for you. One photograph could say more than hundreds of words on a page. Your material will make a bigger impact on people if portrayed in a creative way that is clear and concise.
3. Good design will strengthen your company and raise visibility.
Having a solid brand that people trust and recognize will help your business thrive. Every creative marketing piece that your company releases should support your brand and identity. If your marketing pieces are consistently well designed, it will show you have great attention to detail and good taste. You will also be seen as a professional in your field and move ahead of your competition.
4. Good design will bring in more leads.
Your website should not only look great, but it should also be strategically designed to lead visitors through a very specific conversion process. Thousands of beautiful websites fill the World Wide Web, but if they aren't converting visitors into leads, then what's the point? We could talk for hours about what makes a website look good or what trends you should avoid when designing your business website (we have written several other blog posts about that), but today, we're going to review the customer conversion process —what SHOULD happen when a visitor lands on your website.
A potential customer has landed on your page. Now what? How do you convert him or her into a lead or a customer? Obviously, you need to have something great to offer. Let's assume you have an amazing product you are trying to sell. It's very important to have good, easy-to-spot calls to action on most, if not all, pages of your website. A call-to-action button should give visitors the opportunity to make a purchase or take some kind of action. This is key in the conversion process.
Once the visitor clicks on a call to action, a landing page should provide a bit more information about your product. This landing page, if written and designed successfully, should persuade the visitor to fill out a short form requesting something (e.g. for you to contact them, for more information, or to make a purchase). Once they fill out the form and click submit, you have successfully acquired a lead.
This is just one part of a process known as inbound marketing. It goes to show how important the setup and design of a website is for successfully bringing in new leads and customers. To learn more about this conversion process and inbound marketing, CLICK HERE.
Graphic Design in Denver and Des Moines
If your company could use some help with marketing, graphic design, or website design, Blue Frog Marketing would love to help you out! We have offices in Des Moines and Denver but can work with any client, regardless of location.
Let us help you get your business on track so it can bring you the kind of ROI you're looking for. Give us a call or send us a message by clicking the button below! We'd love to hear from you.