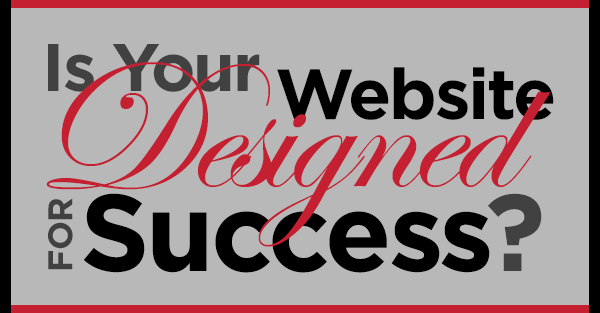 Have you ever wondered, "Why isn't anyone visiting my website?" Any company or individual investing in an online presence should be concerned about how effective their website truly is and take the steps necessary to ensure it is working for (and not against) them. In this post, you'll find several great tips to help you determine if your website is designed to be as successful as possible.
What are your main goals for your business website?
The first step in determining whether or not your website is designed for success is to define your overall goals. Is your primary goal to promote your business? Sell products or services? Provide quality information for customers and visitors to build trust with your offline business and offerings? Whatever your main goals are, it's important to be well aware of them so you can figure out whether your website is reaching these goals or needs an upgrade or redesign with your particular goals in mind.
Is your website attractive?
You want to attract people to your website, right? Of course! Why else would you have a business website? In order to attract not just anyone, but your potential customers, you need to be attractive to those who will benefit most from whatever you have to offer. There are many ways to attract people to your site. Get your business name, what you provide, and your company's personality out there for the world to see. You can do this by blogging, through paid media, with great onsite content and search engine optimization (SEO), or by posting to social media.
Let's say you have an amazing service to provide, you have great content on your website, you post regularly to social media outlets, and your site is optimized so you can be found quickly on Google. However, it isn't designed well: It's not optimized for mobile use, and it's confusing to navigate. Even though you can attract a lot of traffic to your site, people aren't staying. They leave before they have time to make a decision or contact you for your service. This is a common problem for many sites on the web today. They may have all the right marketing tools in place, but the look and feel of the actual website isn't attractive at all, so it's not working effectively.
If your website fits into this category, you probably need a redesign. Websites that are designed well and are mobile friendly, clean, easy to navigate, and full of great, professionally written content are going to be much more successful than those that are missing any of these key components.
How easy is it for people to contact you via your website?
No matter what you're selling or who your audience is, your primary goal is most likely to eventually convert your website visitors into customers. This happens by getting a visitor to contact you. Your website should have several elements in order to do this effectively:
Contact Page
This should be easy to spot on your home page from the moment someone lands on your site. It should also be visible on most (if not all) of the other pages on your website via the main navigation bar. You can also stick contact information in the banner at the bottom or top of your site as another quick and easy way for people to contact you.
Clear Calls to Action (CTAs) Throughout Your Site
These can promote special offers, discounts, free downloadable resources, or simply consist of a "Contact Us!" button that's easy to spot. Make sure your CTAs are action-oriented and grab your visitors' attention quickly.
Landing Pages
Each CTA on your site should lead to a landing page that explains your offer clearly and concisely. Landing pages are at the core of the lead-generation process. It's where a visitor will have the opportunity to exchange their contact information for something that is valuable to them. Once this info is submitted, you have a lead!
Are you tracking the numbers?
It's important to keep tabs on the kind of engagement you're getting on your website and how it measures up to other similar sites. Great numbers to track on a regular basis include
Visits to your website (and to each separate page)
Leads (via each landing page)
Blog views (if you have a business blog)
The number of keywords ranked in the top 3 by Google
The number of keywords ranked in the top 10 by Google
If you track these numbers monthly, you'll be able to see changes and pinpoint where improvements can be made.
Are you making the necessary changes to reach your goals and become a successful online presence?
If this article has made you think and reexamine your website and you've discovered that it could use some updates, you're in the right place. Blue Frog Marketing would be happy to sit down with you and discuss your current goals and help you devise a great marketing plan that will work for your business and bring you the site traffic and customer conversions you desire.
Website Design in Denver & Des Moines
Blue Frog has offices in Denver, Colorado, and Des Moines, Iowa, and can serve customers in any location. We would love to help you redesign your website for success. Contact us today for your website design or online marketing needs!