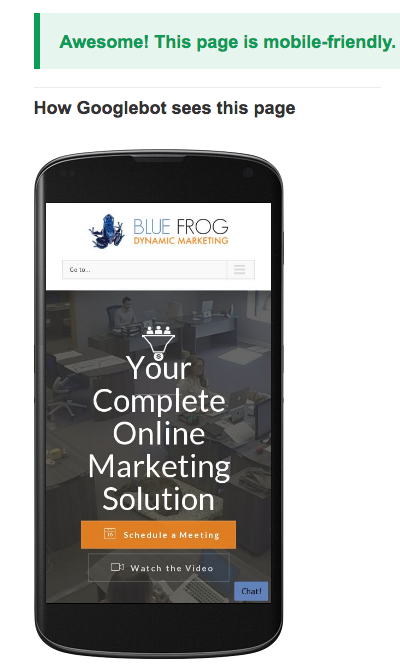 A modern website is much more than an online billboard for your business. Done right, your website can be your company's #1 employee, helping you to connect with customers, answer their questions, and build trust in your company 24 hours a day, 365 days a year. If your website isn't doing this, it's likely time for an update or, depending on the age of your site and how it's been maintained, an entire redesign. Here are a few ways a new website can help you more effectively reach and make connections with your target audience.
It can make it easier for customers to find you.
Mobile Friendliness
A modern website incorporates responsive design, meaning that the site can be fully and easily viewed on any device, including tablets and phones as well as laptop and desktop computers. If you don't yet have a mobile friendly site, it's time for a change. If you're not sure, you can test your site's mobile friendliness with Google's simple tool.
SEO
Not only is mobile friendliness important for easy accessibility to all users on whatever device they may be using; it's also becoming increasingly important for search engine optimization (SEO). Since 2015, Google has incorporated mobile friendliness as a factor in its algorithm for delivering mobile search results, and the search engine has announced its intention to intensify the effect of this ranking signal this year.
In addition to responsive design, an up-to-date website utilizes a logical structure that makes it easy for search engines to understand what each page is about. It makes smart use of title tags, header tags, alt tags, and other signals that help search engines categorize the website's content so they can deliver links to appropriate pages as answers to users' search queries. If your site is difficult for search engines to decipher, then it's unlikely to show up in the results pages, making it very difficult for users to find without typing your exact URL.
It can help you answer your visitors' questions about your business.
If your website isn't capable of answering common questions that your potential customers have about your industry and products or services, then it definitely needs an update. Your product and services pages should clearly describe what you have to offer. A "frequently asked questions" page can be a handy place to keep answers to questions that you find yourself answering over and over again. A blog, however, is the most flexible way to answer a broad range of questions by continually providing fresh information about topics that are currently relevant to your business.
A modern website can also integrate analytics that make it easy to access important information like how many people are viewing each page, how visitors are finding it, and what keywords your target audience are likely to be searching. This kind of information can help you keep the information on your site relevant and visible to your potential customers.
It can encourage your visitors to interact with your company.
Once your new website has attracted a visitor, it can continue working for you by providing next steps in the form of calls to action, landing pages, and links to other relevant information on your site. For example, at the bottom of this page, you'll find a call to action that allows you to easily contact our company about starting the process of creating a new website. Placing appropriate calls to action strategically throughout your website helps users understand how to take the next step with your company without having to pick up the phone. Likewise, links to other pages of your website can help users who are not yet ready to reach out to your business find the additional information they need before making a purchase decision.
Finally, modern websites integrate social media sharing buttons, making it easy for visitors to share content that they find on your site with their social networks and interact with your company on social platforms. This is an easy way to extend the reach of your marketing efforts, boosting your brand visibility and authority.
Is your website in need of an update or redesign? Blue Frog has offices in Des Moines and Denver and provides modern website design for companies across the U.S. Contact us for a consultation to assess your website's needs, or click below to get started on a new site with 12-month interest-free financing.