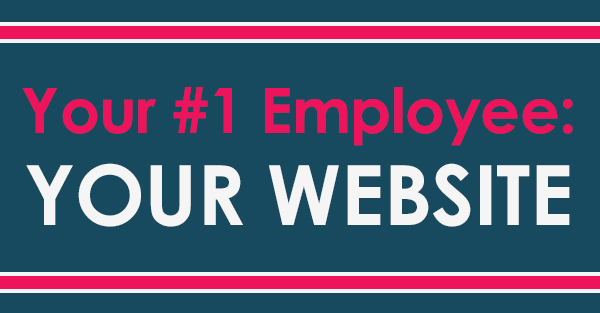 How many employees do you have working for you 24 hours a day and seven days a week? The answer is (hopefully) one! Your website is constantly up and running with the potential to attract visitors, draw in leads, and convert leads into customers by providing them with the quality information they are looking for.
Your website SHOULD be your #1 employee, but is it? Take a few moments to go through your website, answering these 5 questions along the way.
1. Is your website easy to navigate?
Your navigation bar should be in an obvious place that is clear to see and consistent throughout most of your website. Your contact information should be very easy to find as soon as someone arrives on your site.
2. Do you think of your website as a lead generator?
You need to have goals in place in order to be successful, no matter what you're doing. The same goes for your website. If you don't have set goals in mind, then how is your business to succeed? The main goal of your website should be to generate leads for your business. By having this goal, you can then take the necessary steps to achieve it.
Do you have clear calls to action on every page of your website that link to landing pages? This is a GREAT way to generate leads for your business. By having a call to action button on a page, you will give a visitor the chance to become a customer by taking action to either receive more information or get into contact with your company. Landing pages should be concise and clear, defining what is being offered and prompting the customer to provide their contact information.
3. Is your website content updated regularly?
Your website should be active, alive, and dynamic! A website that never changes and never produces new information won't attract visitors a second time. Why would someone need to revisit the exact same information over and over again? They wouldn't! Keep your content up to date by highlighting your latest offers.
Do you have a business blog? This is one of the most effective ways to regularly update the content on your website, adding new and unique information every time you post an article. Of course, there is a lot that goes into producing an optimized blog. You need quality content creation targeted to attract the type of audience you want. By putting in the time and effort, you WILL see amazing results from your business blog. Your rankings for search engine results will improve, you'll gain more organic website traffic, and you'll turn your site into a credible, trustworthy website that will help your company gain respect and become an authority figure in your industry.
4. Is your site optimized for search engines?
Do you have a content marketing strategy in place that will optimize your website for search engine results? Like we said already, original content that is clear, accessible, and straightforward is the most effective way to rank highly in search results. Aside from this, you also need to include high-ranking keywords that are intelligently integrated throughout your site, as well as optimized meta descriptions and page titles.
5. Is your website well designed and up to date?
A professionally designed website will be much more attractive to customers than a website designed by an amateur. If your site looks professional, it will also be viewed as a trustworthy source. Aside from this, it should be aesthetically pleasing, easy and efficient to navigate, and built to facilitate the presentation of great content to anyone who visits your site at any hour, day or night. Your website should support your brand and identity, acting as an interactive extension of your business.
When was the last time your website was redesigned or updated? If you don't know the answer or it's been a few years, chances are it's out of date and needs to be updated. The world we live in is continuously evolving, and to remain relevant, you must adapt as well.
It's also very important to have a website that is mobile-friendly. Responsive website design is one of the latest and greatest trends of our time. In fact, when using your phone to search for something on Google, websites that appear in the search results that work well on mobile devices are now labeled "mobile friendly."
Blue Frog Marketing
If you need help turning your Denver business website into your best employee, contact Blue Frog Marketing. We have offices in both Denver and Des Moines and can serve any customer from any location! Our Des Moines website designers would love to help you out by making the necessary improvements on your business website to really get it up and running full force and to bring you the ROI you're looking for.