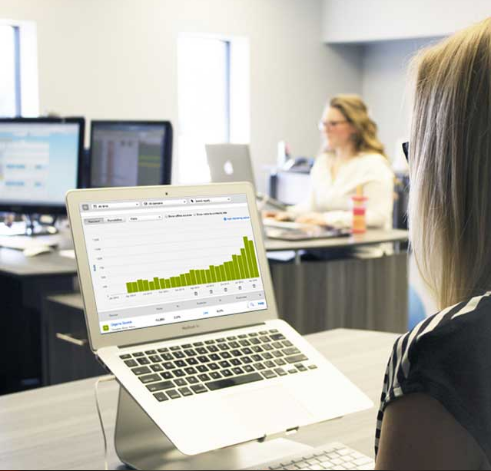 Website analytics tracking systems like Google Analytics and HubSpot offer a sources or channels report that allows you to see by which avenues, or other online platforms, visitors are arriving to your website. For example, if your business is active on social media, your business' website should be getting visitors from social media platforms.
Your analytics tracking system will offer you data regarding these website traffic sources, but it does not tell you how to interpret these numbers—nor does it tell you how these numbers may affect your business' inbound marketing plan.

Together, let's address two issues:
How do I interpret my business sources report?
How do I apply that interpretation to my inbound plan moving forward?
How do I interpret my business website's sources report?
Total traffic
Your total traffic is the number of visits your website has had over a given amount of time. For the purpose of this article, let's call that amount of time one calendar month. Some analytics tracking systems track individual visitors, and some track the number of visits. One visitor may visit your site numerous times over a month; so, for the purpose of this article, we will discuss visits rather than visitors.
Organic Search Traffic
Organic search traffic is website traffic that arrived at your website via unpaid search results from search engines like Google, Yahoo, and Bing.
Direct Traffic
Direct traffic is any website traffic arriving at your site by typing in your website address (URL). When someone assigns any page of your website as their browser's default home page or has bookmarked a page for frequent visiting, then these visits are also considered direct website traffic.
Referral Traffic
Referral traffic is any website traffic that came to your site by way of someone else's website. If you have two business websites and one of your website pages has a link to your other business website, then visitors that arrive via this link also count as referral traffic.
Paid Traffic
Paid traffic is traffic that comes to your website by way of paid advertising. Paid advertising could be in the form of Google AdWords display, search, or video ads or any other form of online advertising, with the exception of advertising on social media platforms like Facebook or Twitter.
Social Media Traffic
Social media traffic is website traffic arriving at your site from social media platforms like Facebook, Instagram, LinkedIn, or Twitter. When advertising on these platforms, if you do not utilize a tracking link, your paid website traffic from these platforms will still fall under this category, whether it's organic or paid. It is advertising best practice to utilize tracking links in order to filter out this difference.
Email Marketing Traffic
Email marketing traffic is any traffic that comes back to your website via an email campaign that your business has conducted. Email marketing best practices include the use of tracking links or trackable calls to action in email marketing in order to clearly identify this traffic.
Other Campaigns (tracking links)
Website traffic labeled as "other campaigns" comes from any tracking links you may have developed for array of campaign types, including email, online advertising, or social media advertising or promotions.
How do I apply that interpretation to my inbound marketing plan moving forward?
Total traffic
Over the course of your website's life, your goal should always be to increase the your total traffic as this is a representation of the health of your website across all sources and channels. Your total website traffic can also reflect the health of your business and show the peaks and valleys of your buyer's cycle through out a year, allowing you to prepare for a similar cycle in future years.
The best way to increase your total website traffic is to work to grow all of the smaller sources of traffic listed below:
Organic Search Traffic
Organic search traffic may be the single most important source of traffic to your website's inbound marketing strategy and the most important factor in keeping it healthy. Businesses know how important it is to show up in a Google search, and this traffic source shows your website's ability to gain visitors by appearing prominently in online seaches.
Year over year, your organic search traffic should always be moving up. To increase your organic traffic, analyze your client audience to ensure you know what challenges they face (and, by extension, what words they may be using in a search engine to find solutions). Take those keywords, and regularly develop website content around them through additional site pages or blog articles.
If your website's organic search traffic ever goes down, you'll want to reassess the keywords you're targeting on your website, make sure your page titles and URLs are relevant to the page content, and consider adding additional content to your website.
Direct Traffic
Direct traffic is best used as an indicator of brand awareness. While this website traffic source does not typically see any massive increases month to month, it should increase year over year as your business becomes better known.
Referral Traffic
While referral traffic is identified as it's own source, it actually helps to increase organic search engine traffic as well. Linking with other industry leaders' websites will help increase your website's credibility, not only for the visitors on these sites but also for Google when it crawls your website and verifies its content for credibility and resources.
Referral traffic does not tend to fluctuate much, so if you see a spike in referral traffic, you should look into it immediately as this could be a malicious attack on your website from a spam site or a fluke or misunderstanding from another or numerous other websites.
Paid Traffic
Your website's paid traffic is directly related to any advertising you're running. Paid advertising can be a beneficial supplement to your website's traffic in short bursts but should not be relied upon fully as a signifier of a healthy website. Paid traffic does not work to increase the health or credibility of your website in any way; therefore, when you remove paid advertising, you will be back to where you were before you ran the ads.
Social Media Traffic
Social media platforms are ever changing, and their feeds are developed with technical algorithms built to ensure the user's enjoyment on the app. Since these platforms tend to favor their users rather than businesses or advertisers, often, business posts are less likely to appear in newsfeeds than personal posts.
While social media can be a nice organic supplement to your total website traffic, you must understand that it can—and often does—change, and it will affect your website traffic totals when it does. As with paid traffic, keep in mind when buying paid advertising from social media platforms like Facebook and Twitter that it does not increase your website's credibility, so traffic will go away as soon as your advertising is pulled.
Email Marketing Traffic
Email marketing traffic comprises visits directly related to any email campaigns you have going. If you desire to increase traffic from email, you can increase your email frequency or build automated email workflows to consistently send messages to bring in traffic over time. You cannot increase your website's email marketing traffic unless you undertake email marketing campaigns.
Other Campaigns (tracking links)
"Other campaign" traffic relies upon the use of tracking links in a variety of campaign settings. You can not grow your "other campaign" traffic if you do not utilize tracking links.
If you're interested in learning more about inbound marketing or how to develop your business website into awebsite traffic-driving, lead-generating machine, click below to schedule a consultation with one of Blue Frog Marketing's inbound marketing strategists!