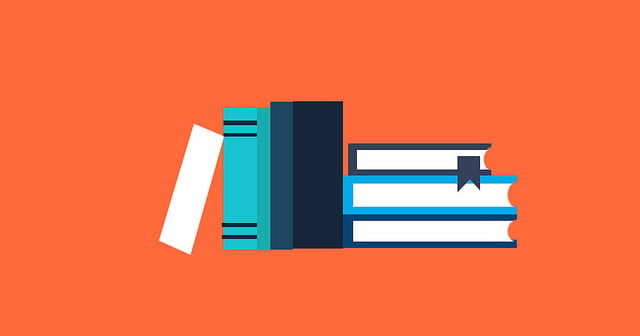 Did you know that eBooks can help you attract website visitors and leads, educate potential customers about your business, and help you build authority in your industry? By providing downloadable eBooks on your business website, you can give readers valuable information and insight about your company, its products or services, your industry, and common questions that your potential customers ask. Even if you already knew this, you may not quite know how to get started.
The first thing to do is to create a list of possible topics for your eBook library. When doing this, think about who your customers are and what they need to know before making a decision to purchase from you. The eBook format provides the opportunity to present more in-depth information than is appropriate for your website's main pages or even your blog. Here are some ideas to help get your creativity flowing:
Write about how your business solves specific problems.
What problems does your company solve for its customers, and how do you solve those problems more effectively than your competitors? Giving readers who are considering your company an inside look at your processes, products, or anything else that gives you the edge allows them to educate themselves about the benefits of doing business with you rather than waiting for them to reach out to a sales representative for more information.
For example, Blue Frog Marketing's popular eBook, "Your Website Should Be Your #1 Salesperson" explains how a business website can be set up to effectively attract and engage visitors, generate leads, and develop and maintain relationships with potential, current, and past customers. Readers can use this information to improve their own websites, but it also serves to educate our audience about Blue Frog's expertise in this area and build trust with potential clients by explaining clearly how and why our services work.
Write about common questions your customers ask.
Your sales team can be an outstanding resource for this list. What questions do they answer over and over again when closing sales? These can be ideal choices for eBook topics! For example, the eBook mentioned above describes, in simple terms, several steps that we take to enhance a website's performance. By providing potential clients a grounding in the basics of what we do, we build trust and give them reason to reach out to us when they're ready to hire a professional.
Create an overview of your products or services.
Depending on your type of business, you may have an extensive selection of products or services, or the products or services you offer may be complex. If you spend a lot of time explaining what you do or the details of the products you sell, putting this information in downloadable form and making it accessible with the click of a mouse on your website can save staff time while encouraging more prospects to learn about your business by making it easier and more convenient for them to do so.
Make it visual.
Visual elements engage viewers' interest and can make written text more easily digestible. That's why infographics are such a commonly shared content format; they make it easier to communicate complex ideas in a way that is likely to hold a viewer's attention. For example, the infographic below uses images and color to illustrate how to structure a piece of writing. For many viewers, seeing information in a visual format like this can spark new understanding of concepts that had previously been difficult to grasp.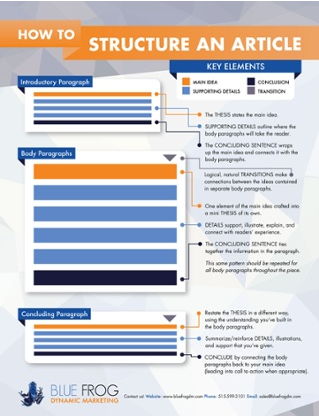 Now that you have some ideas for what types of eBooks or other downloadable content to provide on your website, it's time to get started writing! If you don't have the time or skill on your staff to create professional-quality eBooks and graphics yourself, Blue Frog Marketing can help. Our dedicated and knowledgeable staff includes professional writers, graphic designers, web designers, and account managers who can work as an extension of your company to provide the expert assistance you need to create outstanding web content and get it in front of your ideal customers. Click here to contact us, or click the image below to learn more about how you can use various forms of online content to reach your business goals.