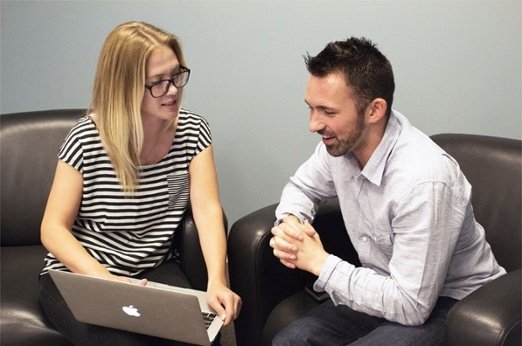 At Blue Frog Marketing, we've created modern, user-friendly websites for a wide range of businesses in a variety of industries. With each new project, we use a proven process to understand what our client wants and needs from the website and deliver a completed site that effectively conveys the businesses' value and brand, attracts the right audience, and engages visitors. Here's what to expect when you hire Blue Frog to build or redesign your website.
Kickoff
The process begins with a kickoff meeting. Your design team will meet with you to discuss your brand, its voice, and the value your company provides so we can shape your content in a way that best represents your business. During this meeting, we'll talk about timelines, things we'll need from you to get the project done, the page structure you envision, and your goals for your website. We'll also ask some exploratory questions designed to help us get a good idea of your company's personality and what motivates your customers.
Content
Based on information gathered at your kick-off meeting, we'll begin developing your website's homepage. We do this in close collaboration with your business because the homepage often determines whether a visitor stays on your site or immediately clicks away. It's essential that this page directly and concisely conveys how your business can help potential customers. From there, we'll move on to building the additional pages of your site, getting your input and feedback along the way.
We often recommend that our clients offer high-value downloadable content on their websites in exchange for visitors' contact information, and we offer custom content for this purpose as part of our website packages. Providing valued downloadable content can encourage visitors who are most interested in the products or services you provide to engage with your company. This gives your website the power to convert visitors into leads.
If you choose to have Blue Frog create downloadable content for your site, then we'll schedule a meeting for around a week after your kick-off meeting to talk about what that will look like. Depending on your business and your audience, you might choose to create an ebook, a white paper, a case study, or a handy infographic. We'll discuss the type of content you'd like to develop, its topic, scope, and direction. Our professional writer will develop a rough outline of the content to make sure we're on the same page, and when you approve, our writer will work up a draft of the written content. Keep in mind that the more you communicate with us about your website content, the better we'll be able to create material that you'll love. We typically include up to two rounds of editing, so you'll have a couple of opportunities to go back over the content and let us know how we can make it even better.
Design
During this time, your website designer will be at work preparing a non-interactive template for you to review so you can clearly see the design of your site before we begin coding. After you look over the template, we'll make any adjustments you request, and when you're happy, we'll begin building the site.
Testing and Launch
We build the site on our staging server, giving us and you the opportunity to go through the site and look for any potential issues before your new website goes live. When you're satisfied with your new site, we transfer it to your domain and launch it onto the web!
Follow-Up
After launch, the Blue Frog team provides training on using the WordPress platform to edit your new site in addition to a month of customer support at no additional cost.
Are you ready for a new business website? Click the image below to schedule a free web design consultation! Blue Frog Marketing is headquartered in Des Moines, Iowa, has additional offices in Huron, Ohio, and Denver, Colorado, and serves satisfied clients from coast to coast.