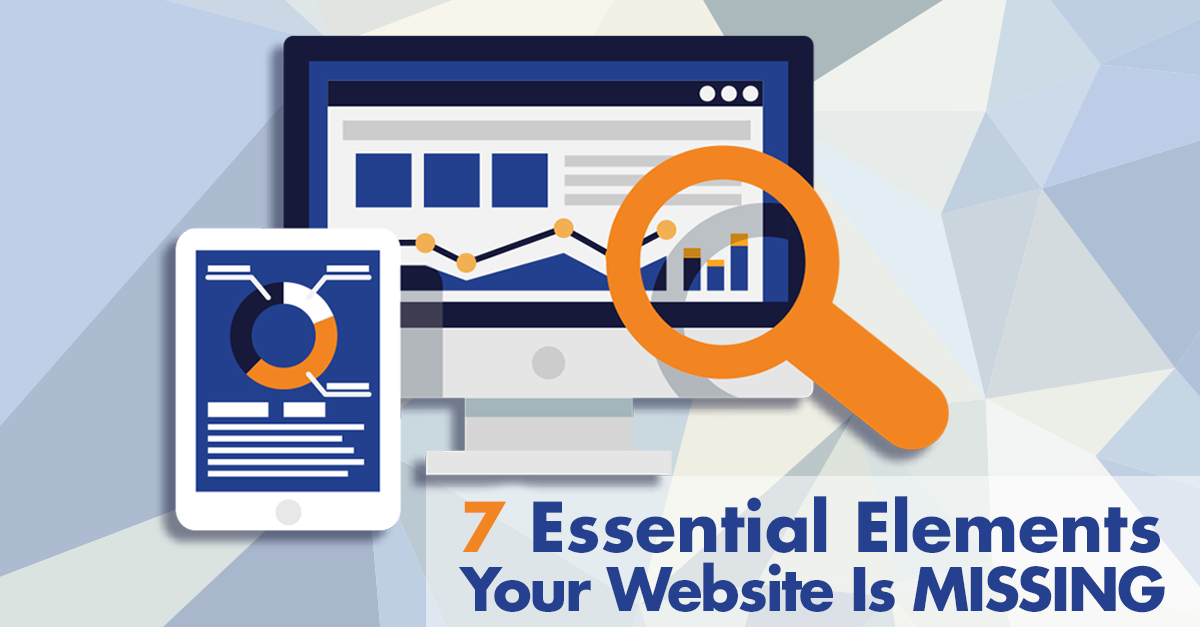 Last week, we talked about two important elements every business website must incorporate to be as successful as possible. If you missed it, be sure to check it out! It's called, "7 Essential Elements Your Website is Missing - Part 1." Today, we'll dive in and address three more elements your website needs to remain current and relevant in today's rapidly evolving digital world.
Fresh Content
Do you add new content to your website regularly? If not, you'll have a tougher time getting people to keep coming back. They may come back once or twice to reaccess your great content (if you're lucky), but once they've digested all the information you have, they will likely see no need to return unless you provide fresh content for them. Think about it this way: if the pilot for an exciting new TV show played repeatedly week after week, would you keep tuning in and watching it over and over? Of course not! The same concept applies to your website. If your content is old, people will get bored. It could quickly become outdated as well and lose its relevance and usefulness.
Stay current in your industry by publishing new content regularly, and you'll keep customers in your target market coming back to you. Create succinct and relevant content that will inform and assist, address key concerns, and offer attainable solutions for people. There are several ways to achieve this on your website. A business blog, eBooks, webinars, videos, and special offers are several great ways to engage your audience and increase interest in your business or industry. These types of content can greatly improve your ranking on search engines and prove your business to be a credible, respected, and trustworthy resource in your industry. It can also help you to push ahead of many of your competitors.
About Us
"About Us" sections are among the most visited pages on business websites. Show people who you are, what you value and believe, and what your company's culture is like. This section can give your company a face and personality and make you more relatable. It can also help you build trust with potential customers. Be sure to include a brief history about how your company started and how it grew into what it is today. Also include a brief description of who you are, what you do, and why you do what you do. Tailor your message to your target audience so you appeal to your ideal customers. Consider adding photos of and short blurbs about employees so visitors can get to know your awesome team.
Social Media
If your company isn't already on social media, you have your work cut out for you! Set up profiles on any social platforms that pertain to your business. Four major platforms most businesses use are Facebook, Google+, Twitter, and LinkedIn. Once your profiles are set up and ready to roll, add links on your website to all of them. This way, visitors can quickly and easily connect with you. Social media allows potential and current customers to get to know you better and interact with you in a relaxed, unintimidating way. If used effectively, social media has the power to communicate your business's voice and personality to a wide audience, giving them the opportunity to work with you or utilize your resources. You can develop a professional, positive relationship with people and build trust by responding to posts or comments on your pages as well.
Your website should also include social sharing buttons. If someone likes what they read or saw on your website, they can share it with their friends and family on their social profiles, expanding your reach even more! You want to get in front of as many online eyes as you can, and having small pieces in place (like links to your social profiles and social sharing icons) can help you do that easily.
Des Moines Web Design
To read this blog series all at one time, instead of jumping around from post to post or waiting for the next article to be published, you can download our free eBook! Simply click on the button below. We encourage you to really dig in and find out if your website is missing any of these seven key elements. We want your business website to live up to its full potential so you can reach your goals and have great online success! If you know you're missing some of these elements and you'd like some web design or content creation help to get your website up to speed, contact Blue Frog Marketing. We're based in the Des Moines area, but we serve customers nationwide!