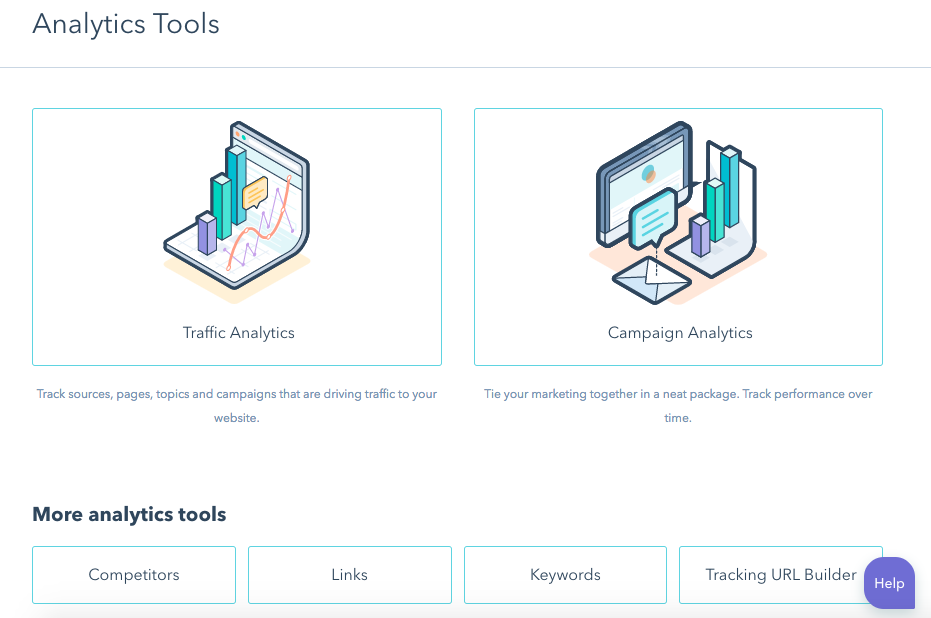 Your website is your best salesperson. The more information you have about its current performance, the more effective content and design decisions you'll be able to make to build on its success. HubSpot's analytics tools can help you collect the data you need to make those informed decisions.
HubSpot's new analytics tools page brings all your data into one place. From this page, you can navigate to Traffic Analytics, campaign analytics, competitors, links, keywords, or the tracking URL builder.
Traffic Analytics
Traffic analytics are similar to HubSpot's original sources report, but the metrics are more robust. In this tool, you'll see your website's sessions, bounce rate, and average session length along with a few other metrics related to your contacts and conversion rates per traffic source.
As of November 2017, HubSpot's sources report displays sessions rather than visits. According to HubSpot, sessions and visits are two ways to categorize groups of interactions a user has on a website. Visits are counted when a visitor arrives on your website from a page outside of your website. Sessions are more comprehensive than visits: sessions include interactions other than page views, such as events and CTA clicks. Sessions also expire after 30 minutes of inactivity, and if a visitor has cookies turned off but submits a form, tracking sessions can now infer more of the context around that submission. All in all, sessions provide a more accurate metric than visits.
This report also displays bounce rate, calculated by dividing the total number of sessions by the number of sessions with only one page view. Bounce rate is an important metric for understanding whether your content is engaging or what users expect to find. If your content is not what users expect or is not engaging, they will navigate away, raising your bounce rate. An average bounce rate for all websites is around 40.5%.
Average session length is another good metric to take into consideration. This is the average number of minutes and seconds spent on your website per session. The more time users spend on your website, the better.
Campaign Analytics
The campaign analytics tool allows you to measure the effectiveness of your marketing campaigns in HubSpot. The tool analyzes six metrics that help you quantify how your marketing content contributes to your business' success. These metrics include the following:
Sessions measures traffic to assets related to the campaign.
New contacts measures the number of newly created contacts and attributes them to the campaign that brought them to your site for the first time.
New contacts (last touch) shows newly created contacts, attributed to the campaign that most directly contributed to their conversion.
Influenced contacts measures the number of contacts (new and existing) that have engaged with assets related to the campaigns.
Influenced deals measures the number of closed deals related to contacts influenced by a campaign.
Influenced revenue shows the amount of closed revenue for deals related to contacts influenced by a campaign.
Competitors
In the competitors tool, you can compare your website's authority to your competitors' websites. In this tool, HubSpot provides each domain with a marketing grade, or a holistic measure of a website's online presence on a scale of 0–100. This tool gives you the power to keep a close eye on multiple companies within your industry.
Links
The links tool will help you with your inbound link building strategy. This tool makes it easy to find new link-building opportunities by showing a list of websites currently linking to yours and a snapshot of sites linking to your competitors' sites.
Keywords
In the keywords tool, you can track and analyze up to 1,000 keywords. It also suggests keywords to help you optimize your content for search engines. With metrics like monthly searches, difficulty, and rank, you can better identify keywords to use in your content strategy.
Tracking URL Builder
Tracking URLs are useful for determining the effectiveness of your marketing campaigns. Use this tool to starting building URLs for your campaigns in HubSpot.
If your company is already using HubSpot but could use some help managing it, click below to discover how Blue Frog can help.
Blue Frog is an inbound marketing agency with offices located in Denver, CO, Des Moines, IA, and Huron, OH. If you don't live in any of these locations, don't worry. We work with businesses all across the nation. Contact us today!