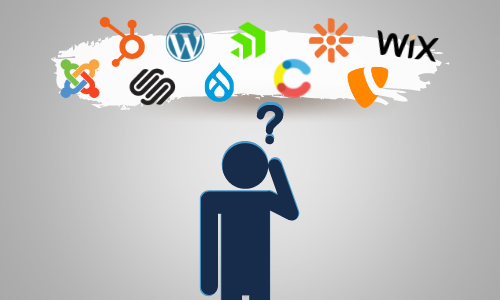 In today's age of technological advancement, the need to own and maintain a website is more prevalent than ever. While companies ranging from large to small work to increase their web presence, the market has likewise expanded their platform offerings. Today, there are thousands of content management systems (CMS) available for purchase, which raises the question -- which CMS is best for my business?
What is a CMS?
A CMS or content management system is a software platform that controls the front-end manipulation of a website's content and elements. The user experience of each of these platforms can drastically vary, as some are catered toward a DIY experience while others require more heavy-lifting through the assistance of a developer. While simply choosing the platform with the easiest editing experience may seem like the right move, there are several other factors to consider when deciding what CMS is right for you.
What should I consider when evaluating a CMS?
The most obvious consideration outside of ease-of-use is, of course, cost and budgetary restrictions. Most established CMS platforms provide a range of pricing tiers to better serve a larger scope of businesses; however, these options may actually hinder the decision-making process as additional options can further dilute the pool of choices. While considering cost, it is often beneficial to step back from the numbers and look at which platform or platform tier will provide the best functionality to meet your business goals. Furthermore, while immediate business needs often dictate these goals, future, long-term goals should also be considered. This concept of scalability often takes a back seat to cost; however, the ability to keep your website growing in tandem with your business is invaluable.
Laid out below are the top 8 CMS platforms (and a few honorable mentions) based on these considerations. Each platform will be evaluated according to their:
Cost
Usability/Marketer-friendly
Scalability
Support
Security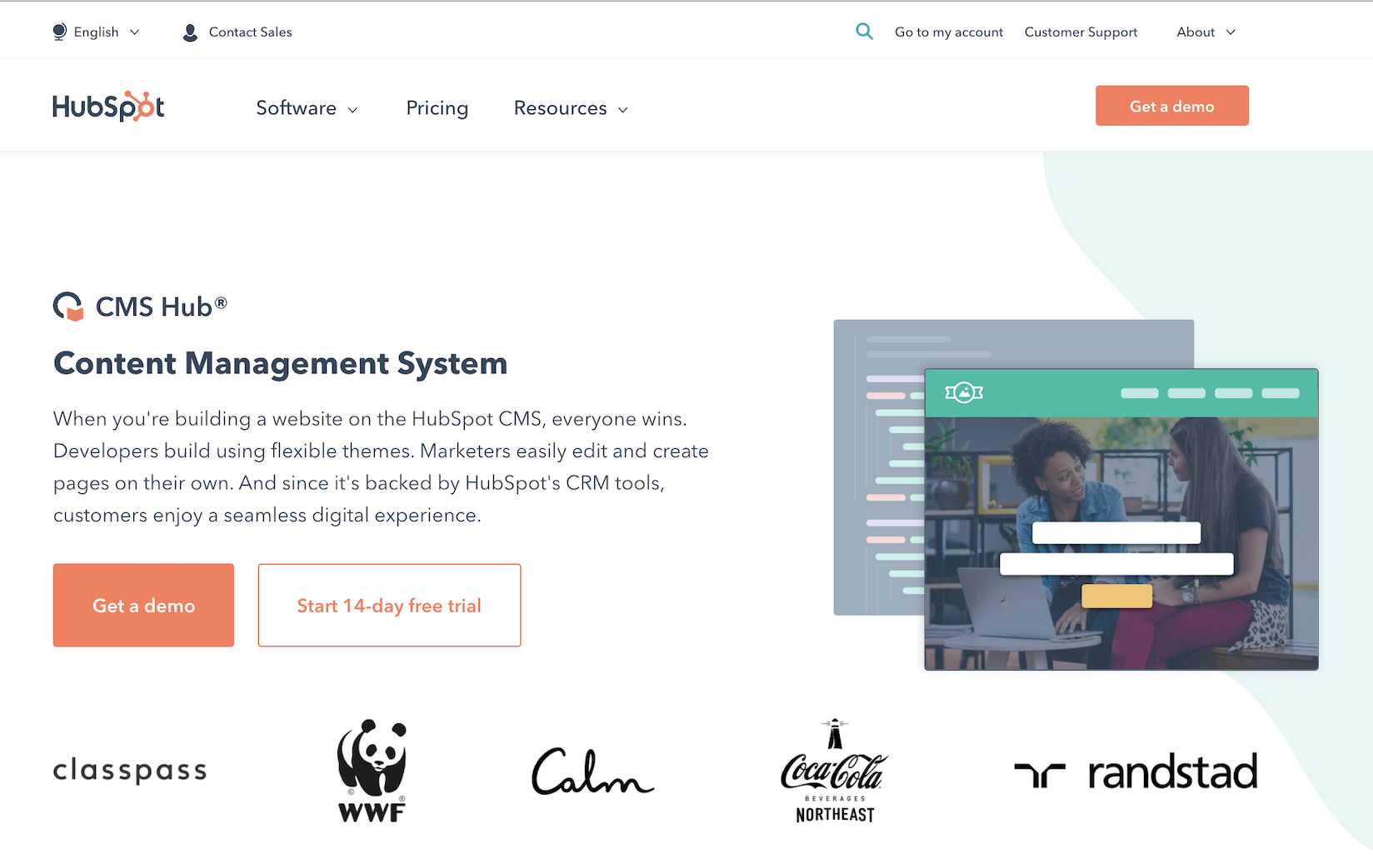 Built and designed specifically around the concept of inbound marketing, the Hubspot CMS is a robust platform catered toward business owners and marketers. It offers a large range of functionality out-of-the-box, as well as installation of pre-built themes and the opportunity for custom-built components. Additionally, the platform was built on top of their Hubspot CMS, which further enables a range of advanced functionality and can be used as an all-in-one solution to eliminate the need for a bloated tech stack.
Pros:
Incorporates "website builder" functionality through the introduction of drag-n-drop templates, making the editing experience and content updates easy for non-technical users
Comes with a wide variety of built-in tools, catered toward marketers including automation, SEO tools, email marketing, landing pages, blogs, and social media integration
Built-in security within the CMS, as well as a dedicated team to maintain platform security
Hosting is offered
Cons:
Does not offer a free version (although a free trial can be requested)
Advanced functionality may require a higher subscription or additional hub
No built-in e-commerce functionality (but allows for integration with Shopify)
Pricing:
Starter: $23/month - includes basic CMS tools
Pro: $360/month - includes additional reporting and smart content tools
Enterprise: $1,200/month - includes additional customization tools
2. WordPress

One of the longest-standing CMS platforms, WordPress has been a popular choice for both large and small businesses since 2003. As the most utilized open-source CMS platform, WordPress has accumulated a large selection of themes and plugins which can be further customized to meet user goals. WordPress has also compiled extensive documentation regarding support and capabilities; however, like most CMS platforms, they require the independent purchase of a domain name and hosting.
Pros:
Offers themes and plugins for a custom experience which can eliminate the need for technical skills or knowledge of code
Platform is extremely SEO friendly
Has a large community supporting the platform which makes support easy to find
Extremely flexible when it comes to the type and size of website (e-commerce, portfolio, blogs, etc.)
WordPress is free (themes and plugins may require purchase)
Cons:
Users are required to purchase the domain and set up hosting independently
No dedicated support team
The number of themes and plugins may seem overwhelming at first
Pricing:
Free
Domain name and hosting can range ($2.99 ~ $12/monthly)
Theme/plugin purchases
3. Joomla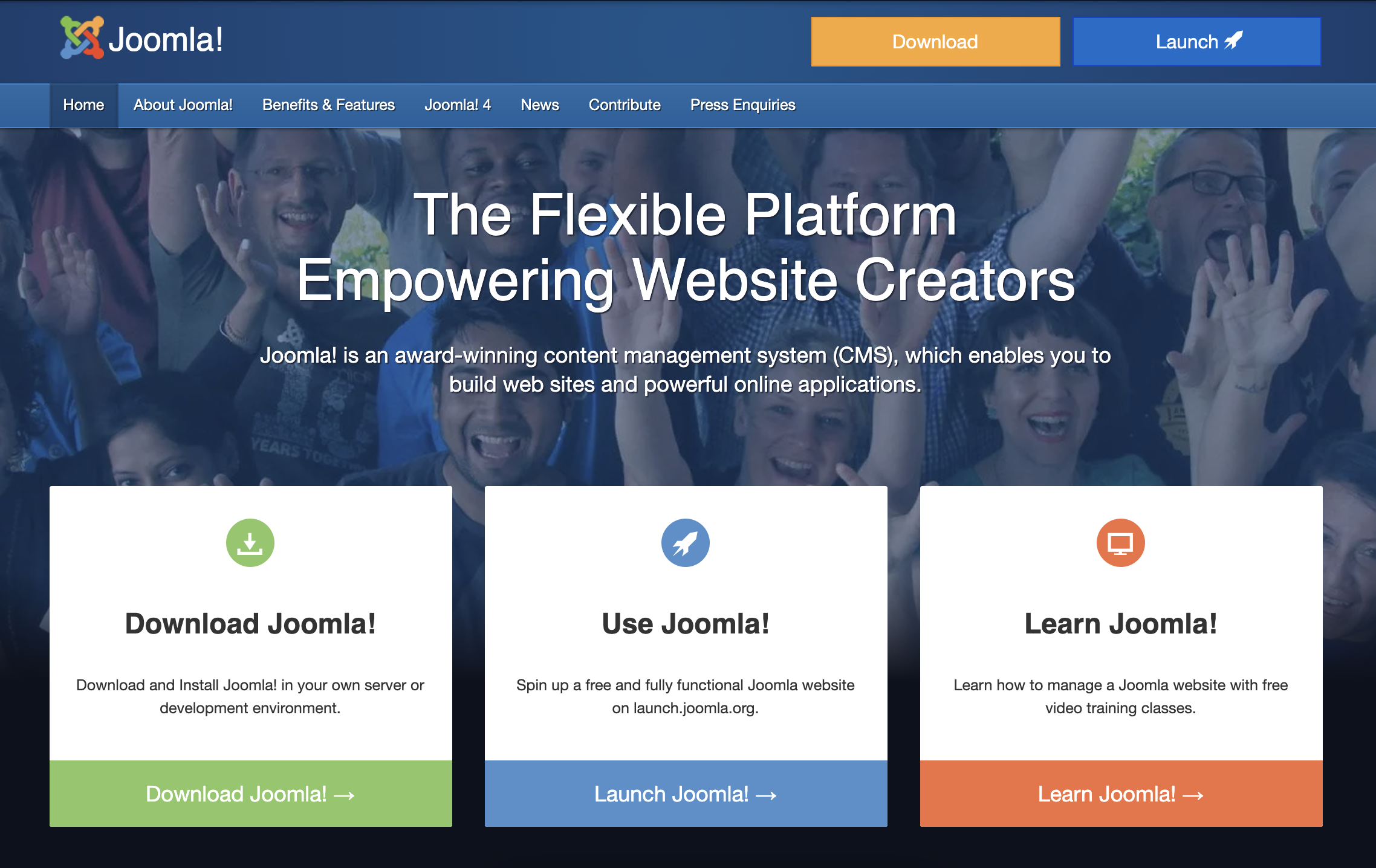 Similar to WordPress, Joomla is another open-source platform that was launched in the mid-2000s. Joomla offers a variety of extensions and premium templates to enhance the CMS experience. In addition to these front-end add-ons, Joomla also offers native tools for performance management including built-in caching controls.
Pros:
Offers extensions and themes to build custom editing experience
Platform is SEO friendly
Works well with e-commerce integrations
Built-in performance mechanisms
Cons:
Even with a theme, the experience can be more complex than other CMS platforms and may require the assistance of a developer
Free extensions and themes may not be maintained as well requiring the purchase of a premium theme or extension
Pricing:
Free
Domain name and hosting can range ($3 ~ $4/monthly)
Theme/plugin purchases
4. Drupal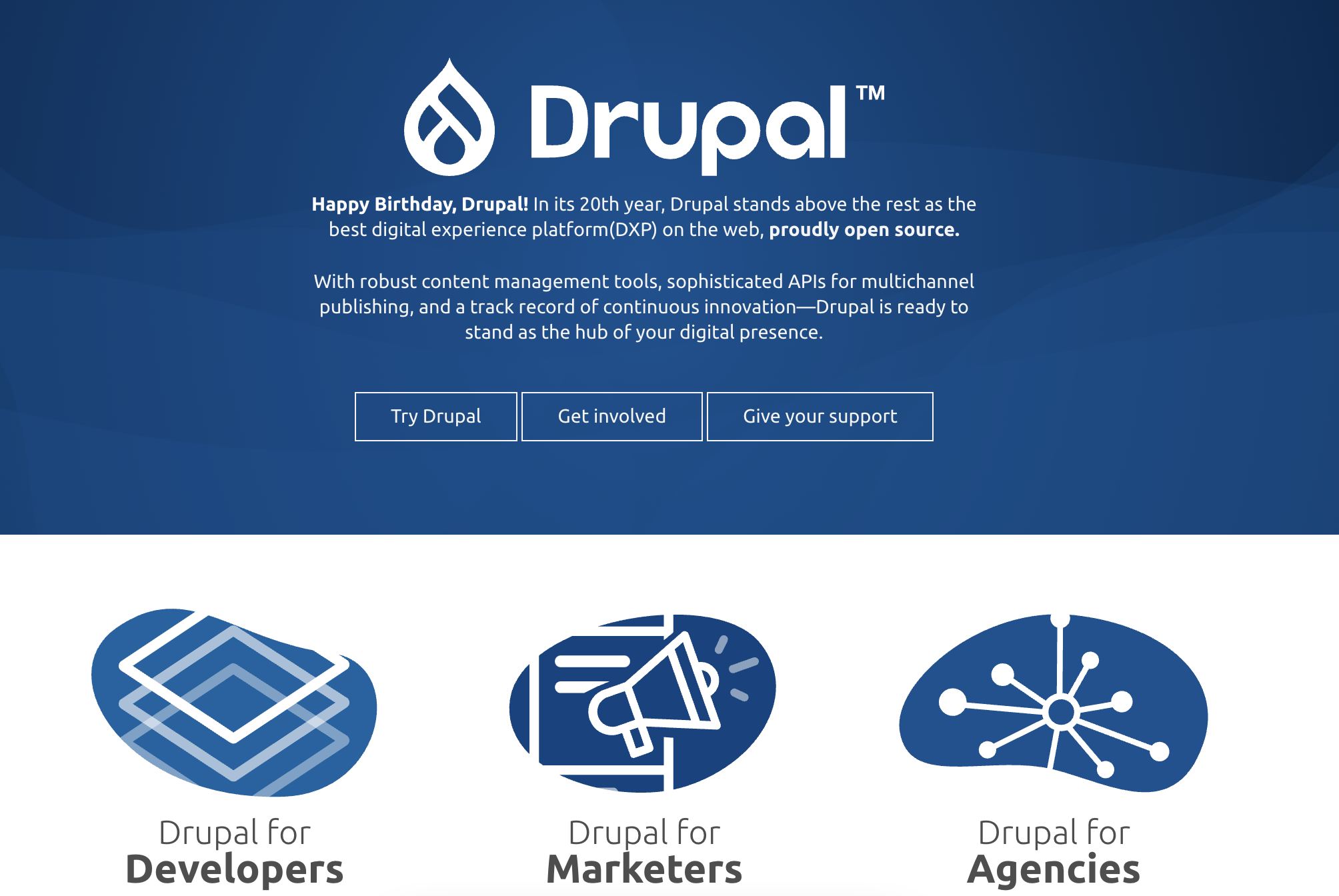 Drupal is a strong contender when considering a CMS for a complex or data-heavy site. Slightly older than WordPress, Drupal likewise has a large community of support. Drupal has also made site security a strong priority, conducting frequent tests and regularly posting security reports on their website.
Pros:
Offer a wide variety of content types
Provides a variety of themes and plugins (larger library than Joomla, but not as large as Wordpress)
Security is a priority
Cons:
Complex CMS and a fairly steep learning curve (most likely you will need the assistance of a developer)
Simple updates to the site's appearance can require a developer and be much more time-consuming than other CMS platforms
Pricing:
Free CMS
Domain name and hosting can range ($3 ~ $4/monthly)
Theme/plugin purchases
5. Sitefinity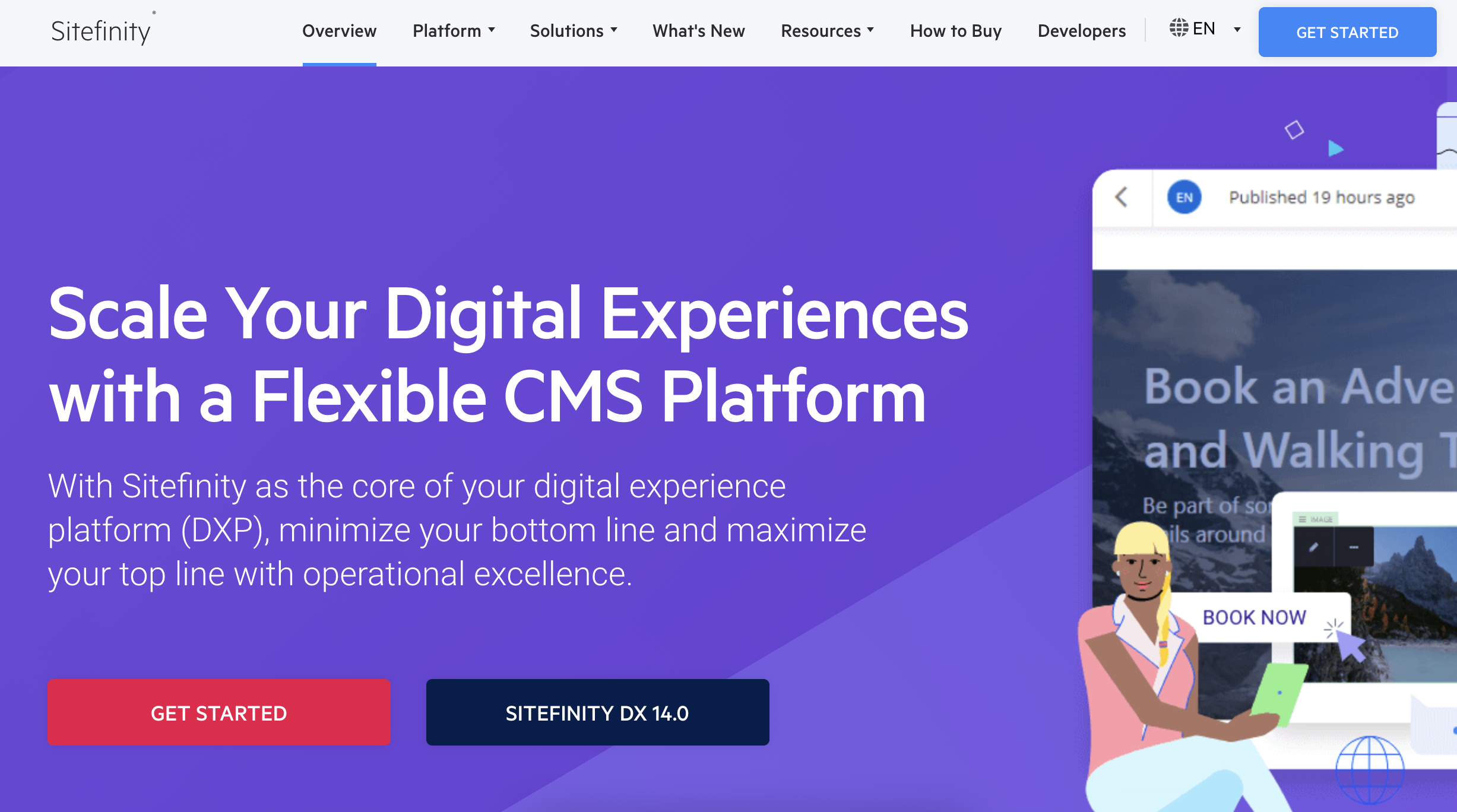 Built on a .net core, Sitefinity is one of the few non-open-source platforms listed. This means their community support is more limited; however, since the CMS add-ons are all professionally built and have been extensively tested. Internal and external security is also increased due to the .net framework.
Pros:
Out-of-the-box workflows to customize user experience
Direct integration with social media platforms to manage accounts in one platform
Flexible drag-n-drop editing experience
Strong security
Cons:
Fewer plugins/templates because it's not an open-source platform
Limited resources and documentation for support
Only subscription and licensing plans are offered, so the up-front costs are higher than most open-source platforms
Pricing:
Subscriptions and licensing is customized to the needs of the consumer.
6. Kentico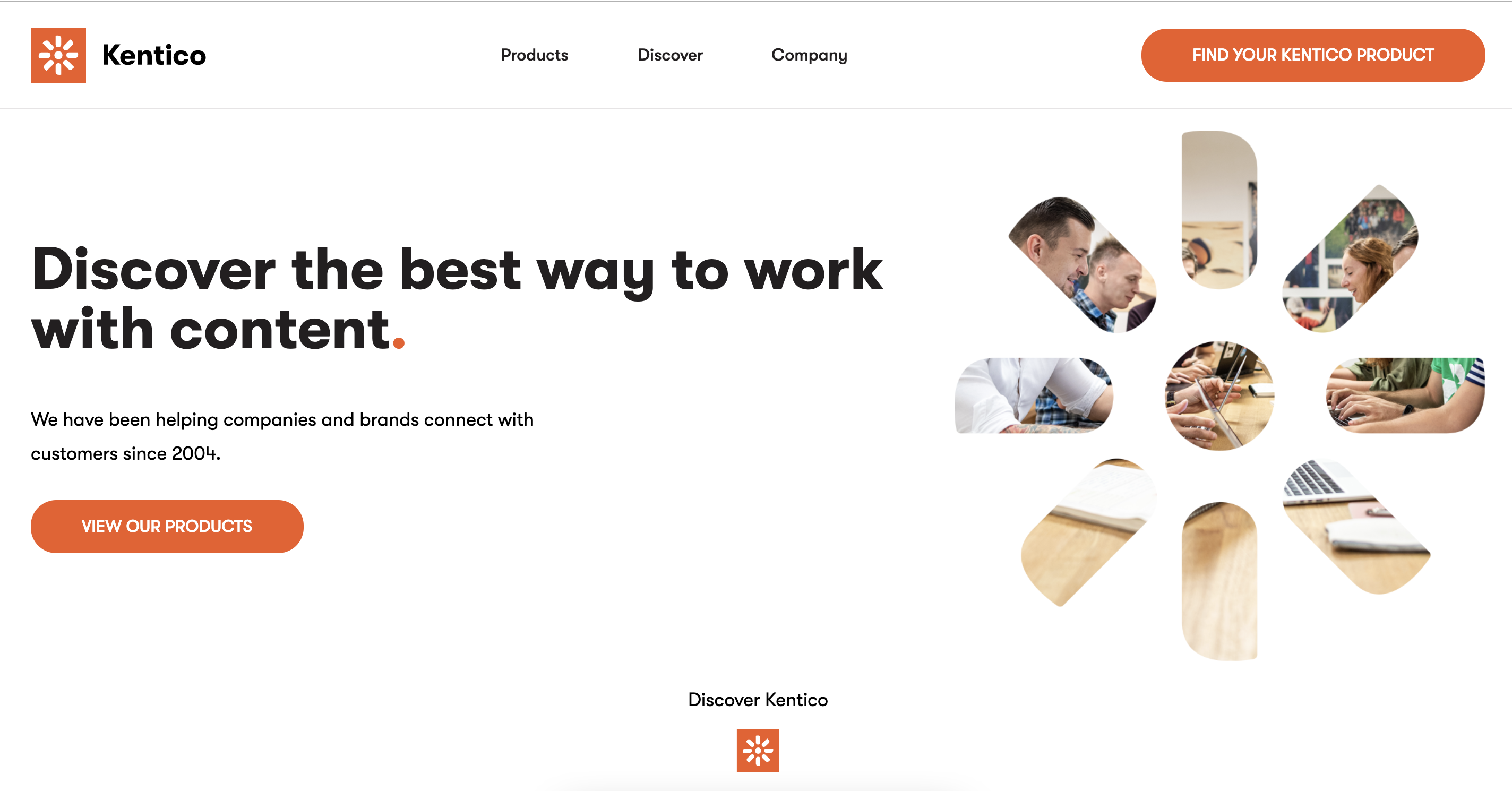 Kentico is a headless CMS, meaning it is a cloud-based CMS that feeds up content through an API, allowing it to be delivered onto multiple digital platforms. Kentico is known to bring marketing initiatives, e-commerce functionality and reporting together through their CMS integrations. Their subscription prices are some of the highest in the market; however, with the increased cost comes more robust security and support.
Pros:
All-in-one solution through the use of integrations to connect digital platforms
Wide variety of out-of-the-box features, as well as an open API for additional custom integrations
Hosting included with 24/7 support
Cons:
Expensive compared to other competitive CMS platforms
While still open-source and themes are available, it is common to need a developer for advanced functionality
Pricing:
Business subscription - $1,249/monthly
Premium subscription - $2,499/monthly
7. Contentful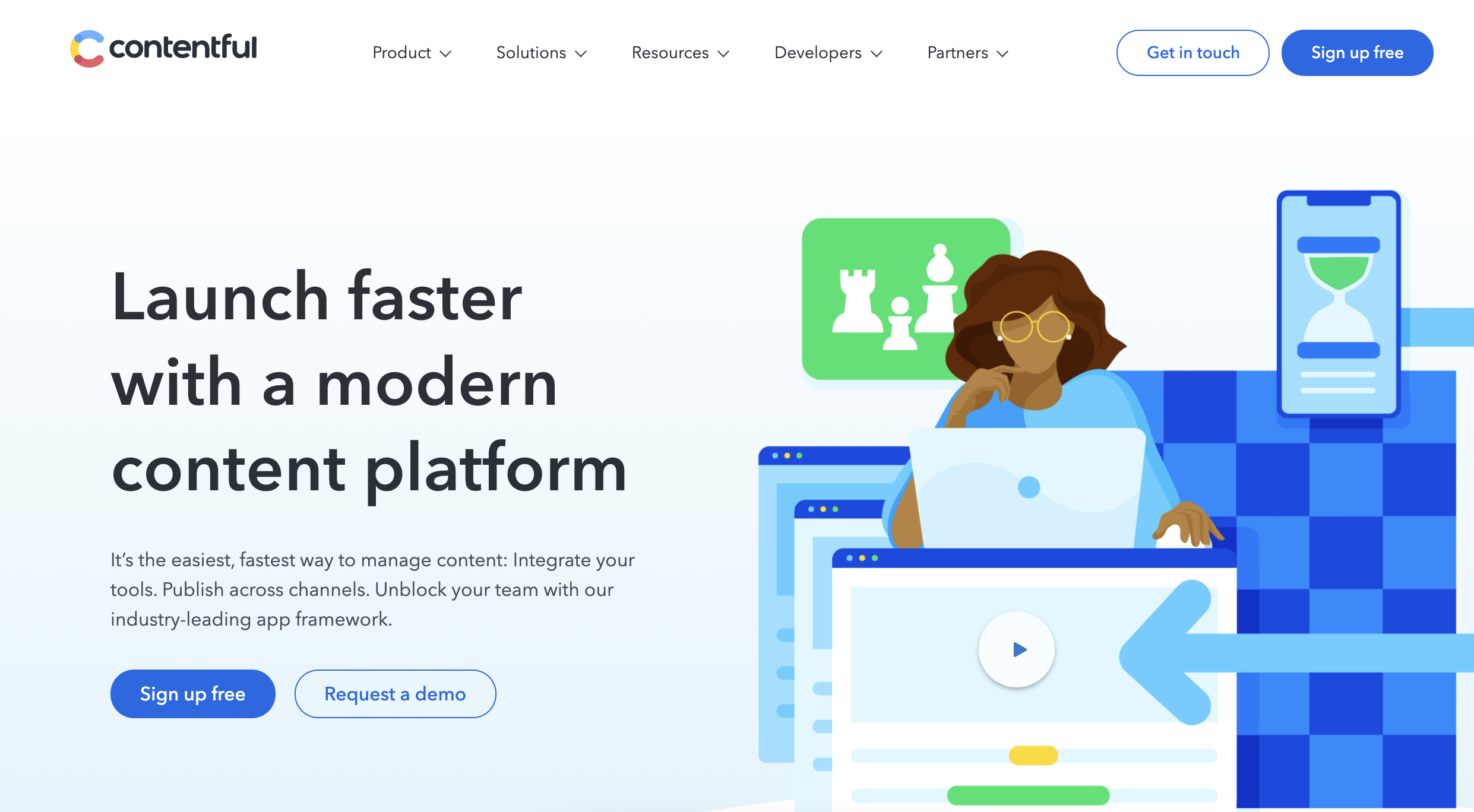 Another headless CMS, Contentful is another popular CMS for larger businesses looking to connect their digital platforms. As a newer website CMS, their tools require a little more technical knowledge, particularly because they use content models rather than the page-centric, template-based framework that a majority of other platforms follow.
Pros:
Easily integrates with digital platforms to deliver to both websites and applications
Flexibility to scale and maintain content independently of front-end presentation
Cons:
Most likely will require the assistance of a developer
User interface is not as intuitive as other server-based CMS platforms
Pricing:
Free starter (with the purchase of independent domain name and hosting)
Paid subscription starting at $489/monthly - includes additional functionality and support
8. Typo3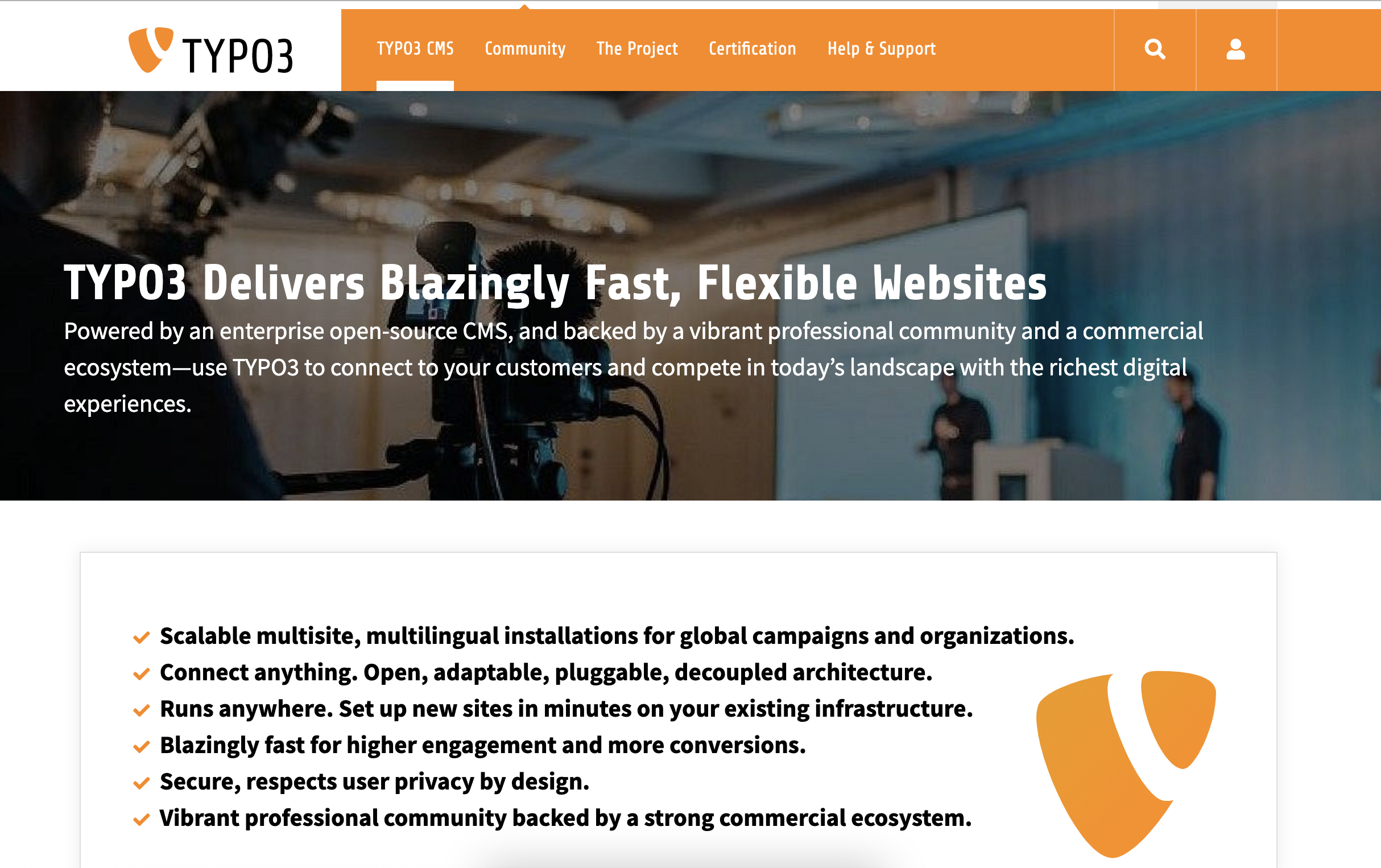 Launched in the late 90s, Typo3's CMS has stayed strong due to its scalability. The platform is known for its enterprise capabilities (internal/intranet sites) in addition to both large and small business websites. However, while its functionality has remained competitive, its user experience is a little more complex than newer CMS platforms.
Pros:
Ability to support large, enterprise-level sites
Scalability (also an open-source platform) which can support a range of business sizes
Library of extensions with community support
Cons:
Steep learning curve for non-developers
Fewer themes available (in comparison to other open-source platforms - WordPress, Drupal, Joomla, etc.)
Requires installation and set-up, including connection to hosting
Pricing:
Free
Domain name and hosting will need to be purchased separately
9. Wix (honorable mention)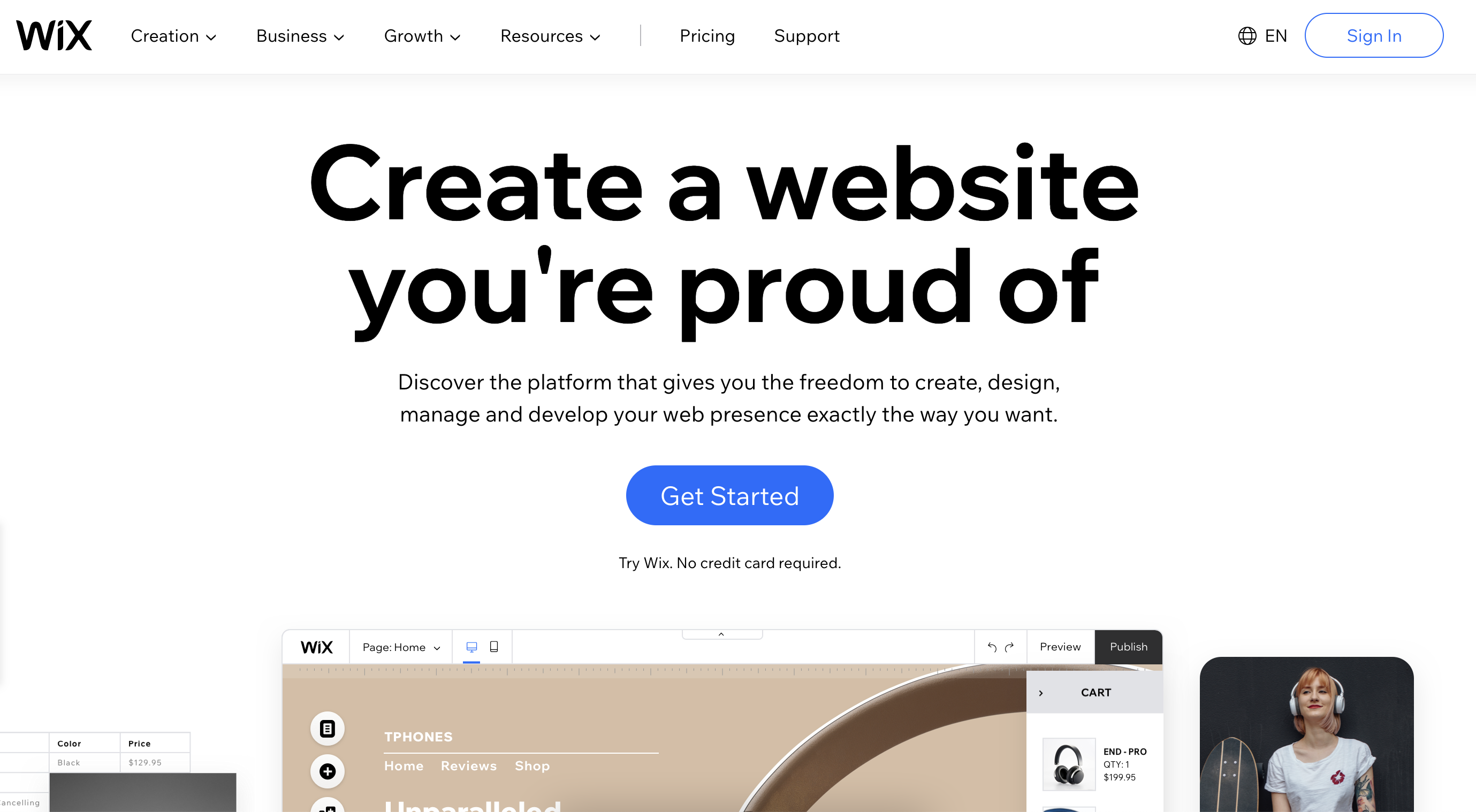 Wix is an increasingly popular website builder that was created to solve the problem of high website costs and low usability. It is included as an honorable mention in this list because, while it has components that function similarly to a CMS, it is first and foremost a design-driven website builder. Website builders differ from CMS platforms because they are catered toward non-technical, design-driven development, whereas a CMS may have website builder capabilities, but often requires custom development for advanced functionality. While this website-building concept has become extremely popular with small businesses and users who are looking for a personal web presence, it often has limitations when it comes to scalability and functionality. However, many website builders are increasing their platform capabilities to allow for custom code and advanced functionality, striving to increase their target market to larger businesses.
Pros:
Allows non-technical users to design and build their own websites without the assistance of a developer
Large library of themes and out-of-the-box functionality
Affordable pricing including a free option
Cons:
Hard to scale sites, particularly without the assistance of a developer
Custom functionality is harder to implement since the framework is built around the concept of DIY simplicity
Pricing:
Offers free option (with ads and limited storage)
Premium plans have three tiers - Website Plans, Business and eCommerce Plans, and Enterprise Plans
Website Plans - start at $14/month and end at $39/month
Business and eCommerce Plans - start at $23/month and end at $49/month
Enterprise Plans - start at $500/month
10. Squarespace (honorable mention)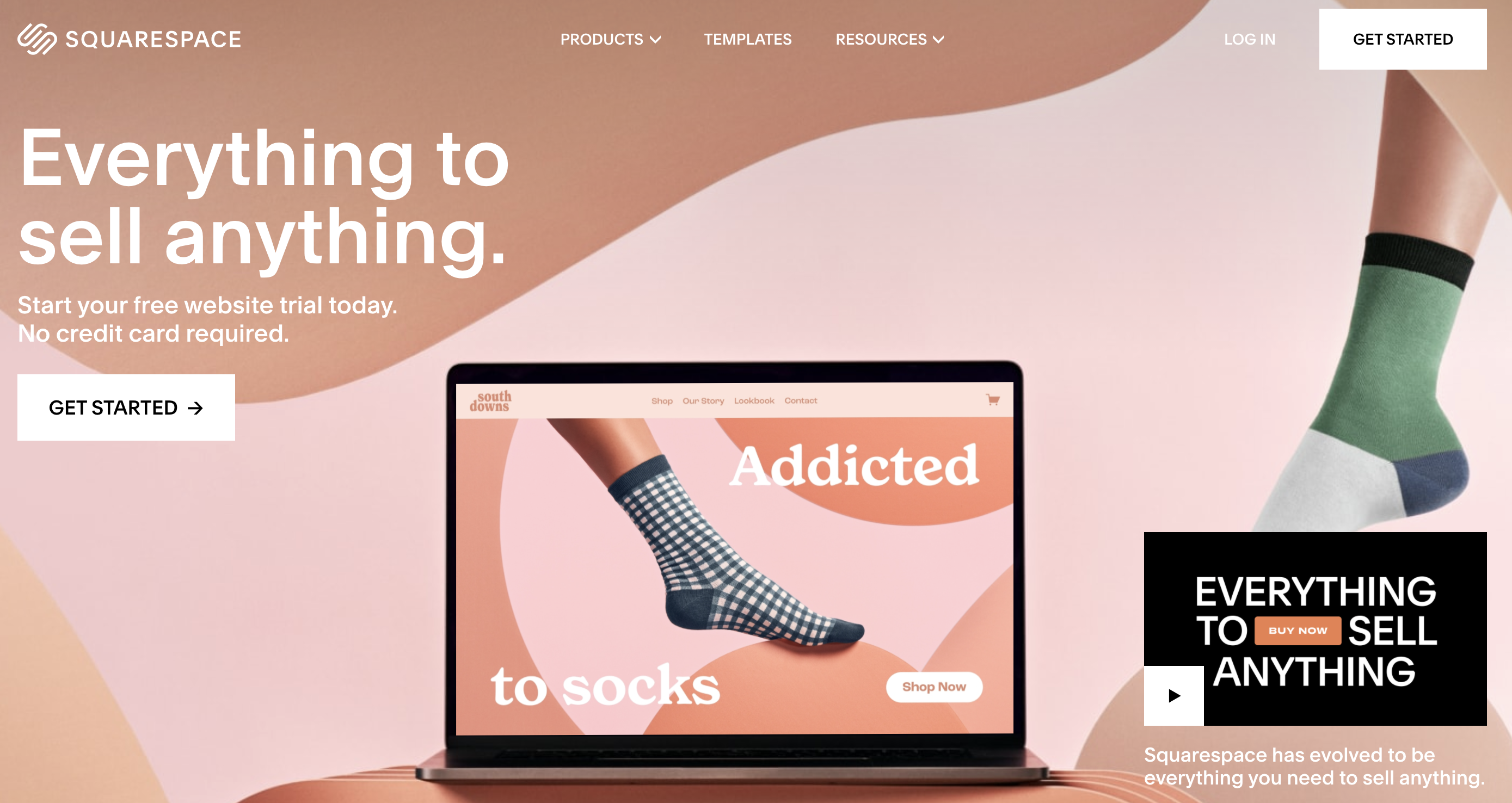 Squarespace is another website builder that has gained an increasing amount of visibility as the market has turned to more usable website solutions. They are popular with small businesses similar to Wix but are likewise expanding their industry offerings. They also offer a library of templates, as well as website analytics and their pricing is competitive with both CMS platforms and other website builders.
Pros:
All-in-one functionality eliminating the need for plugins or other add-ons
Built for business owners and marketers to be able to create an entire site without technical assistance
Offers options for all types of websites (e-commerce, portfolios, blogs…)
24/7 customer support
Hosting is bundled into subscriptions
Cons:
A little higher learning curve than other website builders
Since all functionality gets rolled out by Squarespace, the opportunity for customization and advanced functionality is limited
Pricing:
Three pricing tiers - Personal, Business, and Commerce
Personal - starts at $12/month
Business - starts at $18/month
Commerce - starts at $26/month