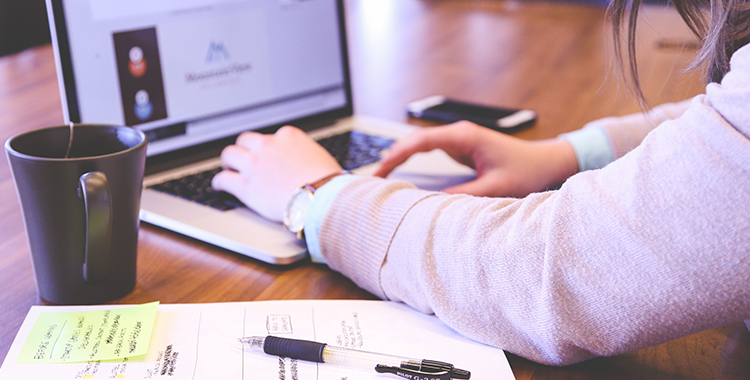 Establishing your online presence is essential in today's marketing environment. While it can be a daunting task, good content management is the key to attracting customers and telling your brand's story. To maximize your content and create a successful website and blog, a content management system (CMS) can be extremely helpful in the development process. Today we will look at what a CMS is, the benefits of using one, and a few resources to get you started.
What is a content management system?
A content management system is an online platform used for creating and managing all of your digital content. Using a CMS, you can create, edit, and publish your web pages, blog posts, and many other forms of digital content. There is a surplus of options when it comes to choosing a CMS, and depending on your knowledge of web and what you want your website to accomplish, the possibilities are nearly infinite. It's good to evaluate your goals for your website, your budget, and the benefits to using a CMS before getting started.
Advantages of Using a CMS
It's more visual for those who aren't coding experts.
Most CMS platforms are built to simplify the web development process. They usually include editable content and templates that are pre-built so you can easily add content to the back end of the website. While this may put some limitations on the "bells and whistles" of a design, it provides a solid foundation to get you started. Depending on your budget and whether your goals are beyond your skillset, a professional web developer may be what you need to get the job done.
There are search engine optimization (SEO) benefits.
Let's look at some SEO advantages of using Wordpress. Wordpress allows you to customize your URL permalinks (the permanent links for your web content.) This allows you to make your link structure more search engine friendly, making it easier to find your specific content on your site. It is also simple to customize headers, page titles, and meta data, which is crucial to improving the search engine friendliness of your website.
Your website analytics are easy to access.
Having in-depth knowledge of your website traffic is key to adjusting your marketing strategy and knowing what is working well on your website. Good CMS software should make it easy to find digestible analytics for page views, time spent on the website, clicks, and many other useful insights.
Resources for Getting Started
There is a huge variety of CMS sites out there, but here are a two that have consistently been ranked at the top.
Wordpress
Across the board, Wordpress is popular due to its easy-to-use interface and a variety of templates that make it possible to create almost any type of website. Using the pre-built templates, you're in control of customizing the structure of the site and the content. There are also a number of plugins you can use to increase your site's potential. Check out this article on 24 Must Have WordPress Plugins to learn more.
Drupal
According to Web Designer Depot, Drupal is another very popular CMS, used by a number of high-profile companies including the New York Observer, Popular Science, MIT, Sony Music, Fast Company, and others. Drupal is known for being more technologically advanced, which could be either a positive and a negative, depending on your comfort level with CMS platforms. While it may take a while to learn, Drupal is known to be good for websites with a large number of pages, and with the right developer and designer, the possibilities are nearly infinite.
A Hybrid Resource: Hubspot COS
One of our favorite resource is Hubspot's content optimization software (COS). Similar to a CMS, it was designed to help users build their websites, but it also integrates additional benefits like smart content and forms and analytics as well as several other features. To get a better understanding of Hubspot COS, check out this article about the difference between Hubspot COS and Wordpress.
Depending on your web development skill level, budget, and goals, each of these platforms could mean different things for your business. Just remember to focus on how to make your website more user and search engine friendly, and leverage whatever analytics available to you to make improvements to your site.
If you'd like help with web development or creating a beautiful website, Blue Frog can help. We have offices in Des Moines, Denver, and Huron, and we work with clients across the nation.