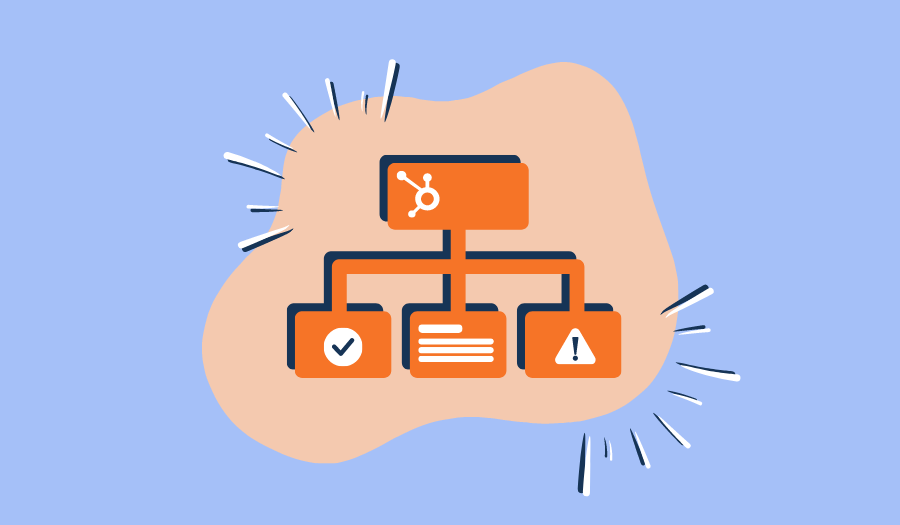 Do you ever wish you could assign all your repetitive, monotonous tasks to someone else? HubSpot's workflow tool could take many of those efforts off your hands. It can automate everyday marketing, sales, and customer service tasks so you no longer have to do each one manually.
What are HubSpot Workflows?
If you are using HubSpot, you'll want to start taking advantage of the workflow tool as soon as possible. Implemented properly, workflows and automation can change the way you work. The HubSpot workflow tool automates internal processes to save time, align your marketing, sales, and service teams, and give your customers, leads, and prospects the attention they deserve. For example, a workflow can automatically send an email when a user clicks a specific call to action. You can see an example of how a workflow can streamline your sales process on our blog.
Types of Workflows
You can create several different types of workflows to automate your business, and there are countless reasons to use them. HubSpot provides five types of workflows:
Contact-based workflows
Company-based workflows
Deal-based workflows
Ticket-based workflows
Quote-based workflows
Familiarizing yourself with each of these will help you best utilize them according to your business needs and goals. Remember that you want to simplify your workload, not create extra headaches.
Why create workflows?
The main goal of using a workflow is to save time while still creating a seamless experience for users. It can eliminate the need to spend hours on repetitive tasks like sending emails to new contacts or notifying existing customers of your promotional events. Workflows not only save time, but they also allow you to be more efficient, productive, and consistent. You can ensure you're sending out important information in a timely manner to all relevant contacts. The possibilities are nearly endless. Here are our top three HubSpot workflows that we recommend implementing ASAP:
Lead Nurturing
Lead nurturing campaigns are a very important part of email marketing, and they're among the most common applications for email automation tools. Lead nurturing helps you build relationships with potential customers at every stage of the buyer's journey. Workflows can help you continue conversations with customers or nurture cold prospects in your database. One workflow won't be sufficient to cover all your leads. It's important to design a workflow that fits each stage of the buyer's journey and each buyer persona.
Deal Stage
It's devastating to lose a deal because you forgot to update a status or failed to follow up with the lead. It can be overwhelming when you have a lot of deals at different stages and you must update each deal status, send personalized follow-ups, and keep everyone on your team on the same page. Thankfully, workflows can automate these tasks to ensure nothing falls through the cracks.
A workflow can be set up to automate the deal stage and assign tasks to team members as a deal moves throughout the pipeline. This is especially useful for large businesses and sales teams to ensure there is always someone following up. Individual workflows can be set up for each stage of the pipeline, such as deal creation, follow-up reminders, and deal completion or changes.
Internal Notifications
Not only are workflows helpful for staying connected with leads and customers, but they can also help you manage CRM information and external communication at a company level. Internal workflows are useful for sending reminders to people on your team of important follow-ups, updates and deal information. For example, an internal workflow can remind your team to send follow-ups at specific times to re-engage the client when a deal is stuck and not moving forward in the sales funnel.
These internal notifications can be sent through whatever platform you and your team prefer. This includes text message, email, HubSpot, or even Slack. One of the many convenient features of HubSpot is the ease of connecting outside tools and apps. Integrating HubSpot with Slack lets you receive your internal notifications via your Slack messages.
Hubspot's workflows can be a powerful tool when set up properly. They can save you a ton of time by doing repetitive tasks automatically and protect your pipeline by ensuring no one gets left behind. To learn more about how to make the most of your HubSpot subscription, browse the Blue Frog blog!