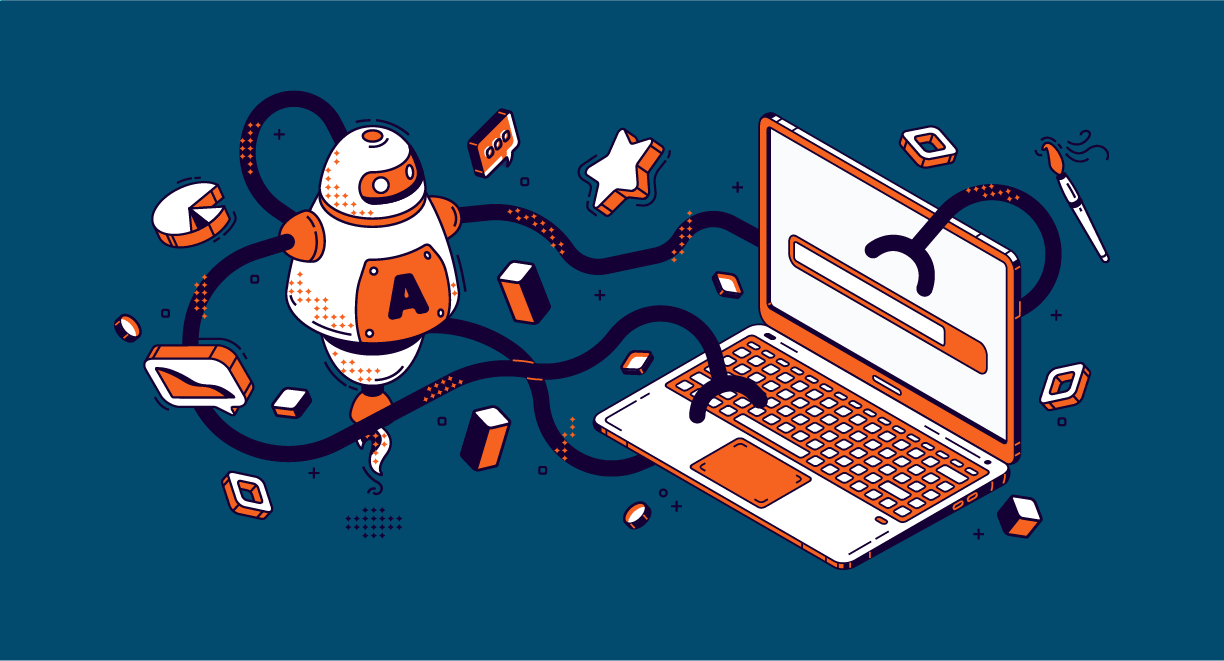 There are a lot of outstanding players in the automation game right now, but HubSpot is the leader in creating solutions that are robust enough for enterprise companies yet simple enough for smaller businesses with limited resources. The majority of HubSpot's automation tools are no-code or low-code, and they can be set up entirely using a graphical user interface (GUI) and with a novice understanding of object-oriented logic. HubSpot weaves automation into each of its Hubs so your business can seamlessly connect with various third-party applications, automate routine tasks, and regularly clean your data.
Cross-Hub Automation Tools
1. Workflows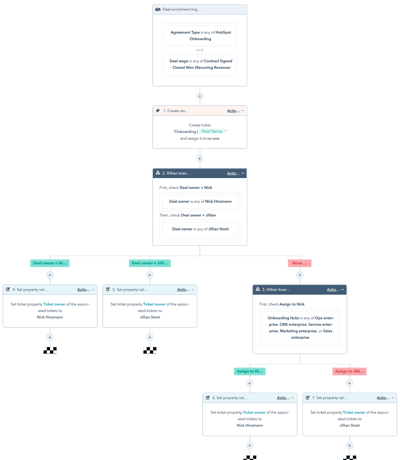 Workflows are the heart of automation in the HubSpot Growth Suite. While many tools within different Hubs have stand-alone automation features, workflows hold a unique position as the connector among the different Hubs as well as between Hubs and some robust integrations like Zoom, Asana, and Slack. Get started with automating tasks by navigating to Automation > Workflows in your HubSpot portal. Select Create workflow, Start from scratch, and now you can begin automating with workflows.
Marketing Hub Automation Tools

2. Automated Emails and Drip Campaigns
Set up lead nurturing campaigns that are specific to a visitor's buyer's journey to nurture them over time. This may begin purely as a brand awareness play to keep yourself in front of contacts who have consented to receive your marketing emails. However, using workflows, you can establish triggers that cause contacts to go down a specific branch and receive more or less targeted content.
3. Chatflows
You can engage visitors on your website by strategically placing chatbots on pages where users may require additional information or tend to have a high exit rate. When you provide a chatbot that offers additional value to your website visitors, you demonstrate that you have their needs in mind. Chatflows and chatbots can be used for several different applications, including scheduling meetings, automatically qualifying leads, and collecting service tickets.
4. Lead Scoring
A lead scoring strategy can help streamline the lead nurturing process within the back end of HubSpot. Once you identify a pattern in the actions taken by highly qualified leads, you can begin to create a scoring system. A higher score indicates a lead that is more engaged with your content, thus making them a better fit to nurture through the buyer's journey. Utilizing the lead scoring tool, you can establish automation that will seamlessly create a task to notify a salesperson or trigger a lifecycle stage evolution within the backend of HubSpot.
Sales Hub Automation Tools
5. Deal Process Automation (Lead Rotations)
Route your leads to the proper contact owner based on the circumstances under which the contact converted. Using workflows, Sales Hub users can trigger different lead assignments based on the properties provided within their initial form submission. Establish unique sales pipelines with automation that's built specifically to fit the needs of that revenue stream's sales cycle.
6. Sequences
Salespeople often find themselves sending emails with nearly identical bodies and subject lines to contacts on a routine basis. If only there was a way to create email templates with an automated cadence for routine correspondence between salespeople and leads! With HubSpot's Sales Professional Hub, the sequences tool allows you to send templated emails in bulk to a targeted selection of your HubSpot contacts. Email clients treat sequence emails like personal 1:1 email and do not have a significant impact on your domain reputation. You can personalize when necessary and be more general with your messaging to colder contacts. Sequences can also support salespeople with call tasks and follow-up reminders, and they can even be paused so manual tasks can be completed before advancing to the next sequence action.
Important Note: There is a slippery slope with sales automation, make sure that your automation efforts do not lack the eloquence of a human touch, and always personalize!
7. Email Plug-In to Track & Log in the Object Record.
A HubSpot tool that every salesperson should utilize is the sales plug-in for Outlook, Outlook 365, and Chrome. Using the track and log email features, salespeople can gain insight into contacts' engagement with email correspondence and keep a historical record of all communications. Teams using account-based marketing (ABM) can investigate each contact associated with a target account and see a detailed record of all past correspondence.
Operations Hub Automation Tools
8. Data Sync
Importing and exporting CSV files in HubSpot can be a tedious manual process. When you have various users importing lists from different systems, data can get messy. Examples of messy data include formatting discrepancies like improper capitalization and abbreviations or more serious issues like numerous errors in data from another system.
Data sync is HubSpot's solution for keeping your data clean, formatted, and synchronized. Using data sync, your functional departments are poised for efficient revenue operations with clean data that provides clear insight into your contacts' buyer's journeys. Data sync also allows you to synchronize your data according to a schedule you set. This means you control the flow at which the data comes into HubSpot from other systems.
9. Programmable Automation
One tool that HubSpot developers are excited about is custom-coded workflow actions. The custom code action allows you to customize an action using Node.js 12.x or Python 3.6. Utilizing secrets as well as various APIs, the sky is the limit when it comes to programmable automation.

One of my favorite applications of programmable automation has been a bi-directional Asana communication action. Using custom code workflow actions, HubSpot is now able to listen to Asana for changes to tasks and trigger actions in the back end of HubSpot (e.g., creating tickets, routing a task to a salesperson, etc.)