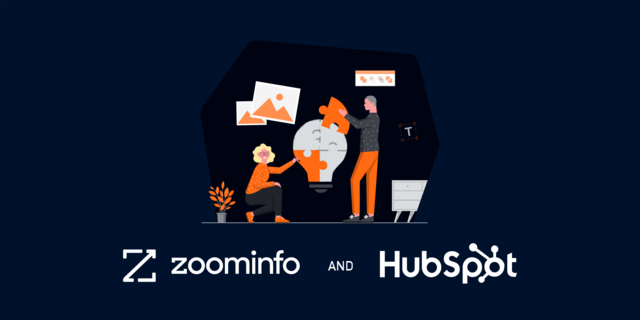 What happens when you pair the best revenue growth tool for scaling businesses with the #1 B2B information database? You provide your team the data and tools necessary to drive consistent business evolution. Employing the power of these platforms allows your team to target your best prospects, gain access to current and actionable contact information, generate more leads, and close more sales.
How does misaligned data affect your company?
Teams often deal with poor data in one of two ways: either reps spend hours manually looking up and cross-referencing data, or they move forward with information that is no longer accurate. This leads to time wasted sending emails that bounce, making calls to disconnected phones, and missing revenue numbers. 37% of business email addresses and 43% of business phone numbers change annually; this data decay directly causes businesses to fall short of 40% of their annual objectives.
How can you use HubSpot and ZoomInfo to propel revenue growth?
Supply HubSpot with clean data using ZoomInfo Enhance.
Building and maintaining proper data hygiene is imperative. ZoomInfo has a feature called Enhance that allows you to fill the gaps in your data with current contact information, demographic, and firmographic data . Whether you're removing out-of-date contact information, merging duplicates contacts, filling in blanks in your CRM, or ensuring new contacts have full information, the power of ZoomInfo saves your team valuable time and resources by allowing you to directly import this data to HubSpot via their native integration.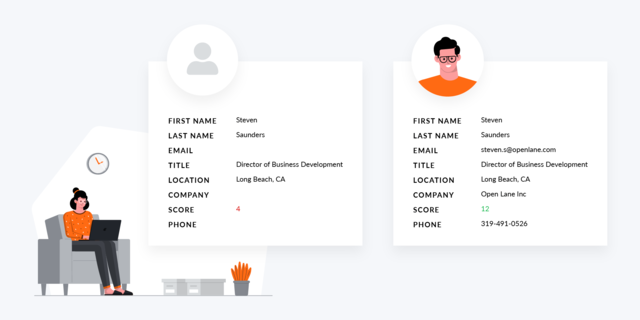 Employ ZoomInfo ReachOut Chrome extension to streamline prospect research.
The average sales rep will spend hours diving into prospect websites, LinkedIn, and other resources trying to find any piece of actionable information they can. The problem is they often come up empty handed, and that time is all for naught. ZoomInfo's ReachOut tool provides your reps real-time ZoomInfo data in one convenient place. Information about company size, revenue, and tech stack is available right at your fingertips, whether or not the contact is already in your system, and you can export directly to HubSpot with the click of a button.
Automate marketing efforts with ZoomInfo and HubSpot workflows.
Why do so many successful organizations automate simplified, repeatable, marketing and sales efforts? It's simple. Their reps have more time to focus on what they do best: nurturing leads and closing deals. With ZoomInfo you can identify, define, and build a search around your Ideal client profile criteria. When you save and subscribe to this search, you'll receive automatic notifications you when new companies and contacts meet your criteria. You can import the list to HubSpot with a click of a button, allowing you to enroll them in a lead nurturing campaign workflow. The power of HubSpot workflows doesn't end there. Based on actions your contacts take, you can automate certain sales and marketing activities, the creation of service tickets, and much more.
Gain access to prospect web activity with ZoomInfo intent signals and HubSpot analytics reporting.
ZoomInfo buyer intent data provides insight into what topics companies are searching and the strength with which they're searching, based on search frequency and number of employees who are searching. ZoomInfo provides this data, along with recommended contacts who are leaders within the relevant department. The intent topic, "lead generation," for example, would be connected to marketing and sales contacts. Once you identify these contacts, import them into your HubSpot portal, and market to them, HubSpot's traffic analytics tools track and display their web analytics history. When you identify a prospect who is searching for a solution like yours and has been interacting with your marketing materials and your site, you might decide it's a good time to get in touch.
Who benefits most from ZoomInfo and HubSpot?
Marketers
The core of marketing is finding what messaging resonates with which audience, segmenting contacts with accurate data, and using this information to guide a scaled approach. Getting the clearest possible underlying business information to find commonalities and segment prospects is invaluable in this area.
Business Development Reps
At the scale and velocity that BDRs operate, they need a wealth of information available to them at an instant. The combination of ZoomInfo's OutReach extension, saved searches, and task queues built-in HubSpot empowers your BDRs to accelerate their day-to-day process.
Account Executives
When the goal is renewals and identifying upsell opportunities, knowing when and how your customers' businesses are changing is critical. Using ZoomInfo's Scoops feature, your reps can receive alerts when their accounts experience executive changes, receive additional funding, announce a hiring expansion, and much more.
Customer Success Teams
How many times has your CS team had service tickets get lost in transit? When you use HubSpot's service ticket creation workflows and task queues, losing visibility of tickets is no longer an issue. What about when their contact within the client leaves and your rep doesn't know who to reach out to next? By employing the power of the #1 B2B information database, your reps will gain visibility into their contact's replacement and who they should be in touch with.
What does pairing HubSpot and ZoomInfo look like?
HubSpot and ZoomInfo are obviously powerful tools, but what does it actually look like to implement them in tandem? Let's take a look at a use case. Your company sells software providing in-depth business analytics that works in harmony with email automation systems. You use ZoomInfo to identify that your ideal client profile looks like this:
Sales director for a West Coast business
Fewer than 250 employees
$100m—$250m in revenue
Intent signals about reporting or data analytics
Uses Constant Contact, MailChimp, or Omnisend
You then export the list that ZoomInfo generates directly to HubSpot with the click of a button, enroll these imported contacts in HubSpot to a list entitled "West Coast Email Automation," which in turn enrolls these contacts in a lead-nurturing campaign that showcases your product. Using HubSpot's extensive email reporting tools and lead scoring, you're able to identify the top prospects who have been interacting with your materials and researching your solution so you know the right time to give them a call.
In a matter of a few clicks, you identified a pool of best-fit prospects who have a need for your product, imported them to your CRM, sent them a resonating marketing message tailored to their current tech stack, and set up a proposal call. The marriage of these platforms gives your team the insight and simple processes you need to scale your go-to-market approach and revenue growth as you never thought possible.
HubSpot and ZoomInfo: Your Sustained Growth Engine
To generate qualified leads, fill your pipeline, and accelerate your marketing and sales processes, your revenue operations teams need to evolve into a data and analytics-driven machine. To achieve this goal, they need the information, automation, and streamlined processes that HubSpot and ZoomInfo can provide. Pairing these platforms will transform these teams into a smarter and more efficient engine for driving revenue growth.
When you work with Blue Frog to harness the combined power of ZoomInfo and HubSpot, your team gets a launchpad to target the right prospects, engage with them in a meaningful manner, and supercharge your marketing and sales initiatives. Blue Frog's expertise in developing and implementing dynamic go-to-market strategies will place your team in a position to achieve optimum revenue growth.
Learn more about how ZoomInfo can provide unprecedented insight to your prospects!