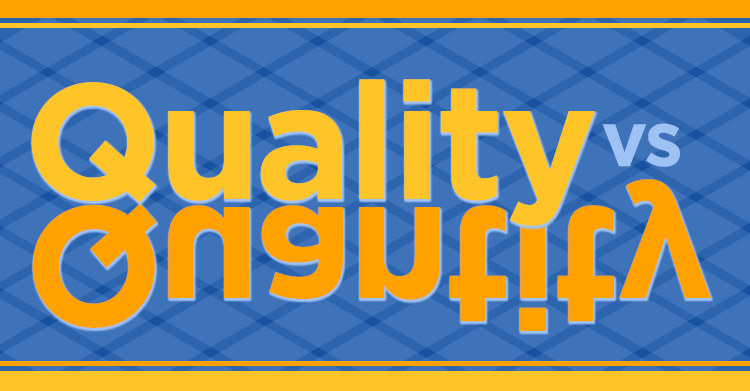 You've probably heard arguments supporting the quality side of this debate:
Having high quality content that is well researched, written without spelling and grammatical errors, and that contains useful information is better than posting content every day that is sloppily written without a particular audience in mind.
Most of us would agree that this is true.
If you speak with a marketing or SEO expert, they will tell you, from a website optimization standpoint, that quantity is also very important.
You should publish a high quantity of posts on your business blog every year in order to be found more easily by more people online and to build your online presence. This will, in turn, attract more visitors to your website, giving you the opportunity to convert visitors into customers and increase your ROI.
This is also true. So, what's the point?
The point is, the best answer to the quality vs. quantity debate isn't choosing one over the other but choosing BOTH. In order to obtain the best results, you should write every single piece of content with quality and your audience in mind, and you should publish great new content regularly throughout the year.
Let's dig a little deeper into what each side of the quality vs. quantity debate has to offer, and why both sides are equally important to your overall content marketing strategy and the foundation on which to build your business website.

Why Quality Needs Quantity
In order for your blog to grow and obtain more readers and subscribers, you need to publish posts on a regular basis—content your audience wants to read. The exact number of blog posts you should publish per week or per year will greatly vary across different businesses depending on goals, audiences, etc. One business may benefit most by publishing a blog post bimonthly, while another business may see the best results when regularly posting five times per week. As you blog, you may need to experiment and look at the results in the data you collect over time to find your blogging frequency sweet spot. Once you do, the key is consistency. Keep your blog active by continuing to pump out new content!
Once you have a blogging strategy in place and an expert marketing team behind you, you should see several things begin to happen as you begin blogging more frequently:
Additional pages on your website for search engines to index
Ranking for more keywords in search engines
Increased ranking for your current keywords in search engines
More visitors to your website
More thoroughly educating your readers on different topics
Increased internal linking
More shares on social media
Increased blog views, new leads, and blog subscribers
Enhanced overall online presence
If you would like to learn more about the benefits of blogging and how it can help you grow your business, CLICK HERE.
Why Quantity Needs Quality
In this day and age, almost everyone is online, searching for answers to questions they have about, well, just about everything! By providing online content that is useful and interesting to your target audience, you will fill a need, and that will make you necessary and help you stand out in the vast sea of websites and competitors. Not only does quality content draw in people seeking solutions to problems, but Google actually takes the quality of website's content into account when indexing. Google will rank pages containing great information more highly in search results so they are easier to find, pushing traffic in the direction of quality content!
Providing high quality, relevant content will help your business:
Gain and build trust with customers
Showcase your expertise on different topics within your industry
Attract more people to your website
Boost your SEO
Build your brand
Give people great content to share with others
Content Marketing In Denver & Des Moines
Blue Frog Marketing has offices in Denver and Des Moines, but we work with clients all over the country. If you think your business website could use a content update or more high quality content, contact us!
We can talk with you about your business and help you come up with a great content marketing strategy. Our professional content creators will help build your business blog and your website, which will help you build your business!