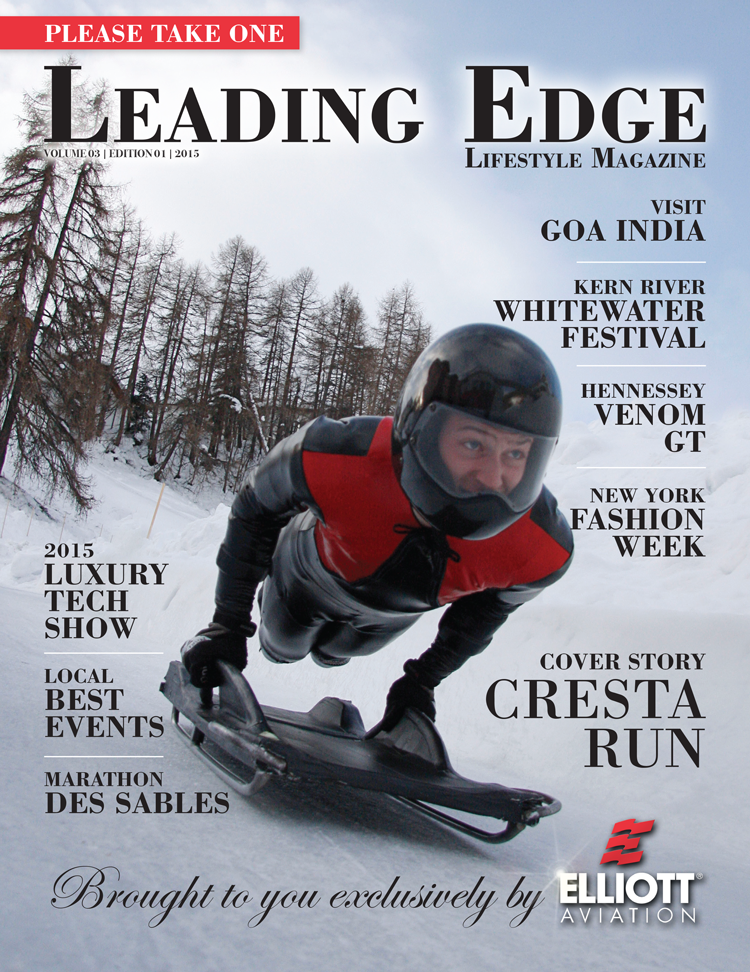 In our increasingly digitized 21st-century world, print remains an important part of our lives – perhaps even more so as a result of the unceasing onslaught of digital content that clamors for our attention. While it's undeniable that a well orchestrated digital marketing strategy is vitally important to brand awareness and engagement these days, companies that also develop a strong print strategy are able to connect with their audiences on a different, arguably more intimate, level.
Blue Frog publishes The Leading Edge for aviation services provider and aircraft seller Elliott Aviation.
Paper is tangible and calming.
Especially for those of us who spend much of our workday in front of a screen and plugged into the digital world, holding soft pages that don't glow with their own light is a welcome reprieve. A recent Washington Post article discussed the fact that even today's university students, who have been raised on digital media, express a preference for reading print. When you allow your audience to unplug and unwind with you, they can engage with your content in a relaxed state of mind, creating friendlier and more pleasant associations with your brand.
The magazine format forces you define your voice and audience.
Really effective content marketing focuses more on connecting with and engaging the audience than on marketing per se. That is precisely what makes a branded magazine such a potentially powerful medium. By its nature, a magazine speaks to a defined audience with a distinctive, authoritative voice. Think of any successful magazine, – Rolling Stone, National Geographic, Guns and Ammo, Cosmopolitan, Teen Vogue – and you have a sense of the publication's voice and target audience. They wouldn't be able to tell their readers compelling stories without first defining those two things. This is also what you must do in order to create a successful content marketing strategy.
Airbnb is an example of a brand that has developed a firm sense of its audience and its own voice and used to it create an appealing branded magazine. The company describes its publication, Pineapple, as a "crossroad of travel and anthropology; a document of community, belonging and shared space," as well as "a tangible collection of our community's stories and inspirations." This focus on community and personal storytelling in the context of exploration and adventure demonstrates the company's firm grasp of its audience – travelers and those who are willing to take them in who must establish a degree of mutual trust, which is nurtured by developing a sense of community and shared experience.
Print magazines are viewed as trendsetters and authorities in their field.
With all of the fluff, nonsense, and half-baked ideas floating about the Internet, print retains a certain gravitas. We're used to looking skeptically at everything we read online, but we expect more of printed material. Unlike digital information, it's fixed and immutable; you can't go back the next day and correct mistakes or remove it from circulation if you decide it doesn't represent your brand well. Taking the time to put your content into print and distribute copies says that you've produced something you're proud of and believe that others will find it valuable and engaging. It gives your audience reason to trust your authority as well as the stability of your brand.
A magazine can reinforce your brand and build a loyal following.
Company magazines can forge connections with B2C customers and industry professionals alike. Benetton chose to take risks with its magazine, Colors, by covering controversial topics that most brands would avoid, such as the problems that plague the U.S. prison system and the effects of widespread fear of terrorism. Their edgy approach has yielded a highly respected publication that engages readers and reinforces the brand's personality. Red Bull's Red Bulletin draws in its readers with inside coverage of extreme sports and other topics to engage the imaginations of its young, thrill-seeking audience, such as, "What would you do if you came across a wild bear?" and "Party Gods – the 10 most successful DJs in the world."
On the other hand, B2C publications can garner a large and loyal following among industry professionals. John Deere's The Furrow has been around for over 120 years and boasts a worldwide readership of 2 million. While it used to resemble the Farmer's Almanac, it has evolved and now primarily shares the stories of individual farmers.
Blue Frog Marketing can produce an attractive, professionally written magazine for your brand. Our staff includes experienced and talented writers who will work with you to find your brand's voice and audience and tell stories that they will want to read. Our skilled graphic designers and extensive in-house printing capabilities enable us to create visually stunning publications that you and your audience will love. Give us a call, or click the button below to get started!