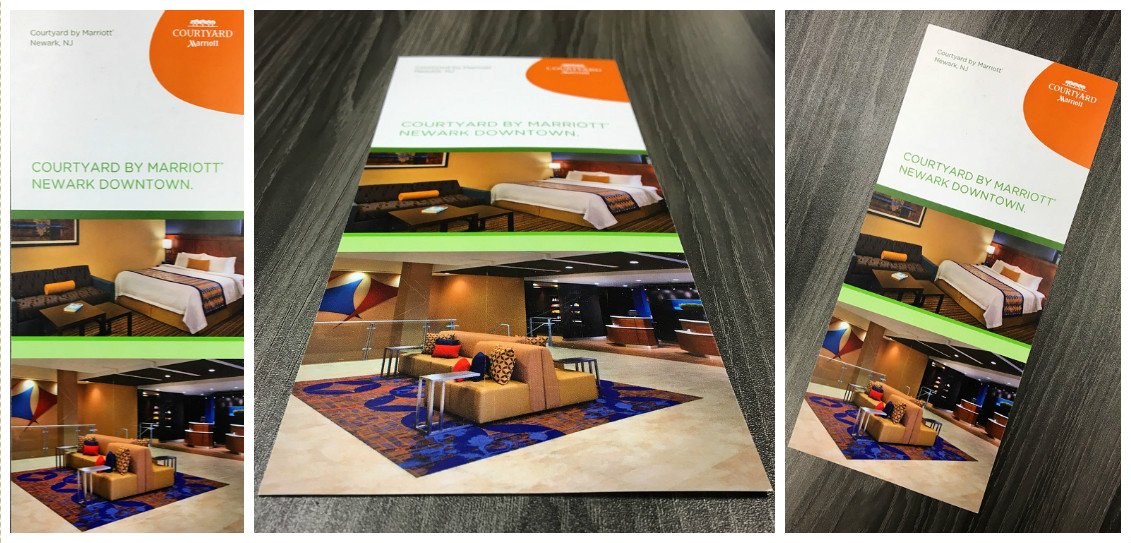 Rack cards are a great and easy way to get noticed. Rack cards are typically printed on a 4" x 9" card stock material that you can place in locations that have significant foot traffic. Popular places to display your rack cards are in hotels, restaurants, business partners, and inside your own business location.
Let's take a closer look on the industries that benefit greatly from rack card marketing.
Entertainment
Rack cards are popular in the music and theater industries because they are an inexpensive way to promote the live acts. When promoting entertainment through a rack card, you will want to show your reader what they can expect at the show through photography and a schedule of events.
Event
Rack cards are often used to promote one-time events because they tend to be cheaper and easier to produce than any other print material. The design of the rack card should match the tone of the event.
Food
Food festivals, farmers markets, food trucks, wineries, and breweries benefit from getting their materials in front of hungry and thirsty audiences. Your rack card should appeal to their eyes and taste buds. Did you know that the color red is known to stir up feelings of hunger and that green makes people feel fresh and healthy? Often, rack cards are doubled up to be used as a take-out menu; food rack cards are often clipped onto the refrigerator at home or work.
New Business
When marketers and graphic designers think rack cards, they also think brand awareness. Marketing firms design and print their own rack cards because firms know how powerful they can be. Blue Frog designs rack cards that attract new business to us, and we can do the same for our clients.
Party Planning
Designs for rack cards for event planners and party venues need to pop and give the audience a feeling of excitement and fun. A boring rack card presumably promotes a boring party. In addition to presenting a fun image, just like any other rack card, party promotions should also advertise additional services and build brand awareness.
Nonprofit Groups
The goal behind a rack card for a nonprofit group is to get people interested in volunteering, donating, or learning more about the cause. The rack card should also convey a sense of empowerment, encouraging readers to believe that they can make a difference.
Travel and Recreation
Rack cards come in very handy for tourists who are looking for new experiences in the area. We've all seen those giant racks of cards in gift shops, gas stations, and hotels to promote local shops, activities, landmarks, and attractions. They are very effective at quickly familiarizing visitors with the range of things to do in the area.
>> Keep these things in mind when creating rack cards for your business:
Don't forget to proofread your rack cards.
Don't forget a visible call to action.
Be sure to include business contact information.
Don't print on cheap paper!
If your business can benefit from rack card advertising, reach out to Blue Frog Marketing in Des Moines. Blue Frog has graphic designers, content writers, and print marketing specialists who can professionally design a rack card to attract the eye and engage your audience. We can produces any quantity you desire, from 1 piece to over 1 million.
Need rack cards in a hurry? Blue Frog can provide same-day service for a small fee or next-day service at no additional charge. Either way, we will produce your job with superior quality at a price you can afford.