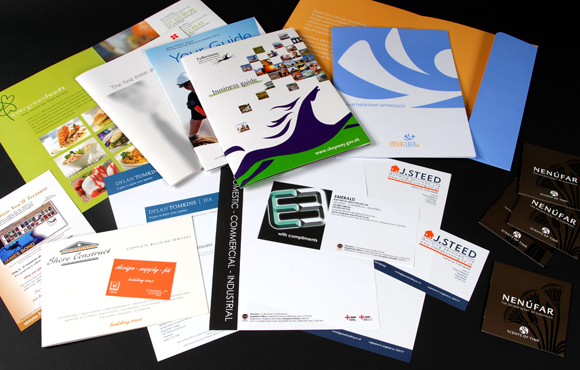 You have many choices of printers in Des Moines. How do you know which to choose? Printing services can vary widely in their cost, quality, capabilities, turn times, and overall customer experience. When you're looking for a printer, think about what you need from them. How quickly do you need the job done? What is the project? Do you know exactly what you want, or do you need someone to make recommendations for paper stock, finish, bindery, or other aspects of the project? What is your budget? Keep those needs in mind, and search for a printer that can meet all of them.
Turn Time
If quick turnaround is a priority, make sure you find a printer that has a reputation for consistently delivering within the timeframe that you require. A printed piece that is finished too late can end up being useless, making waste of all the creative energy that you've invested.
Print Quality
Look at samples of a print company's work before you decide to buy from them. Images should be crisp and clear, colors should be vivid, and the design should be pleasing. If you aren't impressed with what they've done for others, it's unlikely you'll love what they do for you.
Expertise
The expertise of the staff can make a big difference in your satisfaction with the final product. Few print customers come in with all the knowledge they need to place an order for what they envision. If no one is available at the company to discuss the project with you, ask appropriate questions, and make helpful suggestions, then you may have a hard time communicating every aspect of the project as you see it. A knowledgeable printer can help you get the final product you're looking for and may even suggest some great materials or techniques that you hadn't thought of.
Capabilities
At a basic level, you need to consider whether the printer can produce the items you have in mind. If you're looking for commercial printing services for marketing your business, a printer with broad capabilities will be able to create much more. Print marketing can go far beyond business cards and direct-mail postcards. Print fulfillment projects, promotional items, signage, and even branded magazines are creative ways to use print to promote your business.
A printer that provides graphic design services can help ensure that your printed piece is visually appealing and appropriate to your message. If your company is new or rebranding, then you can streamline the process by looking for a professional print company that can also work with you on logo design.
Customer Satisfaction
Look for reviews, testimonials, or other information from the printer's customers, and only choose a printer that makes customer satisfaction a priority.
Blue Frog provides top quality print services for Des Moines small businesses and large national clients alike. Our capabilities include variable data printing, print fulfillment, digital and offset printing, embossing, bindery, wide format printing, graphic design, and much more. We are also a full-service marketing firm and can coordinate your print projects with other marketing efforts. Contact us to discuss what we can do for you!
Click below to download our free eBook introducing you to the basics of commercial printing. Learn the aspects of how to communicate exactly what you want in a print order.