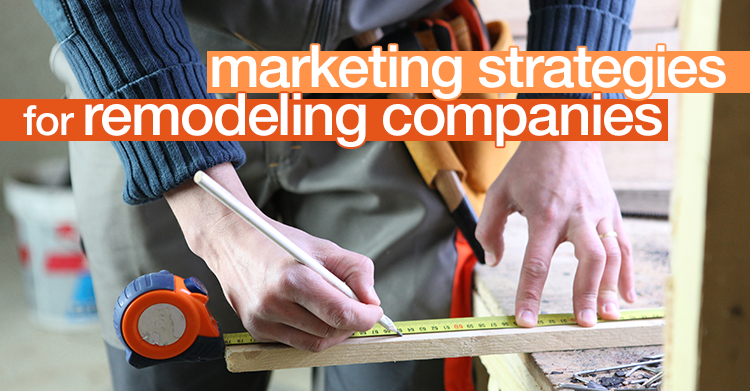 Do you own or work for a remodeling company or home improvement business? If you do, I'm sure you have your own perspective on what works and what doesn't and where your customers are coming from. If your business is hopping and leads are flowing in, you'll probably agree with many of the points made in this article. If you're struggling to bring in new leads, however, or you'd like to see what marketing strategies are working well for other home improvement businesses, keep reading. No matter where you fall, it's always good to keep up to date and stay educated on what's working best in your industry.
5 Vital Marketing Strategies for Remodeling Companies
To attract clients in the remodeling business, you need to be able to prove that your service is valuable, your work is of high quality, and you have a good reputation in your community. How do you do that exactly? Here are some great marketing tactics that will help your remodeling company bring in quality leads.
#1. Building Relationships
It takes work to build relationships with people. Start getting your name out there by going to networking events and meeting people in your community. Just by meeting and talking with someone, you have an opportunity to make a lasting impression. Then, when they or someone they know needs remodeling services, you'll come to mind. It does takes time and effort to attend events and schedule lunches or coffee dates with people, but when those people (or people they know) need your product or service, they'll likely call you instead of a stranger.
#2. Referrals
Most remodeling companies will agree that referrals are highly valuable and some of the best kinds of leads they receive. Start building relationships, and referrals will be sure to follow. Treat your current clients right; go the extra mile to make sure they're happy, and they'll refer you to their friends and colleagues. Work on building a circle of influence in your community. If you have a good relationship with local realtors, for example, they can refer their customers to you and get your name out to a large number of people. Word-of-mouth can be the best type of advertising. Referrals can also come from the Better Business Bureau website, so be sure your business is BBB accredited.
#3. Staying in Touch with Past Clients
While you're working hard to gain new clients, don't forget about your old ones! Keep in touch with them by sending personal cards, direct mail pieces, or notes. Remind them of the services you offer; your services may have changed since you last worked with them, or they may not remember all that you do. If you make the effort to maintain relationships, your customers will be more likely to stay for the long haul.
#4. SEO
In this day and age, having a strong online presence is crucial for every type of business. Most consumers will look up the website of a company they're considering for a job. Make sure yours is beautifully designed and easy to navigate, contains quality content that shows who you are and what you do, and provides a clear way for visitors to contact you quickly. To help customers to find you in the first place, your website should be optimized to be found quickly on search engines. If your business isn't online, you're missing a large part of your potential market. Leads that come in through a business website are some of the most qualified leads you'll receive. Having a blog on your website is another way to connect with consumers by providing valuable information they can use. Posting content regularly on your website and to social media outlets will also keep you on their radar. To learn how influential a good website can be for your business, download our latest eBook (below).
#5. Local Grassroots Efforts
People like to see that local businesses are active in their communities. Showcase any charity organizations you work with and any pro bono work you do. Consider speaking about topics of importance in front of targeted groups of people, such as at a Chamber of Commerce event. Contact a local newspaper and suggest a story idea. The more active you are in your community, the more people will become aware of your business and your reputation.
If you need any marketing services, such as lead generation, website design, graphic design, or blogging, content creation, or social media services, contact Blue Frog today!