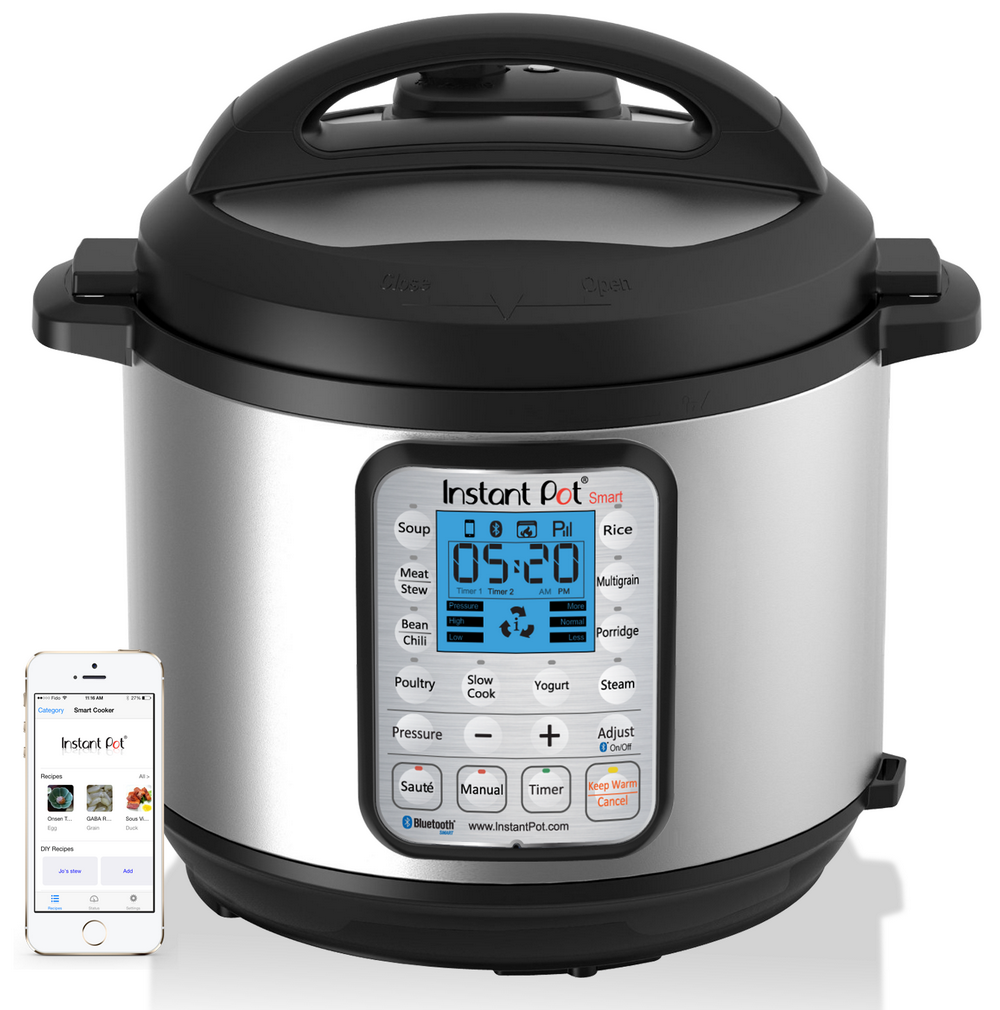 Pressure cookers and crock pots have been around for years, but recently the countertop appliances have become unexpectedly trendy. One of the most popular new machines is the Instant Pot, designed by a team of Ottawa, Canada-based engineers in 2008. Despite not engaging in any TV or print advertising, the small company has enjoyed startling success by using viral internet marketing channels like bloggers, social media, and word of mouth—recruiting "brand ambassadors" to enhance its goodwill and its sales. The product's success is a lesson in modern marketing strategy.
Photo from InstantPot.com
1. Make a Product that Solves a Problem
Part of the Instant Pot's success necessarily starts with the fact that the product does what it says it will. It's relatively easy to use, easy to clean, and, by most reports, stands up to the rigors of frequent use over a long period. Its website claims it is an "intelligent multi-cooker, capable of completely replacing [a] pressure cooker, slow cooker, rice cooker/porridge maker, sauté/browning pan, steamer, yogurt maker and stockpot warmer," and its lengthy instruction manual introduces buyers to its wide range of features. Most importantly, the company explains the benefits of its product in terms of how it solves a problem: making a wide range of healthy meals quickly, easily, and conveniently—while using less energy than traditional methods.
2. Target and Nurture Influencers
Instead of investing in advertising like print and TV ads, the company initially provided free Instant Pots to 200 bloggers and cookbook authors representing many styles of cooking, including Chinese, Italian, sous-vide, and vegan. While the company does not sponsor paid content or promotions, it posts many Instant Pot recipes from these bloggers and authors on its blog and in the printed booklets that come with the appliance. Followers of these blogs, in turn, have created their own online communities in support of the product to share recipes, tips, and stories—which attract even more people interested in being part of the latest trend. The company's willingness to respond to and nurture this burgeoning community has enabled it to enjoy the benefits of these influencers' personal recommendations.
3. Reach Out Across Channels
Although the Instant Pot is sold in brick-and-mortar stores like Walmart and Target, its biggest success is through online sales—especially on Amazon. The company took advantage of sales like "Amazon Prime Day" and Black Friday, selling 215,000 units on Prime Day alone. In fact, its Instant Pot Duo model is Amazon's top-selling electric pressure cooker in the U.S. market. In addition to featuring its product on top internet retailers, it provided incentives to bloggers and other website hosts who posted links on their sites to the sales portal. By embracing the power of brand ambassadors and fan communities on Facebook, Instagram, Twitter, Pinterest, and other social media sites that encourage communication and sharing, it built a solid reputation for genuine, honest, well-earned consumer satisfaction. Although this kind of social media marketing can take some time, it can result in significant results for a minimal marketing investment.
4. Continue to Innovate and Ride the Trends
The latest generation of the Instant Pot is Bluetooth enabled. (Don't say you've never yearned to control your cookware from your smartphone while in another room of your house!) The preset buttons and cook settings are available on a smartphone app, including starting and stopping cycles, which basically makes your phone function like a remote control; the app also has a recipe database that automatically programs the unit correctly for the recipe you select. While this feature may not necessarily add significant value to the product, it demonstrates that the manufacturer is committed to innovation and forward thinking. It's also a clever way to ensure an appliance using essentially century-old technology continues to attract attention from gadget reviewers with a "smart" technology focus. Linking your product to an existing trend—as the Instant Pot initially did by emphasizing its energy efficiency, connecting with the eco-friendly home movement—is another way to increase its viral internet marketing reach.
Successful marketing strategies like Instant Pot's aren't based on luck. Blue Frog has the social media and sales-focused marketing experience to help your company formulate a brand strategy that works in today's changing marketplace. Our experienced marketing professionals will help you develop and refine your brand's marketing strategies, implement a social media strategy, and use inbound marketing software to provide you with expert analysis as your actions produce results. Contact us today to learn how our team of graphic designers, website designers, and content creators work together to help create perfectly-tailored online content in support of your brand.
Blue Frog Marketing is based in Des Moines, Iowa, and provides comprehensive, innovative online marketing as well as graphic design and print services for clients across the Unites States and beyond.