What is inbound marketing?
Inbound marketing is marketing with a magnet instead of a hammer. It's the practice of pulling users to you with compelling content and a search engine optimization (SEO) strategy through channels like your blog, Google, and social media.
Why is inbound marketing important?
Unlike outbound marketing, inbound marketing is not interruptive; it's customer focused, meant to add value and build credibility. With greater trust and added value come increased sales.
How do I get started?
Get started with these three steps:
Develop buyer personas
Conduct keyword research
Create content
Develop Buyer Personas
Buyer personas are fictional characters based on your target audience. It's important to develop buyer personas to drive your marketing strategy and ensure you attract the right users to your business. These personas will be the focus of all the content you create for your website, blog, social media, emails, etc. If you can offer a clear message that resonates with these specific individuals, then you can increase relevant traffic to your website and ultimately, increase sales.
To develop your buyer personas, ask yourself the following questions:
Who brings your business the most money?
Whom do you enjoy working with the most?
Conduct Keyword Research
Keyword research is essential to SEO. It involves identifying commonly used words and phrases that your potential and current customers are entering into search engines to find your business. Researching keywords and developing a list of words and phrases that are essential to your business will help drive your content creation.
The easiest way to conduct keyword research is to think of a few topics that are important to your business, such as topics related to your products or services. For example, a residential services company's topics may include "plumbing," "heating and cooling," and "electrical."
Now, fill in each topic with keywords based on words and phrases that you think are important to your buyer personas and your business. Using our earlier example, let's think about heating and cooling. Heating and cooling keywords may include
Furnace installation
Air conditioner repair
Ductless heating and cooling system
Signs it's time to replace my furnace
When do I need AC maintenance
HVAC contractors near me
To dig further, go to Google, plug in your list of keywords, and take a look at the related search teams that appear: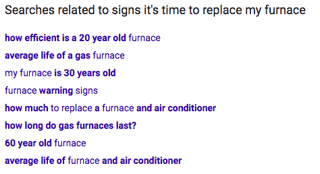 By using Google Analytics, you can also discover which keywords are already getting your website found. To do this, drill down into your website's traffic sources. Select organic search, and sift through the list of words and phrases that have brought people to your site in the past.
Create Content
If you're just starting with inbound marketing, I'd recommend writing an ebook and a blog. Your ebook will help with lead generation by providing users with valuable content in exchange for contact information, and your blog will help with SEO. Use the list of keywords and phrases that you recently discovered to develop blog topics based on your users' search queries. Determine a blog posting schedule that works for your team, and create a content calendar to help you get ahead.
If you're ready to start practicing inbound marketing techniques today, Blue Frog's inbound marketing strategists and content writers are ready to work with you!
Blue Frog is a marketing agency with offices located in Denver, CO, Des Moines, IA, and Huron, OH. If you don't live in any of these locations, don't worry. We work with businesses all across the nation. Contact us today!