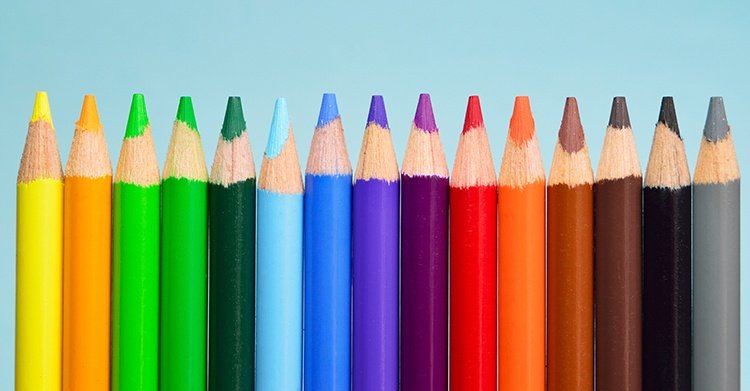 Marketing research shows that 93 percent of shoppers base purchase decisions on visual appearance, and 85 percent of shoppers consider color as the primary reason for buying a specific product. This tells marketers we must be thoughtful with our color choices, especially in our branding efforts and website. In today's post, we'll present some tips to establish a color scheme for your website and methods to implement the color scheme into your website design.
Part One: Choosing a Color Scheme
Selecting a dynamic and intentional color scheme is vital to building brand awareness and creating a lasting impression on consumers. When selecting a color scheme for your website, ensure that it is consistent with the following elements:
Brand Identity
Every business should begin choosing a color palette that either helps establish or builds upon their brand identity. This scheme should represent the spirit of the company and consider the emotions you want to evoke from consumers. Once this is established, all of your marketing materials (including your website) can follow a consistent and cohesive approach that helps build brand awareness.
Target Audience
Knowing your target audience can help drastically narrow down your color scheme options. Consider doing research into color theory, and know what emotional responses your color choices might evoke from consumers. These results can also vary depending on geographic area, age group, and gender.
Business Goals
Your website and the design elements you choose to use on it should align with the goals of your organization. Color can be a useful tool for emphasizing importance of a certain service or product and drawing attention to buttons or areas that require action from the user. Building your color scheme with your business goals in mind can help you more intentionally use those colors and place them in areas in which you want to reinforce important messaging.
Part Two: Using Color in Your Website Design
Once your color scheme is finalized, it's time to incorporate it into your website design. Color is a powerful tool, and it should be implemented thoughtfully to complement the page layout as well as icons, images, fonts, and other design elements. Consider the following tips when adding color into your design.
Establish the Dominant and Accent Colors
Trying to use every color in your scheme evenly can limit your design options and cause elements of the design to compete with one another. To help create hierarchy, decide which color (or two) will be your primary colors and which will be used as an accent color. Your primary colors can be used to make the most important elements stand out, including
Call-to-action buttons
Backgrounds or dividers
Image overlays
Animations or icons
If you need help getting started, return back to your logo and brand style guide to determine which colors take center stage there. Check out this article to learn more about building your brand style guide.
Use Whitespace to Your Advantage
Although having a strong color scheme is crucial, it doesn't always have to be the center of attention. Allow your design to breathe, giving the user's eye a break and creating opportunity for a focused attention on the colored areas of the design. Find more information in this article about the importance of whitespace.
Get Creative with Depth and Layers
Using color in your design is an opportunity to be creative and have fun. It makes your work more dynamic and allows you to express your brand in a bold way. Remember that colors don't have to be flat blocks that bog down your design. Consider layering your colors with a subtle pattern or shadows, or use them in a gradient to give design elements depth. For inspiration, see these examples of website designs that emphasize the use of color.
Let Images be Your Guide
Whether you decide to choose images first and base the color scheme around them or vice versa, it's important that these two elements work well together. Images can be a great source of inspiration when incorporating color into your design, and they also allow you to create a more unified, balanced layout. To begin experimenting with images and color schemes, check out this color identifier tool from Canva.
Do you need help with your website design? Blue Frog can help! We work with clients across the country to design and build functional, beautiful websites. Contact us today to learn more!