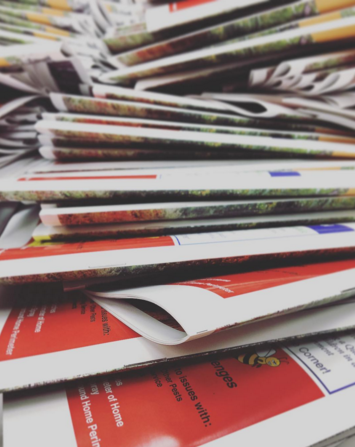 Many business owners are reluctant to consider hiring professional graphic designers for their marketing efforts. You may be tempted to cut corners by doing your own graphics (in addition to everything else that goes into managing business operations), but that would take your attention away from what you do best, diverting it to a task that is best suited to a specialized professional. Even if you've never considered hiring a graphic designer before, consider how professional design can make a difference in these four common marketing tasks.
If you want to know exactly how design influences your marketing efforts and whether professionally designed marketing materials are really worth the investment, you've come to the right place. We're going to look at four specific examples where design plays a very important role in your marketing efforts.
eBooks
An eBook is a piece of literature in PDF format that can be viewed on a computer screen or handheld device. Businesses that use eBooks to market their products and services gain several benefits: these mobile resources can provide valuable information to potential customers, are affordable, mobile, can be used effectively in any business, and help to establish the author company as a thought leader in the industry. Just as importantly, eBooks provide opportunities for businesses to collect contact information from those who download them, enhancing the ability to generate leads through their websites.
While the written content of an eBook is critical to its success, the design is no less so. Creating a professional-looking design can be difficult and time consuming for amateur designers. Careful attention to several different elements, such as color, texture, typography, lines, space/negative space, balance, harmony, and emphasis, is necessary for developing a compelling design. Hiring a qualified professional for your eBook ensures that all of these elements are taken into consideration to create a design and layout that makes your text inviting for your prospects to read.
Social Media Posts and Advertisements
The explosion of social media has driven many businesses to begin investing in social media marketing over the past few years. Social media is an effective way of getting a brand in front of a wider audience, and a company's social media profile is often a prospect's first impression of the business. Putting the resources into presenting professionally designed graphics on your social pages strengthens that first impression. Compelling visual elements encourage users to click on your posts and links, increasing engagement with your company, and helping to build an image of success.
Marketing Reports
Many business owners don't even consider using professional graphic design services for their marketing reports. Aren't they boring by nature? Absolutely not! Marketing reports are your chance to show off the success you've generated, and you want to make sure your readers take notice! Smart use of tables, graphs, timelines, logos, and other elements draws attention where you want it and helps your accomplishments shine through the dull numbers.
Promotional Items
While hiring a graphic designer may seem an obvious for promotional items like t-shirts or posters, even items like branded key chains, pens, and notepads need a designer's eye. Logos need to be sized properly to print on such small, irregularly shaped items, and the items themselves may even need to be designed. These tasks can be trickier than most people tend to think, and trying to develop them without professional advice can be a frustrating waste of resources.
Whether you want to update and enhance your current design or create a whole new design for your next project, Blue Frog's team of professional graphic designers can help. From conceptualization to completion, our design and print services will help you create professional materials you're proud to show.