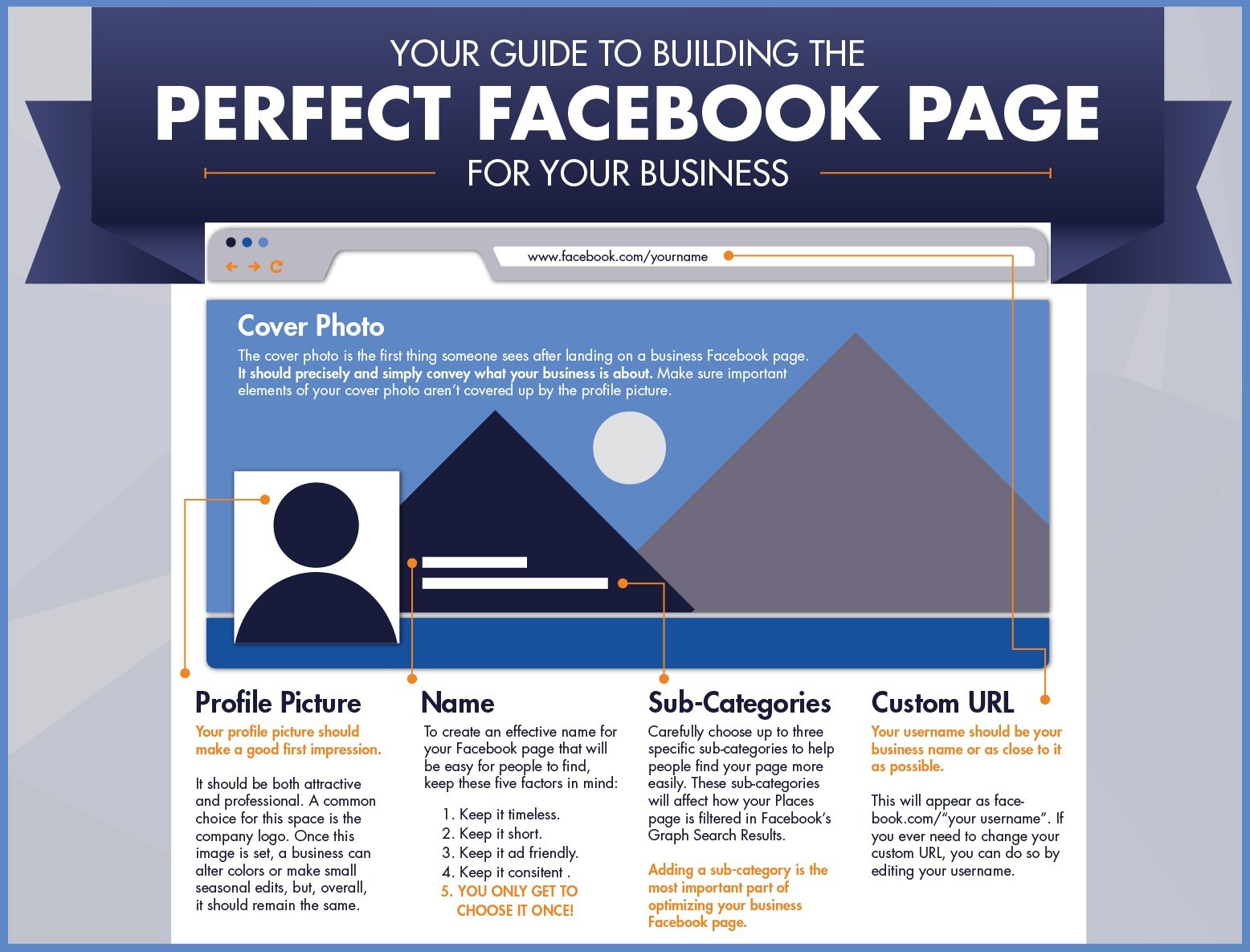 The facts are undeniable—Facebook is the biggest social media marketing platform on the planet. More than one billion—yes, billion—users worldwide spend 20 or more minutes using the social powerhouse each day.
So it makes sense for your business to capitalize on the opportunity to reach a global audience, right? Research shows that from a business perspective, 42% of marketers say that Facebook is critical to their business's success—and a significant portion of these marketers admit to having strategies that heavily rely on the platform. It also opens a convenient channel of communication for your customers to get in touch with your business—and we all know how consistent contact between businesses and their customers help companies build a good reputation.
Make sure your company is on the map by creating the perfect Facebook business pages for your company:
TOP KEY ELEMENTS:
Cover Photo
Your business's cover photo is the first chance to draw visitors into your page, and to entice them to keep scrolling down to see more of what you have to offer. Your cover photo should precisely and simply convey what your business is about.
Profile picture
Your profile picture is the first place your users will see what your brand is all about, so make sure you leave a good impression. It should be both professional and attractive, and accurately relay the branding and voice of your business.
Name
Appearing directly to the right of your profile picture, the name you choose for your Facebook page should be easy for people to find on the web. Keep these 5 factors in mind:
Keep it timeless
Keep it short
Keep it ad friendly
Keep it consistent
YOU ONLY GET TO CHOOSE IT ONCE
Sub-Categories
Your business can include up to three sub-categories to help people find your page more easily. Whatever these categories are, they play a large role in how your page is filtered through Facebook's Graph Search Results. ADDING A SUB-CATEGORY IS THE MOST IMPORTANT PART OF OPTIMIZING YOUR BUSINESS FACEBOOK PAGE.
Custom URL
Your URL is a reflection of your username and business name. Make sure they are an exact match—or as close as possible—to ensure that your page's URL relates back to the actual name of your business.
At Blue Frog, we're experts in making sure your business beats the competition. Our social media strategists can help you get your Facebook page optimized for success, and our team of content writers and graphic designers ensure that the stuff you're putting on the web is truly top-notch.
Reach us at www.bluefrogdm.com, call our Des Moines office at 515.221.2214, or click below to download our guide to creating the perfect Facebook page for your business!