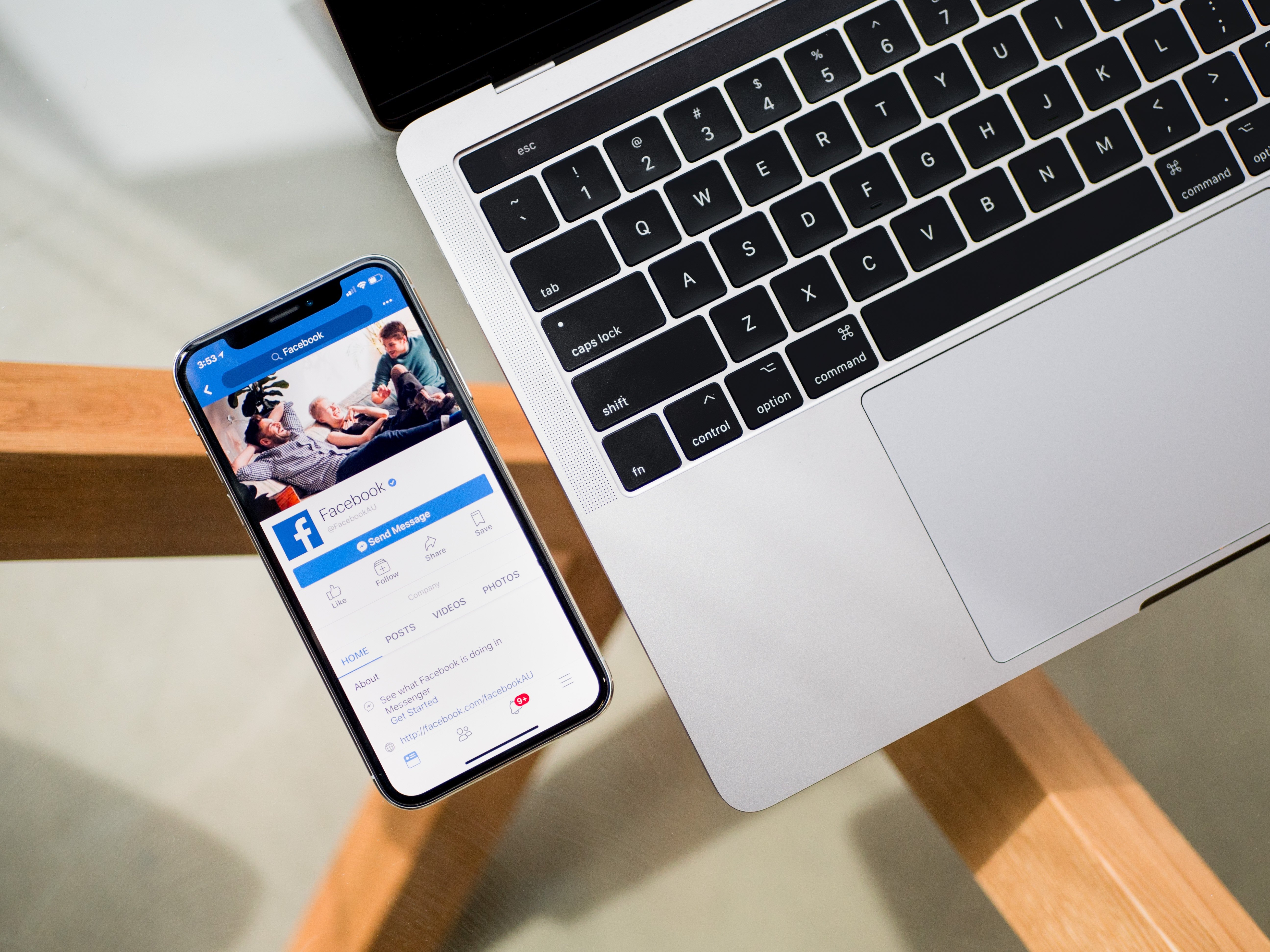 Over the past year, Facebook has experienced a decrease in organic reach (i.e., how many people you can reach for free on Facebook by posting to your Page) for two reasons:
The competition for space in your News Feed is increasing among family, friends, and businesses. With more content shared and created every day, everyone is competing to share their content with you.
Facebook made improvements to how your News Feed works. Rather than showing you irrelevant information, Facebook now aims to show you relevant, engaging content that improves your experience.
So, how can you overcome this decline in organic search and make your posts seen? The answer is simple: Facebook Boosted Posts.
What's a boosted post?
A boosted post is post to your Page's timeline whose reach is increased by advertising dollars. You simply identify (1) who you want to reach, (2) your max budget, and (3) how long you want to run your ad.
Boosted posts let you raise awareness among a targeted audience and give you an extra edge when competing for space in users' News Feeds.
What's a Facebook ad?
A Facebook ad is a paid message from a business written in their brand voice to achieve specific goals. Advertisers will create campaigns with specific advertising objectives, such as driving awareness, providing information about products or services, or generating new leads, and then create ads within those campaigns to reach their established objectives.
With Facebook ads, you can choose different ad placements, use specific ad objectives, maintain creative control, and use advanced targeting capabilities to reach the right audience.
How's a boosted post different from a Facebook ad?
According to Facebook Business, you should decide on your advertising goals before you start advertising on Facebook. Doing so will allow you to assess whether boosted posts or Facebook ads would best serve your advertising objectives.
Unlike Facebook ads, boosted posts aren't created on Facebook Ads Manager and lack the same customization features as in Ads Manager. To determine whether to use boosted posts or Facebook ads, consider these questions about your goals:
Do you want to increase page engagement or develop brand awareness among new users who are likely to be interested in your content? If so, use boosted posts.
Or, do you want to create more advanced ad types and campaigns? If yes, use Ads Manager to home in on your advertising objectives and drive the right actions.
Note: Facebook still considers boosted posts "ads" because they require a budget to reach an audience outside of your Page's followers.
Benefits of Boosting
Boosting posts on your Page is an easy and effective way to reach new people who have an interest in your content, but don't currently follow your business on Facebook. With Facebook boosted posts, you can
Reach a wider, more targeted audience. You can choose to select multiple audiences to target, or you can create a new audience. If you decide to create a new audience, you can target users based on demographics like age, gender, location, interests, etc.
Easily set up a boosted post. With boosted posts, you can boost any type of post. Once Facebook reviews your post, it will go live and reach a wider audience than before the boost.
Control your post. You can easily control your budget and the duration of your boosted posts.
Access your analytics. After you boost a post, you can view your audience reach, clicks, reactions, comments, and shares in Facebook Insights to keep track of how your post is performing.
With boosted posts, you can encourage more people to Like, share, and comment on your posts.
How to Boost a Post on Facebook
In order to boost a post on Facebook, you need (1) a published Facebook Business Page, (2) a post that's eligible to be boosted, and (3) an admin, editor, moderator, or advertiser role on your Business Page. If you have the previous requirements, you're ready to boost a post!
1. Choose a post you want to boost.
You can either create a new post to boost or you can choose an existing post. Simply click the blue "Boost Post" button.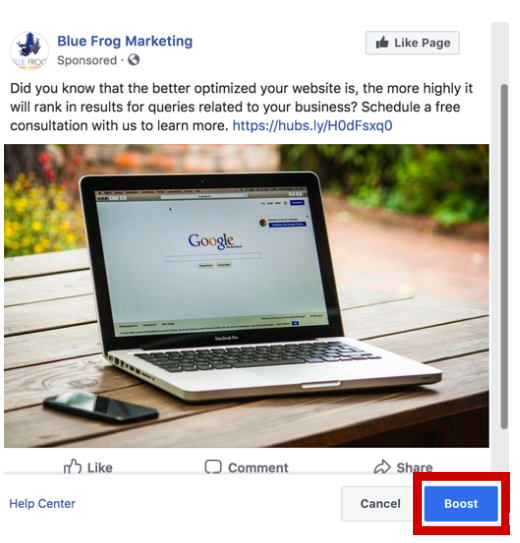 2. Select your target audience.
Once you select "Boost Post", you will be directed to a new screen where you can target existing audiences, such as "People who like your page", or select "Create New Audience" to reach new people who are likely to be interested in your post.

3. Set your budget.
After you've set your audience, you'll have an idea of the budget you should set. The minimum requirement is $1 per day, and Facebook will show you how many people you can expect to reach depending on the budget you pick. For example, in the illustration below, we see that a budget of $20 for one day will result in an estimated reach of 4,100–17,000 users.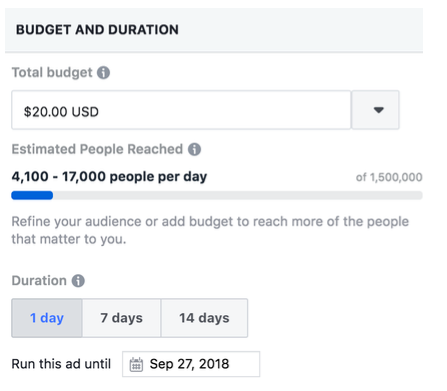 4. Set your boost duration.
You can select how long you would like your post to run. For example, you can use the default settings of one day, seven days, or 14 days, or you can set a specific end date for your boosted post.

5. Select a payment method.
6. Preview your boosted post.
Before you boost your post, check for any errors, and review your audience, budget, and boost duration. After you do so, you're ready for the final step!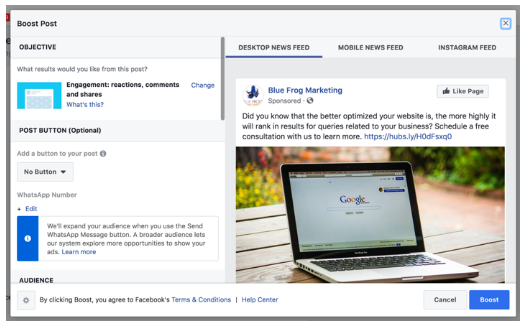 7. Boost your post!

Tips for Boosting
Before you start boosting your posts on Facebook, check out these final tips to create a successful boosting strategy from Hootsuite:
Establish a clear goal for your boosted post.
Try out different audiences.
Narrow your audience.
Monitor the duration of your post.
Experiment with A/B testing.
Boosting posts with Facebook gives you a new way to expand your reach and grow your Business Page's audience. If you are looking for help with your Facebook ad campaign, contact our team here at Blue Frog to schedule a free consultation.