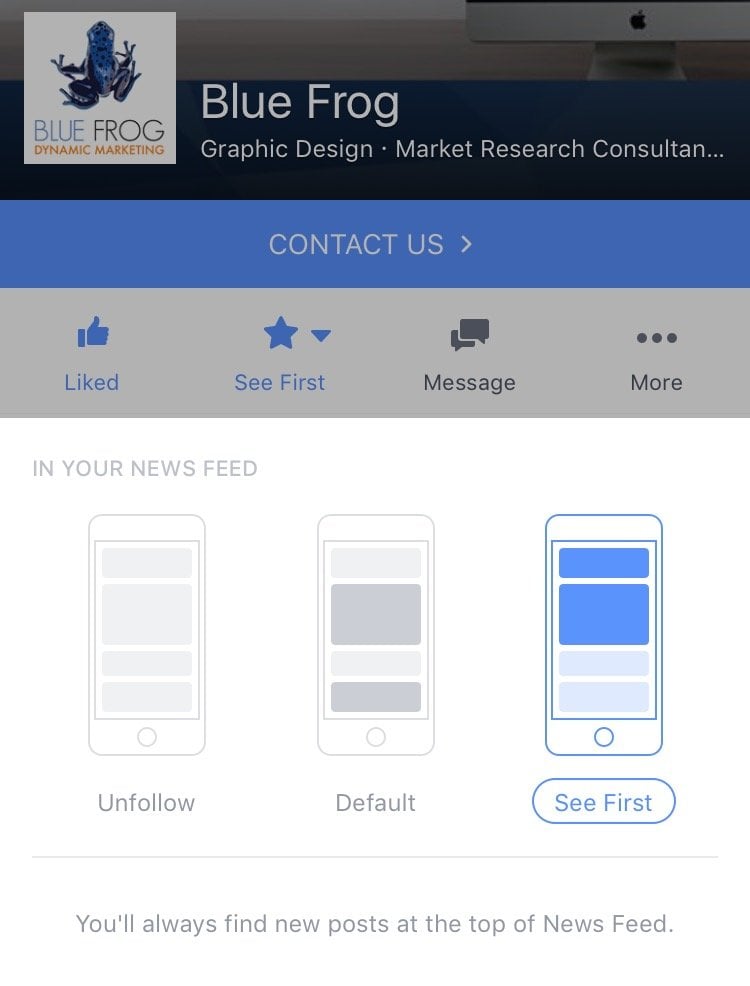 Since 2017, organic business posts on Facebook have essentially disappeared from timelines. So, what does this mean to you, the user? Over the years, we have "Liked" our favorite business pages in hopes of seeing what they post like promotions, specials, or articles, but lately, we see fewer and fewer of the business posts we originally opted into. Luckily, we now have the ability to opt back in by selecting the "See First" option in our favorite business Facebook pages and personal Facebook profiles so their information shows up in our newsfeeds. But, what is this "See First" option? And how can we get it?
You can select the "See First" option in personal and business Facebook pages. This option allows new posts from these pages to be delivered to the top of your news feed when they are posted, or when you sign in, so you see that content first. Similarly, you can select to "Unfollow" pages that you do not want to view content from but also do not want to "Unfriend" that individual or "Unlike" their business page.
How to Prioritize Who You "See First" on Facebook
1. Go to their Facebook business page.
You can view their page by searching for them in your search bar by their name or relevant keywords. At the beginning of 2016, Facebook made it a possibility to search for people, posts, and businesses with keywords to improve user experience.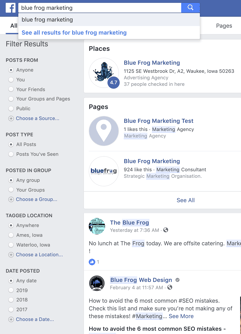 2. "Like" their page.
This button can be found on the far left hand side if you are on a desktop or the far right hand side if you're on the mobile app.

3. Select "See First."
On desktop, there is a dropdown on the "Following" button that will allow you to select the "See First" option. Alternately, the default option will bring only a fraction of this business' posts to your newsfeed.
On the mobile app, selecting the "Follow" button to the left of the "Like" button will give you the option to "See First."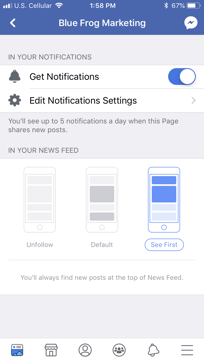 4. Enjoy!
Now you will see your favorite people's and business' posts and their most relevant content at the top of your newsfeed when you log in.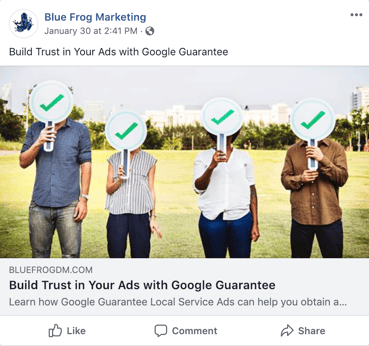 Contact Blue Frog!
Be sure to select "See First" for Blue Frog's business Facebook page for more information on how Facebook for business works and other inbound marketing tips! If you're ready to get started, contact one of our inbound marketing strategists for a consultation or view our resources page for more information!