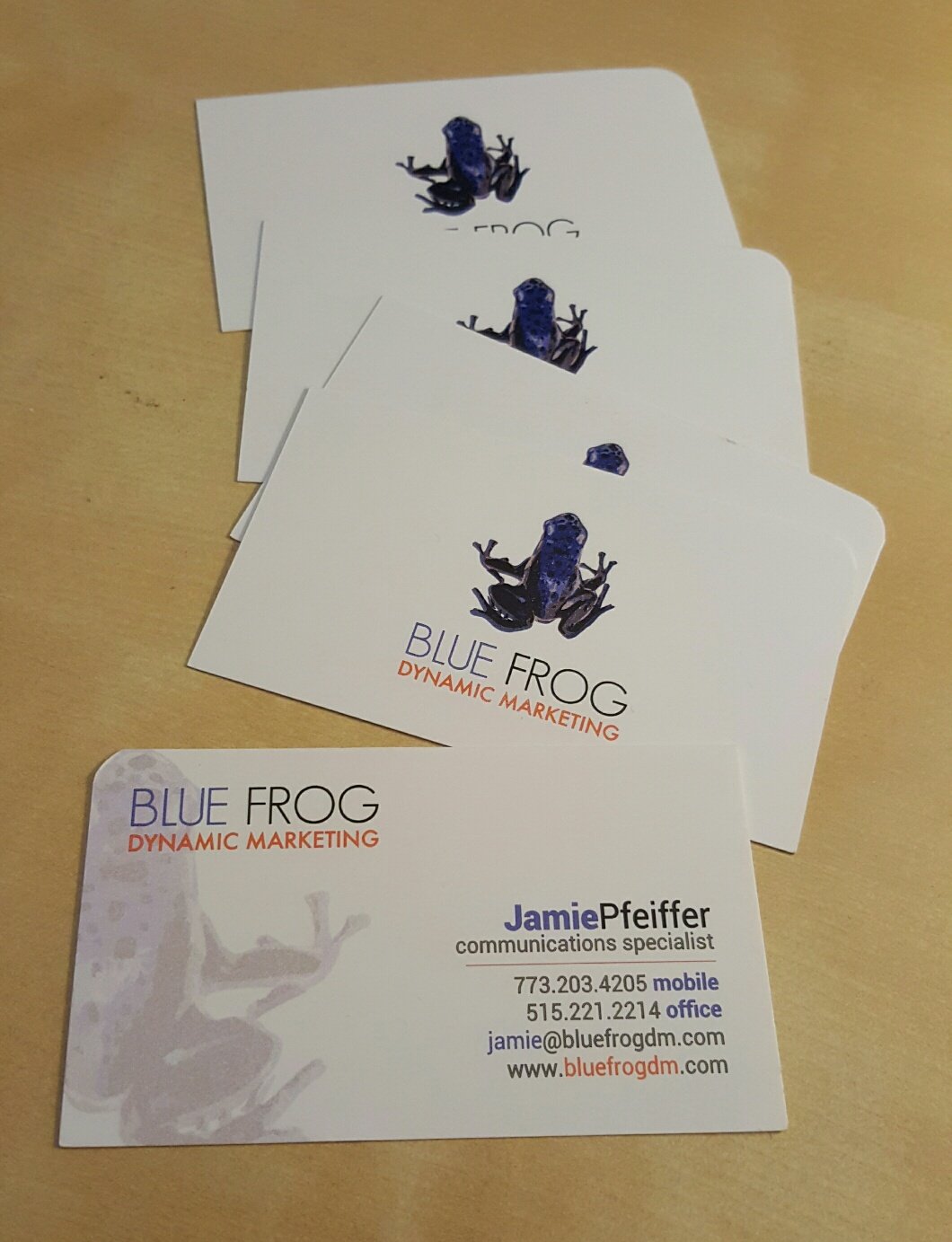 You have 891 Facebook Friends and 2,314 LinkedIn contacts. You ditched your CD collection years ago and finally switched to an e-reader for books and magazines. So why would you want printed business cards?
1. Today's cards are more than just cards.
Creative business cards can be an extension of your unique, interesting, clever, or stylish branding. They can also contain a sample of your work using technology like QR codes. When scanned, these little blocks of information can take your reader to a web portfolio, video, or site of your choice. Today's business cards are a portal to your entire business – a powerful tool that costs pennies.
2. Cards are more personal.
The average exchange of names at a networking event takes approximately 3-4 seconds. A card that is engaging and memorable will encourage your new contact spend a few more seconds and increase the odds he or she will remember you and your interaction. Plus, since many people learn best visually, looking at your name can help commit it to memory.
3. Cards are more convenient (and polite).
Even as technology becomes ubiquitous, it can still be a painstakingly slow process to add new contacts to your devices or connect on social networks. Trying to maneuver your device while balancing a cocktail and attempting to carry on a social conversation can be virtually impossible! Having a card with all your social network contact information ensures that your exchange is smooth and easy – and allows you to politely keep your device in your pocket or bag.
4. Cards give more opportunities for interaction.
A unique design or clever card increases the chance your new contact will keep it – and be reminded of you every time. A wallet-sized floss card is a useful reminder to visit your dentist. A card that can be folded into desk origami might earn a permanent space in a potential client's everyday line of sight. A card that doubles as a tire tread gauge might find a home in someone's glovebox and result in a call to you when new tires are in order. If you're very lucky (or if your card is very distinctive) your cards might even earn publicity of their own through photos on Instagram, Facebook, or Twitter.
5. Cards make you more memorable.
Cards are a great way to keep track of the professional contacts you meet on business trips and at functions. One trick is to write on the cards you've collected, shortly after you collect them, where it was you met each person (e.g., "Young Business Owners' Luncheon at Red Hook" or "CES 2016 – Friday cocktail party") or something that stuck out in your mind about them (e.g. "restores classic Fords" or "potential videographer for Hurst trial"). Even a traditional card design ensures that, after a networking event or other meeting, your potential clients will think about you at least one more time while they clean their pockets, card cases, or handbags of the night's accumulated cards.
Do you need business cards?
Blue Frog can help you design and produce business cards just for your unique business. We can help you choose from a wide range of options, including four-color, spot color, thermography, rounded corners, UV coated, die cut, and foil stamped on a dazzling array of papers and cardstock. Our design and production process is quick, easy, and convenient – contact us today to get started.