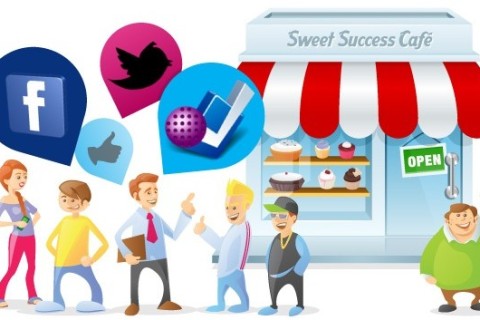 If you've been thinking of developing a content marketing startegy, you're on the right track. Content marketing has the potential to significantly enhance your online presence and brand authority, attracting more visitors to your website and generating more leads and sales for your business.
Social media is not only the simplest place to begin a content marketing strategy; establishing a social media presence will also provide valuable support for all other content marketing efforts that you undertake. Beginning a social media strategy is as simple as setting up free profiles on one or more platforms and posting brief bits of content to engage your audience.
Selecting Platforms
Facebook is by far the most widely used platform, but a growing number of social sites are gaining popularity, each with its own audience and format. Consider which of these social media platforms provide the best opportunities for connecting with your audience:
Facebook: With over 1.5 billion monthly active users, Facebook is popular with businesses of all kinds and has immense potential to help you reach a wide audience.
Twitter: Accessed by over 29% of social media users in the U.S., Twitter is popular with younger, more urban audiences.
Google+: Aside from its power as a social media platform, using Google+ provides an automatic boost for your website ranking!
LinkedIn: Popular with educated professionals with relatively high incomes, LinkedIn is the only major social media platform more widely used by 30–49-year olds than the 18–29 age group.
Instagram: With over 400 million active monthly users, Instagram has surpassed Twitter in overall popularity. Instagram captures a younger audience, with 55% of online 18–29-year olds using the platform.
Snapchat: Snapchat's audience tends to be young and heavily engaged with the site. Of its approximately 100 million daily users, more than 60% are under 25.
Tumblr: A combination social media/microblogging site, Tumblr is most popular among millennials.
YouTube: Over 80% of U.S. internet users access YouTube, and the site's users span all age ranges.
Setting Up Profiles
Once you've selected platforms and created your accounts, make sure to provide essential information about your business and upload profile and/or cover photos that represent your brand. Each platform has its own focus, format, and audience, so before diving into one that you're not already familiar with, take some time to get to know how people are using it.
Publishing Posts
What should you publish on your social media profiles? The possibilities are nearly endless! Ideally, you should include a mix of posts that directly promote your business and posts that relate to your business but don't promote it directly, such as links to third-party content your readers will value. Including images will help you capture more attention than text alone. Publish posts that will encourage your audience to engage with your company, whether by commenting, Liking, sharing, or otherwise responding to your content. This will both attract more eyes to your content and create a community around your brand.
Content Creation Help
Not every business has time to devote to a well managed content marketing strategy. Blue Frog Marketing provides a broad range of inbound marketing services, including professional writing for all of your content—for your social media profiles, website, blog, eBooks, or any other format you'd like to offer.