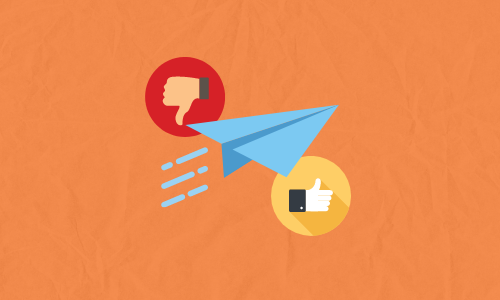 Marketing blogs often boast about how an email marketing strategy can quickly create a return on investment within various lifecycle stages of your pipeline. While that may be true, marketers often neglect to mention the importance of building and maintaining a healthy email reputation. We all know that successful email marketing calls for a calculated strategy involving segmentation and engagement data, but what if your marketing emails aren't even reaching your intended recipients' inboxes? As it's nearly impossible to collect engagement data when emails aren't making it to their intended readers, it's important to understand the basics of building and maintaining a good email reputation.
What is email reputation and how does it affect my business?
A recipient's email service provider looks at your company's email reputation in essentially the same way a loan officer looks at a credit score. Your email reputation is a quantified measure of your email domain's history of sending relevant and wanted communications.
Once you've established a strong email reputation, you still need to take steps to maintain it. A couple of unsuccessful campaigns in a row can immediately impact your domain's reputation, especially if your emails are marked as spam. Often, marketers inherit email domains with a long history of poor sending practices and a reputation to match.
While it can be difficult to repair a poor email health score, it's critical to the success of any email communication. Today, we'll outline some tips to begin repairing a struggling email reputation.
What factors impact my email reputation?
Many factors affect the health of your domain's email reputation, the greatest of which is the engagement data from your most recent email marketing efforts. You can build a poor email reputation over time by blindly sending untargeted and/or irrelevant emails. Other factors include broken links as well as absence of links to opt-out or manage subscription preferences; if contacts cannot unsubscribe, their next alternative is to mark your email as spam. You can avoid an adverse reputation by tracking and reacting to your email metrics. When embarking on your next email campaign, keep track of the following metrics:
When embarking on your next email campaign, keep track of the following metrics:
Open rate: the % of recipients who opened your email

Click-through rate: the % of recipients who clicked a link in your email

Hard bounce rate: the % of emails that couldn't be delivered because of permanent reasons, such as an invalid email address or a recipient who has marked your emails as spam

Unsubscribe rate: the % of contacts who unsubscribed from your email sends

Spam report rate: the % of contacts who marked an email as spam
How to check the health of your email reputation.
Setting up a dashboard to report on your email health can be an effective way to check in on your email reputation. Calculate and track the metrics listed above on a weekly or monthly basis to ensure your email health never takes a significant hit.
If you are using HubSpot to send marketing emails, the email health tool is a fantastic resource for quick snapshots and insights into your email's current and past reputation. (Note that you must meet a threshold of 400 emails sent in the last 30 days to view the email health dashboard.) Other resources to help analyze your email reputation include SenderScore by Validity and Postmaster Tools by Google


USE THESE tips to build/maintain a positive email reputation
1. Define a strategy for different email subscriptions
By allowing contacts to select which email subscription they are opting in to, you are being transparent and setting expectations for the types of email they will be receiving. You can then manage the communications sent out to your contacts database from the subscription level and make sure that you meet the expectations of the contacts who opted-in to your mailing list.
2. Personalize your email
Especially in recent years, relevant and personalized email has become essential to successful email marketing campaigns. In today's age, users no longer just prefer one-on-one interactions; they expect it. Unfortunately, the days of just including recipients' first names in the subject line to catch their attention are over. Personalization should be at the core of your strategic decision-making from start to finish, well beyond the subject line.
3. Utilize actionable subject lines to entice recipients to open and click.
The subject line is the first piece of content your contacts see after the sender. We're taught not to judge a book by its cover, but countless emails are sent every day and never opened—often because the subject line did not inspire further reading. A highly effective strategy for improving open rates (which will, in turn, impact your email health score) is to cultivate a sense of urgency or call out an offer in the subject line. Adding personalization to your subject line can also help call immediate attention to your email. (Remember, though, that using the contact's first name in your subject line is not the end-all-be-all of email personalization.)
4. Ensure links & CTAs are consistent with the messaging of your subject line & email body.
Isn't it frustrating when you click a link within an email and then find yourself lost or confused when you arrive on the landing page? It's critical to maintain consistent messaging across an email's subject line, call to action, and linked pages. If your subscribers are regularly lost when they click through your email, your email health score will quickly tank.
5. Be wary of email spam reports, hard bounces, and unsubscribes
Create and maintain a list of contacts who have unsubscribed, hard bounced, and have low engagement
In HubSpot, navigate to Contacts > Lists.

Select Create List

Active lists: automatically update over time once contacts meet the list enrollment criteria.

Static lists: represent a segment of your database at a single moment in time.

Check out these criteria from HubSpot, and consider removing contacts that meet this criterion from your database.
Use this list as exclusion criteria in automated workflows and static email sends.
Maintaining a good email reputation helps your emails reach more recipients who want to hear from you, fueling better ROI for your campaigns. Find more tips about email marketing here, or subscribe to our blog to stay up to date on our latest marketing tips!