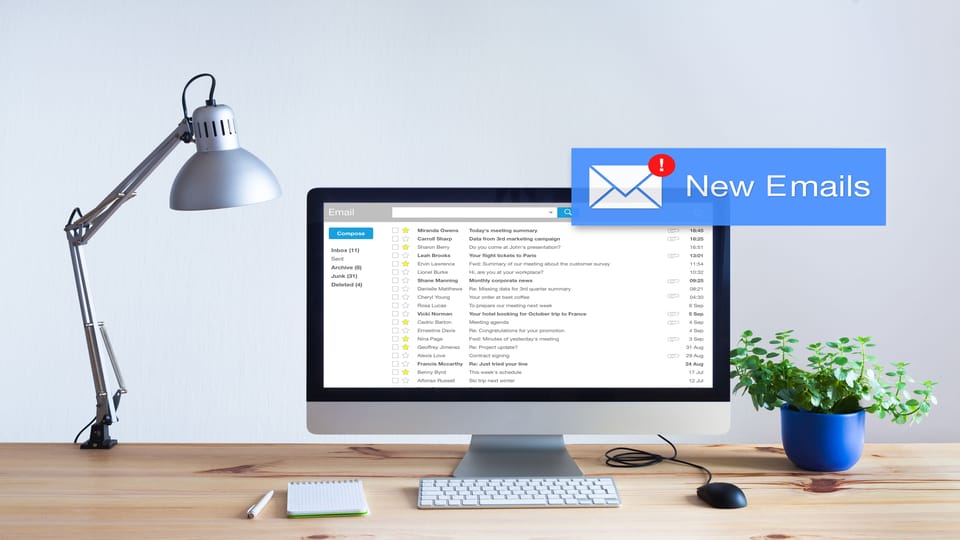 Our email inboxes are overwhelmed every day by newsletters, promotional offers, event invitations, and more. Most of us only open the emails that truly speak to us and delete the rest.
In a sea of crowded inboxes, it's essential to know how to make your email stand out. Let's look at the essential elements in writing a compelling email subject line to increase email open rates.
1. Make it personal.
Your email list is more than a database of addresses; it's a list of individuals who have chosen to provide their email to you because they are interested in what you have to offer. Just like you and I, your email subscribers have varying interests, jobs, ages, and more. Properly segmenting your email list is the first step towards creating personalized subject lines that pique your recipients' interest.
It's a worthy investment to get to know your audience. Sending an email with a personalized subject line increases the chance of your email being opened by 26%. You can personalize subject lines by offering product recommendations based on past purchases, prompt your readers by asking them a question, or even use their name occasionally. These examples show how some brands add personal touches to connect with their email recipients:
"We think you'll like this…" – Rocketbook
"Katelyn, thanks for being a valued member" – LinkedIn
"Ready to Up Your Productivity Levels?" - Fossil
2. Create a sense of urgency.
When you call for immediate action in your subject line, you are more likely to grab the attention of your recipients and compel them to open your email. Implying scarcity or a limited-time offer encourages people to act now, rather than later. People typically don't want to feel like they've missed an opportunity, so let your users know that you have something valuable waiting in their inbox that they just can't miss.
Although urgency can be an effective tactic, your audience will catch on very quickly if it's overused ­– and eventually lose interest in your emails. Be strategic about generating urgency, as well as how frequently you use this strategy, to avoid losing subscribers to email fatigue. You can easily create urgency as these brands do in the examples below.
"Trust us, you won't want to miss this." – Girlfriend Collective
"Don't miss out on these 3 features" – Grammarly
"Shop these new arrivals now" – Madewell
3. Give an offer.
It's no secret that everyone loves a good deal. If you are sending an email containing an offer, let your recipients know directly in your subject line! An offer will trigger your users' immediate response and generate higher open rates because readers will see the direct benefit of opening your email. Another advantage of using offers is that numbers in a subject line can benefit open rates, so if your offer has a numeric value, be sure to include that detail.
Offering discounts or deals is a great way to re-engage with your audience. However, don't make promises in your subject line that you can't keep. If the body of your email doesn't contain an offer or actionable steps to get to that offer, then your users will lose trust in your brand. Use these examples as inspiration for using an offer in your next subject line.
"Unlock 20% Off" – Jimmy John's
"Up to 70% Off Clearance!" – Express
"Don't forget it all ships F-R-E-E" – Loft


4. Spark curiosity.
Turn your subject line into a cliffhanger. When you leave your audience wanting to know more, they will be enticed to click and find out what you have to say. You can draw your audience in by asking an open-ended question, promising exclusive information, or establishing a sense of mystery. Tapping into your readers' natural curiosity will make your email irresistible for them to ignore.
Although being mysterious is an excellent way to spark interest, your subject line can easily look like click-bait if it is too obscure or entirely irrelevant for your brand. You don't have to use outlandish subject lines to generate curiosity. The examples below effectively provide a sneak peek of what the messages are about while remaining in line with what the businesses offer.
"The biggest drop is tomorrow" ­– Adidas
"You Won't Believe Your Eyes" ­– Fossil
"5 Tips to Make Online Ordering Easier" ­­– GoDaddy
5. Be timely and relevant.
Your email subscribers gave you their email for a reason. It's crucial to provide your readers with relevant information they are seeking from you. Sending email blasts to hundreds of emails you purchased will likely end up in hundreds of junk folders because what you're sending doesn't apply to them. Demonstrate how your brand fits into your audiences' lives by incorporating trending topics or recent news into your subject lines. Your brand will build credibility by becoming a useful resource for your readers. Provide timely and relevant content to intrigue your audience with subject lines like these:
"The Best Cold Weather Moisturizer" ­– Healthyish
"How to Bake Better Bread" – Bon Appétit
"Reminder: Election Day is Tomorrow, Nov 3, 2020" – Vote.org
Email marketing can be a huge asset to your business when used correctly. The key to getting users to engage with your email campaigns starts with attention-grabbing email subject lines. There are many ways to play around with creating a subject line that will stand out – just remember to make it focused on the user and true to your brand.
For more tips on creating content that engages your audience, subscribe to our blog!
This article was originally published on September 15, 2017. The content has since been updated.