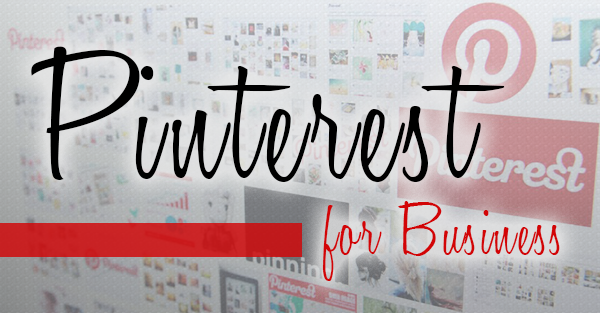 Today, we'll look at how to start using Pinterest for business. Success on Pinterest is about figuring out how your products or services fit into your target market's lifestyle. Your goal on this fun social site should be to gain brand recognition, drive traffic to your website, and convert prospects into leads! With that in mind, take a look at how to use Pinterest for your business.
Enable the Pin-It Button
Make sure you add the Pin-In button to your website, so it is easy for visitors to share your images and visual content. This will help to expand your brand reach to a new audience, just like other social share buttons do.
*BONUS: Use the analytics tool to look for the topics and images that drive the most traffic to your website!
Generate Great Visual Content
Pinterest is a visual social network, so you must make pinboards that highlight your greatest visual content. This might seem to be a problem for many B2B companies, feeling that they lack strong visual content. If your business faces this issue, try these ideas:
Charts & Infographics- If you've got great industry data that you can visualize, do it! Use Excel to create some basic data charts and pin them on Pinterest, but be sure to write a clear headline within the image so people know what they're looking at.
Company Photos-Grab those photos you took at your last company event and make a board to highlight your company's culture. Or, make an "executive management" board and include the executive headshots (if you have them) of your employees.
Strong Images from Blog Posts-Your company should be blogging, and those blogs should include images within the posts! Start pinning those images to your boards.
White Papers & eBooks-Take a screen shot of any white papers or eBooks your company has written and add them to a pinboard that's a collection of papers.This will help to establish you as an industry leader on Pinterest, which brings us to #3…
Be an Industy Thought Leader
Become the go-to Pinterest account for pins related to certain topics in your industry! Start getting creative with boards that you create so people are interested and engaged. For example, think about creating boards for various holidays or times of the year where you show your product being used so people know to check your Pinterest account when the next holiday rolls around!
Get to Know Your Target Market
Use Pinterest to learn more about the needs and interests of your ideal customers. Search through your customers' pinboards to find out who they are and what interests they have. When you go to create pinboards, use that information so you create exactly what you know your customers would appreciate and enjoy on Pinterest.
Include Links with Pin Descriptions
ALWAYS add links back to your website in your pins to boost traffic to your site! Additionally, track the referral traffic and leads you start generating from Pinterest. These insights will tell you how helpful Pinterest is for your business compared to your other marketing efforts.
Pin Videos
Yes, you can pin VIDEOS on Pinterest! Consider making a whole board of interesting videos your business has made (think speaking events!). And, be sure you include a call-to-action within the description of the pin itself, so people can further engage with you.
Use Hashtags
Hashtags work on Pinterest the same way they do on Twitter and now Facebook and Google+ too. When promoting a new campaign, create a pinboard for it, and tag it with the hashtag you're using on your other social networks to integrate your marketing efforts across all social channels.
Show Some Personality
Pinterest is all about lifestyle. Show off your company's personality by creating a pinboard showing your employees around the office, hard at work, or having fun at work-related events outside the office. This will make your brand more relatable and interesting and people will want to connect with you.
On Pinterest, it's not all about showing off your products and services in a direct way; it's about being creative in featuring HOW your products or services work well with the lifestyle of your target market.
If you would like help with Pinterest for your business, or any other social media platforms, such as Facebook, LinkedIn, Google+, or Twitter, contact Blue Frog Marketing today! We have offices in Des Moines and Denver but can serve any business anywhere and would love to help you build a strong social media strategy that allows you to have conversations with people that will attract them to your business.
If you seek social media marketing services of any kind (including social media training for small business), click on the link below!