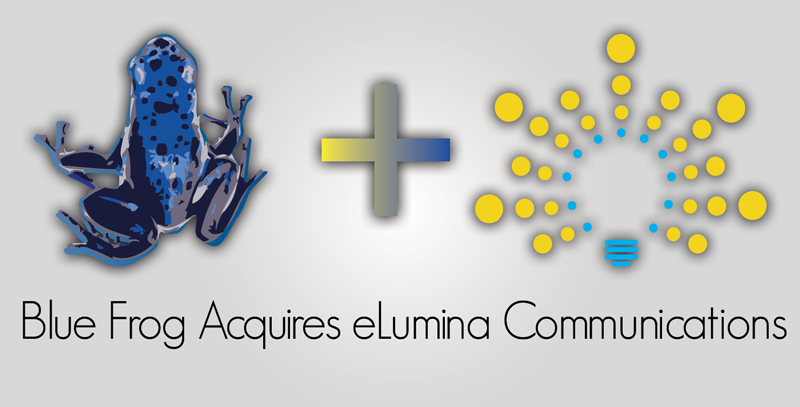 Blue Frog Marketing is proud to announce the opening of its second location in Denver, Colorado!
President John Campbell, who opened Des Moines-based Blue Frog in 2009, has family and roots in Denver and had been eyeing opportunities to expand his business into the area for some time. He recognizes the vast potential that the Denver market offers an organization such as his. "As a Des Moines-based company with lower operating costs," he said, "we are going to be able to bring a broad range of quality, cost- effective marketing services to the Denver marketplace."
Blue Frog's expansion into the thriving Denver market will expose the burgeoning company to a wealth of new and exciting opportunities. Digital Strategy Manager Raylee Melton related, "The growth potential for Blue Frog Marketing is astounding, and I am excited and honored to be tasked with leading the launch of this new office."
Acquisition of eLumina Communications
Blue Frog's move into Colorado includes the acquisition of eLumina Communications, a 5-year-old Denver marketing agency. Dusty Meehan, founder of eLumina Communications, is delighted with the transition. "I'm thrilled for our employees who will be joining the team at Blue Frog as well as our customers who stand to benefit greatly from Blue Frog's experienced staff and broader service offering," she said.
Blue Frog provides a range of core services that are essential to the promotion of large and small businesses alike, including website design, SEO, content creation, social media, and commercial printing. As a HubSpot partner, Blue Frog implements integrated inbound marketing strategies with a dynamic approach that produces results.
Blue Frog opened its doors in Denver on November 18. They are located within the Thrive Workplace in the bustling Cherry Creek neighborhood.
Interested in learning more about Blue Frog's services so you can take your marketing to the next level?