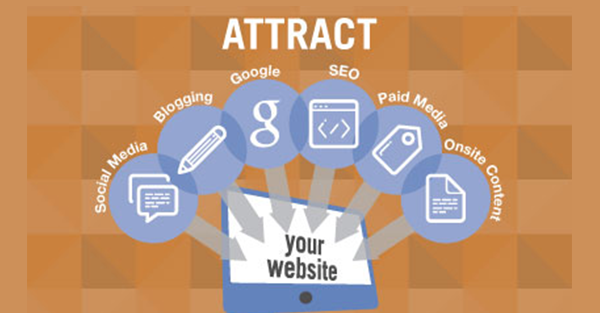 The goal of inbound marketing is to provide valuable and shareable content to consumers to gain their interest, rather than paying for it with traditional styles of marketing.
Traditional advertising, or outbound marketing, pushes products and services on customers using techniques often perceived as intrusive, and, therefore, are often ignored.
Inbound marketing on the other hand, earns the attention of potential customers by building trust through the creation of useful and helpful content that people seek.
Trend Towards Inbound
More and more businesses are starting to move toward inbound marketing strategies and dropping outbound marketing strategies because they are no longer seeing results from outdated sales methods that interrupt and annoy potential customers!

By using inbound marketing, you will position your company as an industry expert. The software will help you achieve the ROI you want from your efforts!

Here are 6 AWESOME reasons why you should be using inbound marketing software.
It's Cost Effective.
Compared to traditional outbound leads, inbound marketing leads do not cost much at all! Not only does inbound software lower the cost, but your sales team will have access to TARGETED leads as well!
You Will Become an Industry Leader.
Inbound marketing software brings customers to you because they see that you are an authority figure in what they are researching or the product or service they are looking into acquiring. They'll know you're an authority figure because the software allows you to share, optimize, generate and manage quality, customer-oriented content.
You'll Be DONE With Cold Calling!
These days, customers often get annoyed by cold calls, so they are no longer very effective. Use inbound software to provide engaging content that prospects can read on their own time, when they are ready. They will appreciate the helpful (and non-intrusive) info.
Customers will learn about your company through search engines, social media, and referrals. This results in more qualified leads as consumers actively seek the information that they are interested in without being forced into anything.
You'll Get Found Organically.
Google is THE way people search for information, and if you're not using inbound software, chances are you are not showing up in search results very well. Inbound software will greatly help your SEO, and the more content you produce, the greater chances you have of being found organically!
You Can Market with Your Website.
Your website is your most valuable asset in inbound marketing. It's not just a static advertisement; it becomes a growing, evolving, updated source of valuable information and offers that attract and engage visitors.
You Will Strengthen Your Social Presence.
With inbound software, social media will finally give true value to your business. You'll be able to create and share great content on social media and monitor people in Twitter lists, your contacts, other industry leaders, and competitors, in order to strengthen your brand's presence.
It should be obvious that without inbound marketing software, you will struggle to see an ROI on your marketing efforts. Inbound software is capable of skyrocketting your business to be a well-oiled marketing machine that prospects will be naturally driven to!
To learn more about how to start using inbound marketing software for your company, give us a call at 515-221-2214 or fill out the online form by clicking the button below! We will go over what the software along with a strong strategy could do for YOUR business!
Contact us today to learn about any of our marketing services in Denver or Des Moines! Blue Frog Marketing has office locations in both Iowa and Colorado, but we can serve any customer from any location!