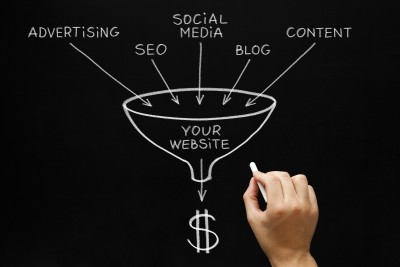 If you're a small business owner, you've probably heard the term 'inbound marketing' over & over again. But what is it, & why is it important?
Inbound marketing is by far the least expensive way to get new customers. It is when a business acquires new customers simply by relevant content creation on their website & their social media platforms. This way is much more cost effective than older forms of advertising, such as television & radio ads.
Inbound marketing is best done by thinking about search engine optimization (SEO) when creating content. SEO is basically how well your company does when people Google certain keywords or key phrases. The best way to improve your company's SEO is by using relevant keywords when creating content for your website. Basically, you want to create content on your website that attracts people to your company. Keep these keywords in mind when creating all of your different landing pages within your site.
One of the easiest ways to increase your SEO & get new website visitors is by blogging. When writing your blog, use words that people might Google. Also make sure each of your blog entries is related to your business or industry in some way. Use your blog as a way to inform people & answer their questions. For example, if you are a dentist, blogging about certain procedures could help you get new customers. People might Google "root canal" & if your office has blogged about it effectively, it will come up in the Google search. This is a very efficient use of inbound marketing. You didn't have to spend money to be seen in that Google search, yet you got a new patient from it.
If blogging is going to be a part of your strategy, make sure you are blogging consistently. You'll see the best results when you blog at least once a week. This can take up a decent amount of time, so make sure you plan for it. If you find the idea of blogging so often overwhelming, consider outsourcing it to Blue Frog. To learn more about our blog writing services, click here.
Social media is also a great way to get new customers to visit your website. Once you've build up a fan base, you can easily attract new customers by offering special deals & discounts to fans & followers. It doesn't cost you anything out of pocket to do this, unlike print or television advertising, so any money you make from it is a bonus. Social media for inbound marketing works best when there's a call to action. A call to action is basically when you ask people to take some sort of action, such as "click here to sign up". When a call to action is created, make sure it directs people to your website to either get more information or submit a form to receive an email with information.
Social media also allows you to interact & engage with your customers, which can be very helpful. Customers can share reviews on your Facebook page, which might encourage others it buy from your company as well. If handled correctly, even negative reviews can be helpful. When someone posts a negative review, make sure it is handled as soon as humanely possible. The longer a negative review or comment goes unanswered, the worse it will make your company look. When responded to promptly & in a kind manner, people will take notice – especially if your company goes above & beyond to correct the situation being discussed in the review. Even if people see the negative review, seeing the response & the helpfulness your company offered may end up getting you more customers anyway.
Social media can also take up a significant amount of time, especially when done consistently. To learn more about Blue Frog's social media management services, click here.