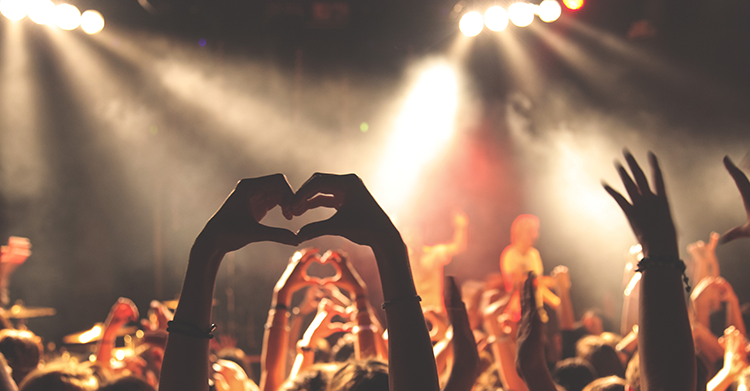 "Twenty One Pilots are easily the biggest group to break out in the past year. They are also one of the hardest-to-categorize hit acts in recent memory." –Andrew Lipovsky
Twenty One Pilots hit the big time music scene in 2015 with the release of Blurryface, their latest album. Just this past January, their hit single, "Stressed Out," made it into the top 10 on Billboard's Hot 100. In a very short time, two young guys with not much more than raw talent and a headful of ideas became the idiosyncratic face of the widely popular band Twenty One Pilots.
Tyler Joseph (singer, songwriter, and piano player) and Josh Dun (drummer) started at the bottom like most young musicians do. What led to their sudden rise in popularity? How did two boys from Columbus, Ohio go from practicing songs in their homes and playing shows where they couldn't even attract a dozen listeners to selling out huge venues around the world? It had (and still has) a lot to do with these five marketing tactics:
Uniqueness
Relatability
Strong brand
Online presence
Ability to stay fresh
1. Emphasize what makes you unique.
The music of Twenty One Pilots doesn't fit neatly into one genre. The duo has created a hybrid, weaving elements of rap, hip hop, alternative, electronic pop, and even reggae into their music. Their uniqueness intrigues listeners and makes the band stand out in a crowded music scene.
In addition to their uncommon sound, Twenty One Pilots performs crazy, weird shows and creates music videos that can be peculiar, powerful, or fun (depending on the song). Band members showcase their quirky personalities in much of their work and captivate viewers with symbolism that laces their live shows and music. They know how to draw people in by embracing what makes them different.
2. Get to know your audience, and learn how to connect with them.
Tyler and Josh seem like two ordinary twenty-somethings in the sense that they're both down to earth and approachable, and they express struggles that resonate with many young adults. This comes across clearly both in interviews and their music. Tyler writes songs about real issues he faces and digs deep into a world that many people avoid talking about or shedding light on. While some fans may simply like the band's sound, those who appreciate the poetry of the lyrics, "the few, the proud, and the emotional," develop a deeper connection with the music and constitute a loyal and enthusiastic fan base.
3. Establish a strong brand.
Tyler came up with a logo that quickly went viral and became the symbol that now represents Twenty One Pilots.
|-/
No one knows the true meaning behind this symbol except for Tyler himself. He said in an interview that it relates to one of his songs—"Kitchen Sink." The gist of the song is that you can create something, such as a painting, or write something, like a song, and you may be the only one who knows the true meaning behind it, and that gives you purpose in life. Fans adopted the idea and have fallen in love with it. The symbol is all over anything related to the band—apparel, social media, online articles, reviews, comments, and even tattoos.
Twenty One Pilots has also given their loyal fan base a name: the "clique." Clique members feel a sense of belonging and pride when they wear or use the band symbol or anything Twenty One Pilots branded. This helps them connect to not only the band members, but anyone else wearing or using the symbol or part of the clique. The moral of this story? Develop a strong brand with meaning behind it.
4. Develop a strong online presence.
Twenty One Pilots has a great website that clearly portrays their brand and shows who they are. They have active Facebook, Twitter, and Instagram accounts and a hopping YouTube channel. They post both serious and fun/humorous photos, videos, and other content to their Facebook page. On Instagram, fans can send in art and have it posted to the official account; the artist will be tagged, and the art will be labeled as #cliqueart. This shows fans that they're a part of something and appreciated by the band they've grown to love. The YouTube channel is full of professional music videos, concert clips that give viewers a glimpse of what to expect at a show, and goofy interviews that show off Tyler and Josh's personalities. This wide variety of content allows the band to connect with many different types of people.
5. Stay fresh; continue to evolve.
One of the most important marketing strategies to keep businesses (and bands) relevant is keeping things fresh by continuing to evolve. The music and performances of Twenty One Pilots are always changing. This makes upcoming albums and concerts unpredictable and keeps people interested and engaged. Listeners are curious to find out what the next song or the next album will sound like. As for the concerts, anything can happen. It might be weird or creepy or impressive. Tyler might come out in a strange costume or show up randomly in the audience, and Josh might flip off the piano or jump into the audience at any time. With Twenty One Pilots, no one, including Josh and Tyler, knows quite what to expect, which keeps fans coming back for more.

Searching for a great marketing company?
Marketing teams from all types of businesses can utilize the same strategies that have worked so well for Twenty One Pilots. If you're looking for a marketing company to help revitalize your business, make you stand out, or get you headed in the right direction to build your brand and business, contact Blue Frog Marketing. We have offices in Denver and Des Moines and work with clients all over the country.