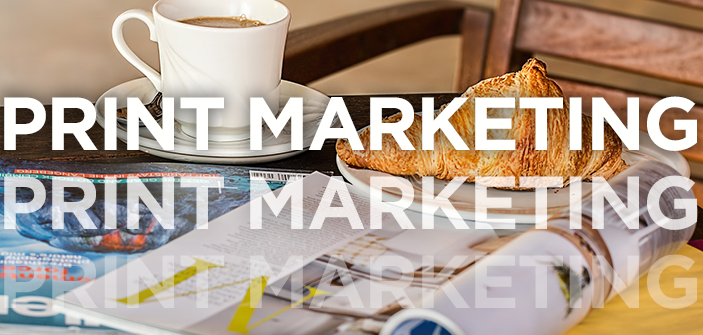 When you begin looking for a way to get out printed marketing materials for your business, you'll find a wide range of choices, from DIY solutions to online ordering to professional custom design. Here are some questions to consider when making your choice.
1. How much time and expertise Do I have to devote to my project?
If you're considering a DIY solution, like visiting your local self-serve print shop or customizing materials for online ordering, make sure you have the time and skill to produce a printed piece that reflects well on your brand. While companies that provide print marketing services over the internet make the process look simple, there is much more that goes into creating materials that look attractive and professional than putting together a package of format, text, and images. Involving print and graphic design professionals in your decision making process will help to ensure that your print project is executed properly and produces a high quality end product.
2. What is the reputation of the company I'm considering working with?
First and foremost, it's important that you be able to see and touch materials that the company has produced. It's much easier to make a printed piece look good in an online image than up close and in person. Make sure you get a good sense of what your customers will be seeing before you invest your hard-earned money in it.
Beyond the materials themselves, it's also important to investigate the company's reputation for customer service. Look for reviews and ratings, and ask others in your network for recommendations. Does the company
3. What other services does the print company provide?
As mentioned above, there is more that goes into a quality printed piece than choosing a style, images, and text. Good graphic design and writing are critical to the success of your print marketing efforts. Working with professional designers and writers helps to ensure that your materials will be visually appealing and convey the message you want in a voice that represents your brand well.
In addition to the services that are key to your immediate project, consider whether the company will be able to meet your needs in the future. As your business grows, your demand for materials is likely to grow as well. While you may just want to send out a direct mail postcard or print a flyer right now, also consider your potential future need for more complex projects, such as wide format printing, binding, or fulfillment services. When you find a company that works well with you and understands your business, you won't want to have to move on to another because you've outgrown the services they offer.
4. Is the company local?
Choosing a local company makes it easier to see a range of the physical products that it produces, giving you a firmer sense of quality. It also allows you to meet with staff face to face, see physical proofs of your materials, and potentially get lower cost or even free delivery.
5. Does the company make efforts to protect the environment?
As a global community, we are becoming ever more aware of the impact our actions have on the environment. The shift to digital media has done a lot to minimize waste, but sometimes, you want the marketing impact of physical printed materials that your potential customers can hold and feel. By choosing a printer that takes steps to reduce the environmental impact of print marketing, you can get these benefits while treading more lightly on the earth.
Are you ready to get started on your print marketing project? Blue Frog Marketing in Des Moines, Iowa, provides personalized service to large and small businesses alike. We assign each customer their own account representative, who is available to answer questions, provide guidance, quote prices on projects, or offer any other assistance they can. We turn around standard projects like business cards, tri-fold flyers, and rack cards within 24–48 hours and provide free local delivery. We also recycle our paper waste through a local company! Just click the link below to get in touch with us.