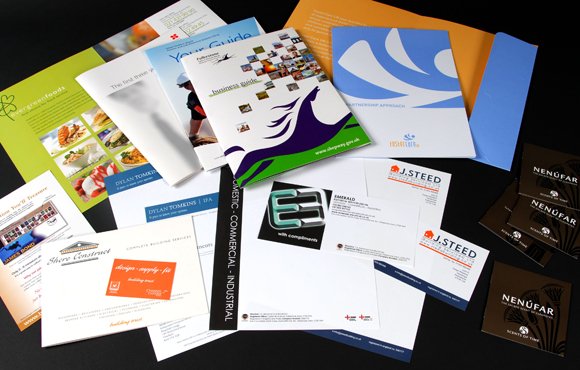 When ordering print materials, it's helpful to understand your options as well as the language of the trade. While a print order may look to anyone outside the industry as though it's written in code, understanding a few key elements will help to demystify it. Some details that you need to include, like the number of pieces to be printed and what text and images will appear on them, are obvious, while others you may not have thought about before. Prior to calling up your local printer to place your first order, make sure to consider these questions:
1. How many pieces do you want to print?
2. What type of piece do you want?
The possibilities are almost endless. Consider your business goals for the piece, and determine how your message would be most effectively delivered. Do you want to a postcard for direct mail, a flyer or booklet to share with prospects, or pocket folder to distribute at industry gatherings? You can also order wide-format items like posters, trade show banners, store signage, or vehicle wrap!
3. Do you want one- or two-sided printing?
If your project could be printed on either one or two sides, consider the layout of your piece as well as the relative cost. Make sure your text and images won't be overcrowded and that your audience is likely to receive your entire message.
4. What size do you want the piece to be?
Again, it's important to make sure the piece isn't too crowded with images and text but also that it's sized conveniently for your intended use. Professional writers and graphic designers can help you communicate your message efficiently.
5. What kind of paper do you want?
Paper is available in various thicknesses and coatings. Consider whether you want thin paper or card stock. Card stock is sometimes referred to as "cover" (as in the cover of a book), as opposed to "text" (as in what the pages of a book would be printed on). You can also choose uncoated paper or different types of coatings such as matte, silk, or glossy.
6. What colors do you want to use?
Full-color printing actually uses a combination of four basic colors—cyan, magenta, yellow, and black—in order to create the range of colors you see. This is commonly abbreviated CYMK (Why K for black?) Print orders use numbers to indicate how many colors appear on each side of the piece. For example,
4/0 indicates full color on one side with a blank back.
4/4 indicates a two-sided full color piece.
Some colors, such as metallics, can't be created with the CYMK process. Instead, they are mixed using the Pantone Matching System, and so are referred to as "PMS colors." PMS colors, as well as any one of the CYMK colors used in isolation (usually black, as in black and white printing) will appear as a 1. This 1 can appear by itself (if it's the only color used on the page) or be added to another (if used in combination). For example,
1/0 indicates a single PMS or CYMK color on one side with a blank back.
2/0 indicates two PMS and/or CYMK colors on one side with a blank back.
5/4 indicates a full-color, two-sided piece with a PMS color added to the front.
At Blue Frog, we want to make ordering your print projects as simple as possible. Feel free to ask our experienced staff if you have any questions about your options or the details of your order. Give us a call at (515) 221-2214, or fill out the brief form here to request a quote on your next print project.
Blue Frog Marketing is a full-service marketing firm based in Des Moines, IA, with additional offices in Denver, CO, and Huron, OH. Our team of print professionals, graphic designers, writers, web designers, and marketing experts can help you with every aspect of your business' print and online marketing needs.