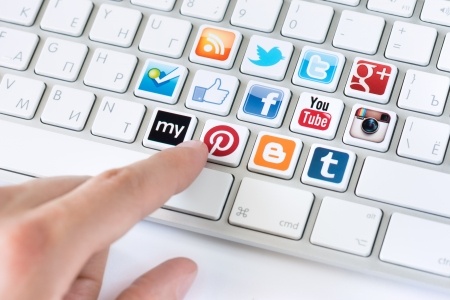 Social media is a great tool for all professionals, especially insurance agents. It is an easy, inexpensive way for you to gain new clients when used correctly. Here are a few social media tips for insurance agents.
Know your brand. Business Social Media Marketing
Before you even get started, you need to know what your brand is. What makes you different from other insurance agents? Establishing your personal brand is a critical step in utilizing social media. Check out our blog on Creating and Cultivating Your Personal Brand.
Learn about inbound marketing.
Inbound marketing is crucial for your insurance business. Going social can help you get clients through inbound marketing. Learn all you can about this process. This will allow you to build social media leads for your business.
Get to know the social platforms.
Before diving in, take some time to consider what platforms are best for your brand. More isn't always better! It's a bad idea to join all of them in an effort to get more eyes on your brand. You don't have an unlimited amount of time to spend online. Choose the ones that will benefit you the most, and spend your time there. You'll want to think about what they are used for and who is on them. Which one most closely matches your buyer persona? LinkedIn, Facebook and Twitter are generally the ones insurance agents use the most.
Post valuable content.
Once you've decided which platforms to use, start posting! You may be tempted to just post about yourself and your business, but that is a mistake. Think about the people and brands you like to follow most. Are they always bragging about themselves? Probably not. If they were, chances are you wouldn't be following them for very long. Think about what you like to read on social media and go from there. It's a good idea to share tips about insurance, as well as community events and current events. Posting a variety of content will help you appeal to a wide audience.
People really like pictures. Make sure you post pictures as much as you can. Posting some behind-the-scenes and personal pictures will also help people get to know you and establish your brand. Let people see you as a human being and a friend instead of just their insurance agent.
Blogging is also a great idea. Creating your own blog allows you to post content that your fans will find useful. This will also enable you to establish yourself as an expert in your industry. Blogging will also help with SEO and inbound marketing. You can easily integrate your blog with your social media as well.
Regularly posting a call to action will also help. It will drive more people to your website and help you get more leads. A call to action can be something simple such as "click here to find out more".
Post regularly.
When it comes to your online presence, absence doesn't make the heart grow fonder. Make sure you are posting regularly on all the platforms you're on. You want to make sure your brand is on people's minds so they think of you for all their insurance needs. That being said, make sure you don't go overboard. People will unfollow you if you are posting too much. Generally, posting 1-3 times per day is sufficient.
Know when you need help.
Social media management can be tough and time consuming. You may not be able to do it all on your own, which is okay! At Blue Frog we offer a variety of ways to assist with your social media needs. We can meet with you one-on-one to teach you some techniques, or we can take over and manage your online presence for you.
To learn more about our services,