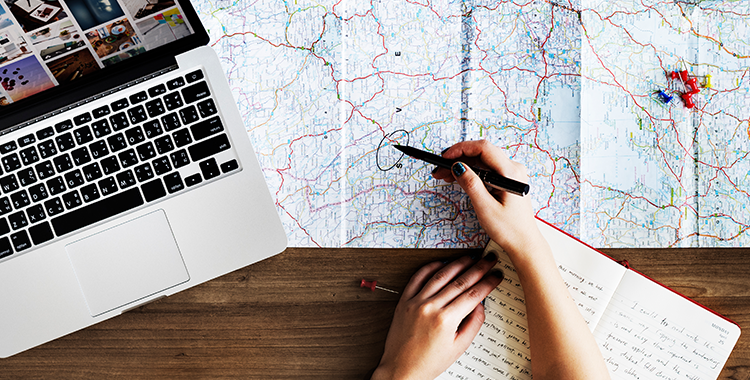 Navigating a website with ease is a key element of a great user experience. To attract and retain business through your website, it's essential to provide users with a clear path to your most important and relevant items. Using the navigation menu strategically will improve user experience on your site and generate better interaction and click-through rates. Today, we will discuss six qualities your navigation menu should have and why they are important for your website strategy.
1. Responsiveness
As more users are accessing websites from mobile devices, it's important that your website be responsive to their needs. If the navigation bar becomes hard to read or requires extra work like zooming and scrolling, it could deter viewers from exploring the rest of the site. Ensuring your navigation menu can respond to several screen sizes will make your website more functional and improve mobile interaction.
2. Consistency
There's nothing more confusing to website visitors than a navigation menu that disappears or relocates every time they click over to a different page on the site. Consider the navigation menu like a map of your site. As such, it needs to be clear and reliable. Keep the menu design and elements consistent on every page so users can easily find important information.
3. Simplicity
Research shows that we can only hold about 7 items at a time in short-term memory. This means that in a navigation menu, less is more from a user's perspective. Provide a small selection of navigation options that can be concisely described in one or two words to eliminate confusion and distraction from the most important topics. Keep these items focused and easy to digest so visitors can quickly and effectively find the information they need.
4. Prominence
The navigation menu should be one of the easiest elements to find when you first access the homepage. After all, this is the only way a visitor knows what they can actually do on the site. It only takes seconds for a user to scan your homepage, and if they aren't able to find the path to information, they may give up and move on. Use the navigation menu as an opportunity to draw the user's eye to the most important elements of your website.
5. Logic
The qualities of an effective navigation menu reach far beyond a clean look or design. Not only does a concise navigation menu improve user experience, but it also helps with search engine optimization (SEO), allowing your site to appear more prominently in search engine results. Your navigation menu should accurately describe the most important areas of the website and establish a logical hierarchy of pages. When search engines crawl your site, this structure makes it easier to index the information and categorize what each page is about. For more tips on how improve your website's SEO, see our previous article, "Why Doesn't My Business Show Up in Google Results?"
It can be tempting to include everything your business does into your navigation menu, but remember to always think of your visitors first, and develop a strategic a plan with them in mind. Utilize these tips to create a navigation menu that can improve user experience and establish a structure that's search engine friendly. By understanding the goals of your business and your website visitors, you can create a functional, easy-to-use menu. If you'd like help improving your online presence or creating a beautiful website, contact Blue Frog. We have offices in Des Moines, Denver, and Huron, and we work with clients across the nation.