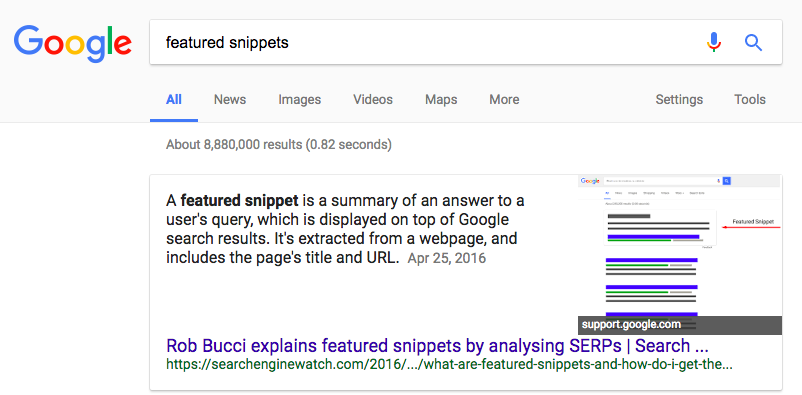 We've all seen these little answer boxes at the top of Google's search result pages (SERPs), and wondered how to get your content featured in them. While there's no magic formula to get your site into these featured snippets, you can optimize content to increase your likelihood of ranking in position 0.
Why should you care?
Featured snippets boost click-through rate (CTR). After completing a comprehensive study, HubSpot saw an average increase in CTR of over 114% with featured snippets, including links that had already been ranked #1 in SERPs.
Do you have to be #1 to get a featured snippet?
No. Only about 30% of featured snippets are pulled from position 1, and the remaining 70% come from the rest of page one's results. Once you're on the first page of SERPs, data shows that getting a featured snippet is more about semantic relevance to keywords and clear page structure than about page ranking and authority. However, your best opportunity for obtaining featured snippets are searches in which you rank in the top five results, so if you're ranking #2–#5, then it may be easier to compete for position #0 than position #1.
How do you get a featured snippet?
Your chances of getting a featured snippet increase when your content clearly answers a question and is properly tagged. So, sometimes all it takes to obtain a featured snippet is simply restructuring an article you've written.
One way to think of structuring your content is the inverted pyramid used in journalism, which starts with the most important information, quickly answering the key question, and transitions into a more detailed explanation. Following this structure and using the correct HTML tags can make a huge difference when it comes to getting your content into featured snippets. To optimize HTML tags,
Restate and format the question using an H1 or H2 tag.
Summarize your answer to the question in a short paragraph of roughly 40 to 55 words.
Place the paragraph directly below the question using a paragraph or <p> tag.
While the most popular form of featured snippet is a paragraph answer, you can also format your answer in a list (<li> tag) or table (<table> tag).
Your Next Step
Based on the information provided in this article, your next step is to discover the content and keywords for which your website is currently ranking highly. Find out how many of those keywords are question-based. After you've compiled a list, then you can analyze the structure of your content and re-optimize for featured snippets.
If you're interested in implementing a new SEO strategy, schedule a consultation with one of Blue Frog's inbound marketing strategists.
Blue Frog is a marketing firm with offices located in Denver, CO, Des Moines, IA, and Huron, OH. If you don't live in any of these locations, don't worry. We work with businesses all across the nation. Contact us today!