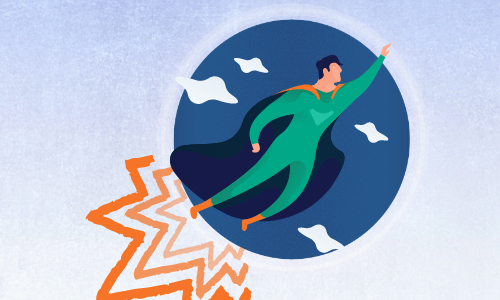 In recent years, marketing strategies have greatly shifted from focusing on the business to focusing on the customer. Why is that? Largely because search engines and social media have given consumers more decision-making power than ever, and customers are using that power to choose the brands that make them feel seen and heard. Not to mention it's been shown that brands that are customer-centric are 60% more profitable than brands that are not.
The best way to build a customer-centric brand is to think of your customer as the hero of your story and your brand as playing a supporting role. Here, Donald Miller, author of Building a StoryBrand, sums up this idea nicely.
When we position our customer as the hero and ourselves as their guide, we will be recognized as a sought-after character to help them along their journey. In other words, your audience is Luke Skywalker. You get to be Yoda.
How can your brand become the "Yoda" of your brand story? Here are some tips on how to create website content that will cast your customer as the hero.
Clearly and concisely state your value proposition to customers at the top of the page.
When users come to your website, you have a limited amount of time to capture their attention and compel them to keep scrolling. The most effective use of this limited time is to dedicate it to the customer.
The mistake many brands make is using their website as a place to brag about themselves. Although you may be the best at what you do or the most experienced brand in the industry, your customers, quite frankly, don't care. They have a problem, and they want to know if you can help them fix it. So, place your customers at the center of your narrative, make them—not yourself—the hero!
How do you change your messaging to make the customer the hero? You have to start thinking from their perspective. What are their goals? What are their challenges? How are you going to get them where they want to be? Analyze customer data such as buyer intent data and keyword research to understand how and why they are seeking solutions like yours.
Once you've got a clear picture of who your customer is and what they want, create a concise, 1–2 sentence statement that focuses on your customer. That will become the powerful opening statement to your website and the best way to capture interest.
Here is a great example of a value statement that immediately casts the customer as the hero of this story.
"Finally, a CRM platform that's both powerful and easy to use. Create delightful customer experiences. Have a delightful time doing it." – HubSpot
In just a few short sentences, HubSpot acknowledges their customers' challenges (CRM platforms that are difficult to use and aren't working for their business) and then tells them how their lives will be easier after they switch to HubSpot's platform. It's simple, clear, and lets users know their work life can be more enjoyable when they use this platform. Who wouldn't want that?
Make your customers feel heard by addressing their pain points.
Your services, products, or solutions exist because there is a problem or a need your brand set out to solve. That problem is the very reason customers are coming to your website. By clearly acknowledging those pain points, you make it easier for your customers to relate to your brand and trust your products.
Sticking with HubSpot as our example, here is a piece of content from their Marketing Hub software page that does an excellent job recognizing their customers' struggles and then further capturing their attention by letting them know there is a solution.
The job is tough for modern marketers. Either you're juggling various point solutions, or you're stuck with tools that are powerful but impossible to use. This means scattered customer data, lackluster marketing, and too much time spent fussing with software. But it doesn't have to be that way.
Now that you've validated your customers struggles, it's time to be the guide who will help them achieve the outcome they seek.
Present your brand as the guide or supporting role.
As mentioned earlier, you need to present your brand as the support the hero needs to achieve their goals. Even though your brand isn't the main character, your audience needs to see that the show can't go on without you in the supporting role.
An example of this is the follow up paragraph to HubSpot's pain point paragraph above.
With Marketing Hub, all your marketing tools and data are on one easy-to-use, powerful platform. You'll save valuable time and get all the context you need to provide a personalized experience that attracts and converts the right customers at scale.
This paragraph tells users that the outcome they want is achievable. They just need the right tools and a plan to get there.
Give your hero a plan.
No successful journey happens without a plan or a map. (At least that's true for someone like me who has never left the house without Google Maps.) Anyway, one of the final pieces of your website content is a plan that shows your audience how they can reach their ideal destination. Remember not to overcomplicate things. No one wants to sign up for anything that requires more than a 5–7 step process (unless they're building IKEA furniture).
HubSpot breaks down its Marketing Hub platform into 3 easy steps for readers to understand how simple it can be to transform their current marketing practices:
Attract attention
Convert more leads
Report and customize data
They keep it simple and clear without diving into intricacies of the platform that users will likely not care about at this point. Sometimes, it really can be as easy as 1-2-3. Your next step is to get your audience to act.
Call the hero to action.
Now that you have taken your customer through a journey with your brand, it's time to call them to action! The essence of storytelling throughout your website content is to avoid being too salesy, but this is the right time to give the customer a gentle nudge to reach out.
By this point, your customer will feel empowered and excited about the potential of doing business with your brand. Encourage your audience to fill out a contact form, set up a meeting, request a demo of your product, or however else you'd like to get in touch.
Some examples of calls to action include
Get in touch with our team so we can discuss your solution!
Schedule a meeting to get one step closer to your goals!
Request a demo to see our platform in action!
Are you ready to Make Your customer the hero of your brand story?
The best thing you can do for your website is to make your customer the hero and keep your content clear, concise, and customer centric. It's not about you; it's about what you can do to make your customers more successful.