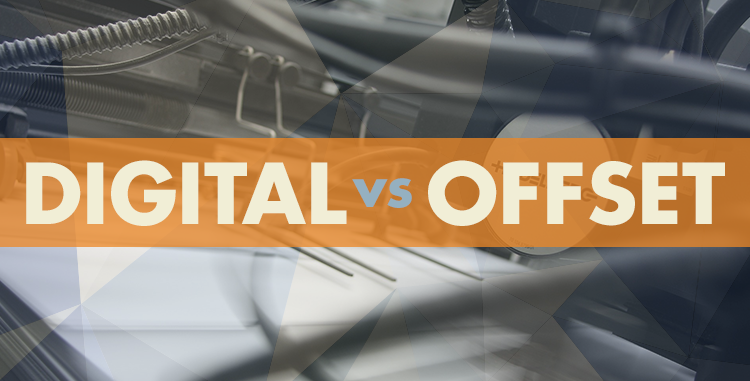 If you're not a print-savvy individual (most of us aren't), you may not even know what offset printing is, let alone how it differs from digital printing. It's important to understand a little bit about the different printing processes, however, if you're going to work with a printing company. Today, we're going to talk about the advantages of both offset and digital printing and how they differ from one another.
Offset Printing: Offset gets its name because the ink is not directly transferred to the paper during the printing process. The printer first burns an image onto a metal plate, transfers that image onto a rubber blanket, and then rolls the image onto the paper.
Digital Printing: Digital printers don't utilize plates. Ink or toner is applied directly to the paper.
Digital Printing Pros
Digital print jobs can be turned around FAST. Sometimes, our customers need a job by tomorrow. Since we don't need to burn plates or fill ink trays, and required dry time is virtually nonexistent, digital jobs can be completed quickly and efficiently. In general, we can turn around a digital print job in 24–48 hours!
2. Short Runs = Low Cost
Again, offset requires plate burning and ink tray filling. These setup costs can make shorter runs very expensive. Digital printing is more cost effective for shorter runs, and there's no minimum job size requirement.
3. Consistency
Digital prints are often more consistent than offset prints since you don't have to worry about balancing ink and water to produce the correct color results. Additionally, because less proofing and testing is required, less waste is produced.
4. More Customization
Digital printers allow you to print variable data to customize pieces using a database or external file. Both text and graphics can be personalized. For example, if you have a list of people you want to invite to a wedding, you could easily print different names and addresses on cards or envelopes with a single run.
Offset Printing Pros
1. High Volume = Cost Effective
The larger the quantity, the lower the cost per unit. For high volume jobs, offset printing can be very cost effective. Offset presses can typically produce higher volume jobs than digital…we're talking thousands of sheets.
2. Quality is HIGHER
Digital printers use a large dot pattern when laying ink on the page, so prints typically won't be as crisp as they will be on an offset press. For offset, color can be more closely controlled and manipulated, so the results (after testing) are often more accurate and have greater detail. You also have the option of choosing custom inks and specific Pantone colors.
3. Larger Sheets
If your artwork is oversized, you may not have the option of printing digitally. Many digital printers can only print sheets up to 13x19 inches. Offset can go much larger, offering a wider variety of sizes. You also can add a custom finish if you desire.
4. Custom PMS Colors
Does your brand use a color that is tough to match on a printer? Offset printers are able to match Pantone Matching System (PMS) colors perfectly. When your project is printed on a digital press, the printer must using the CMYK color combination that best approximates the color.
If you're not sure which type of printing would be the better option for your project, don't sweat it. That's what we're here for. We'd love to talk to you about what you're specifically looking for and help you find the best solution possible.
We can also provide you quotes for both digital and offset so you can compare pricing, as well as show you examples of similar jobs, so you can decide which look you prefer! Give us a call or contact us online by clicking below. Our main office is in Des Moines, IA, but we work with customers across the country. We look forward to hearing from you!