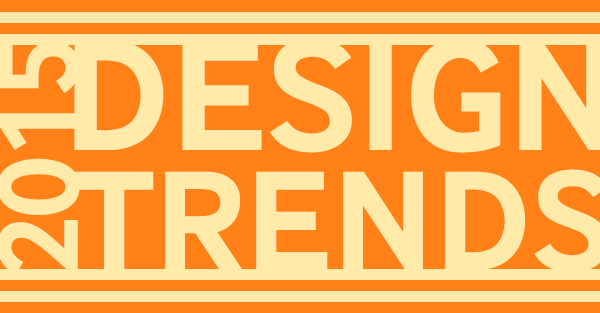 Today, we'll cover some of the latest design trends for your business website. The following elements and styles are being incorporated into many of the latest websites today and are expected to increase even more in popularity throughout 2015 and beyond.
1) Scrolling vs. Clicking
Especially with mobile and responsive website design increasing in popularity, long scrolling pages are becoming more and more common. It's easier to scroll up and down on a phone or tablet than having to click on various small buttons to navigate to several different pages to find information.
2) Digital Branding
Today, and thinking even further into the future, a lot of business happens and will happen online. Many of your customers probably heard about your business first by finding you on social media, Google, or stumbling across your website.
Since many of the first impressions of your brand are what people see of you online, digital branding is key. This makes it very important for you to work with a marketing agency that works both digitally (web) and traditionally (print), such as Blue Frog. If you're working with a company that is solely print based, you could soon fall behind your competitors. Your brand and logo should be responsive and scalable to adapt to various marketing pieces, both on and offline.
3) Large Background Images
Many of the latest websites of 2015 have massive, high quality, unique background images that capture the attention of visitors at first glance. Leading brands like Apple and Google Nexus are paving the road for this design trend.
4) Ghost Buttons
What are ghost buttons? They are nearly transparent, clickable buttons that have been popping up on websites over the last year. They usually consist of a basic shape, such as a rectangle, with an outline and no background behind the text. They're usually used on minimalistic sites, sites with flat design schemes, or on sites with a large photograph in the background. Ghost buttons allow websites to contain information and the ability to navigate to various pages but don't detract from backgrounds. These buttons blend in more than stand out.
5) Card Design
If you're wondering what "card design" is, think Pinterest. Separate blocks cover pages containing different images or information. This layout is increasing in popularity across many new websites. "Cards" are also popular because they can move around, rearrange, and stack to fit different screen sizes.
6) Large Typography
Typography is getting even bigger on home pages of websites this year. Large type grabs your attention and establishes a visual hierarchy within the text on a page. If you want to make a BIG first impression, add some large text followed by (greatly contrasting) small text.
Continuing Trends of 2014
Overall, many of the trends that were gaining popularity (including the ones listed above) in 2014 will be continuing throughout this next year but improving and maturing as well. Some of the trends that we'll continue to see include:
Flat Design

Improved Speed and Performance

Infographics to Represent Data
You can learn more about these website design trends by checking out our previous blog posts: Website Design Trends, Part 1 and Part 2.
If you haven't updated your business website in a while, and you noticed that your site doesn't represent any of the above trends, it's probably outdated. But don't worry! You've come to the right place.
If you're interested in improving, updating, or building a Denver business website, we have a special offer for you: 12 months of 0% financing on all new websites! Whether your business is in Denver, Des Moines, or anywhere else, we can work with you to create the kind of website that will attract visitors and effectively convert those visitors into customers!