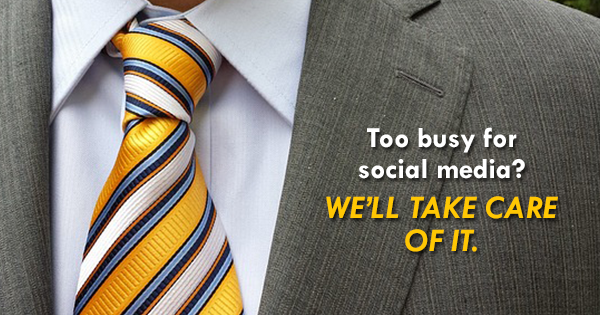 When we hear the term social media, most of us instantly think of platforms like Twitter and Facebook. You may have read the title of this blog post and be wondering, Why would I pay someone to manage my social media accounts for me when I can do it myself? That's a great question and the focus of this article. Social media profiles for businesses are much different from personal social media profiles. It's important for businesses to represent themselves professionally as well as connect with viewers and followers effectively. To do that, professional design is required. Here's why:
Professionalism & Credibility
It's very important for your company to be portrayed and marketed professionally online, both on your website and across various social media platforms. If the imagery on your profile looks tacky or disreputable, strangers will likely turn and run. A professionally designed profile picture, cover photo, and other visuals, on the other hand, will help you come across as established and trustworthy, and visitors will be more likely to interact with or contact you.
Branding
Your social media profiles should show off your brand! Most of the time, your profile picture should be your company logo—clear, high quality, and non-pixelated. Your cover photo should be a custom graphic designed specifically for your business or a high quality photo, as opposed to an amateur snapshot taken on a cell phone or a basic stock image. Regardless of whether it's a photo or a graphic, the images on your social profiles should be unique and representative of your brand.
Requirements
If you'd like to advertise on social media, you need to know how to properly design ads and certain types of posts, or your images could be denied. Facebook ads, for example, have to be designed using a grid system, and only 20 percent can contain text. If it doesn't meet these guidelines, the ad won't be approved. Platforms also maintain lists of types of content that may not be posted or advertised on business profiles. If you aren't aware of these, the content you try to post could be rejected, and your account could even be banned.
Design Process
Every social media platform has different design requirements. The image you use for your display picture on Twitter will be different than on LinkedIn or Facebook. Every image for every profile should be designed specifically for its intended use. The image placement, image quality, and overall appearance of your profile will be much better if designed with intentionality.
Images will also resonate better with viewers if set up and designed by a professional graphic designer. Images that are too large will prolong loading time, increasing the odds that visitors will get impatient and leave before the image even appears. If the image is too small, on the other hand, it could look pixelated or awkward in a news feed or even be unreadable, making it virtually useless.
If you're ready for a professional graphic designer to help spruce up your social media profiles, contact Blue Frog Marketing! We would love to work with you and help you gain credibility on your social profiles by incorporating fabulous design that appropriately represents your business.