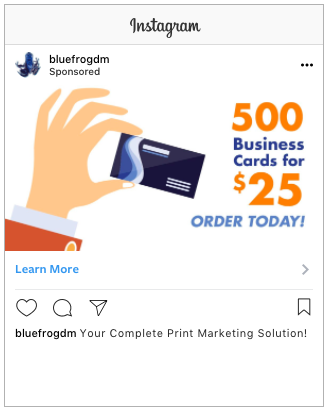 Instagram has become an immensely popular social platform over the last few years. In fact, 55% of all 18–29 year olds and 28% of internet users of all ages in the U.S were on Instagram in 2015, according a Pew Research study.
This means that Instagram presents have a huge opportunity for businesses to reach potential customers, and the best way to do this is through Instagram ads.
Instagram Ads
When advertising on Instagram, there are three main types of ads to choose from: Photo ads, video ads and carousel ads. These types of ads can help with various marketing goals such as, building brand awareness, getting more website traffic or generating more leads. Let's take a closer look at each of these types of Instagram ads.
Photo Ads
Photo ads allow businesses to showcase their products and services in a very visual way with a photo and a call to action button to learn more. You can advertise to a broad or a targeted audience.
Video Ads
Video ads on Instagram can be up to 1 minute long, but it's the first 30 seconds of the video that will be most important in capturing a user's interest. By gaining someone's attention with a short video, they are likely to engage further by checking out your Instagram page or your website.
Carousel Ads
Carousel ads allow users to swipe to see multiple images. The ads also contain a call to action button that directs them to a website for more information. Having carousel ads can be beneficial if you have a few different products that you want to highlight in a single ad.
Keep in mind that if you run Facebook ads, you can also advertise on Instagram through Facebook ads!
With all these ad options on Instagram, how can you choose which type would be best for you business? Instagram ads allow you to select from many different objectives, like clicks to website, website conversions, mobile app installs, and video views. Decide what your main goal is for your Instagram ads, and then choose the objective that matches it.
Advertising should not be the only way you market your business online. Learn why advertising should be secondary to other digital efforts and what a healthy marketing plan looks like with our free ebook! If you'd like marketing help today, contact us for a free consultation.